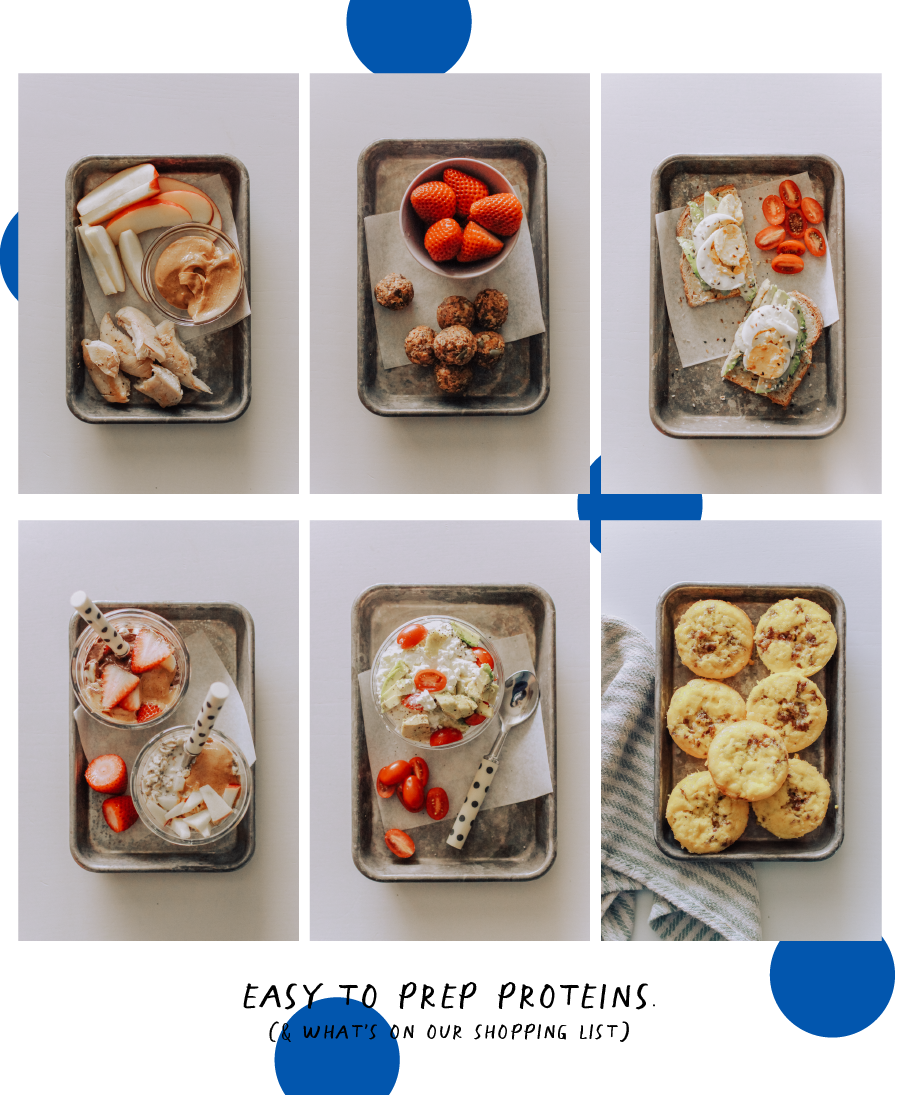 Last year my only fitness goal was to be consistent with workouts. This year, my goal is to build muscle strength, speed, and endurance and focus a little more on progress, which surprisingly (at least to me) lead me to focus mostly on nutrition. Apparently, it's hard (for non-teenagers or 20-somethings) to make much progress without fueling yourself properly. While nutrition continues to be a work in progress for me, protein remains the main focus. Today I thought I'd share what's been helping me stay on track — at least on weeks that I actually execute, which (pssst) is not every week. Here's 12 easy protein options to add to your menu.
*Sources: metal food trays, polka-dot silverware (old from Anthropologie), working glasses (with lids – so handy), parchment sheets (cut to size)
FOOD TO KEEP STOCKED &/OR PREPPED FOR THE WEEK:
Cottage Cheese with Avocado, Cherry Tomatoes, and S+P
Baked Chicken Tenders

Make a big batch for the week and add to any snack/meal that needs extra protein, or eat after a treat/drink to help balance blood sugar.
11 grams ea.

Hard Boiled Eggs
Egg Bites

We use this recipe with ground sausage, whatever cheese I have on hand — will also swap ricotta cheese for cottage cheese.
9 grams ea.

Loaded Avocado Toast with Fried or Hard Boiled Eggs and Toppings

20 grams for 1 avocado, 2 eggs, and slice of bread

Protein Powder Blended with Coconut Milk, Peanut Butter, and Banana
Chia Seed Pudding

8 grams per 1/4 cup seeds used
Add 18 grams if adding 1 serving of peanut butter and hemp seeds as toppings/mix-ins.

Energy Bites
Overnight Oats with Peanut Butter, Chia Seeds, and Fruit/Berries

22 grams
Add 3 tbsp of hemp seed for 10 more grams of protein.

Yogurt, Hemp Seed, Keto Nut Granola, and Fruit/Berries
Apples and Peanut Butter

8 grams per serving of PB
Add a side of protein: turkey meat, chicken, etc.

Roasted Veggies, Lettuce, Ground Turkey (or Chicken Breast), Pumpkin Seeds, and Dressing/Tahini for a Goddess Style Bowl (an easy recipe to try)

Protein would come from whatever meat, cheese, and seeds you add!
*Protein amounts are approximate and depend on ingredients used so check your nutrition labels!
ON THE SHOPPING LIST:
Veggies to roast: Sweet Potatoes, Cauliflower, Broccoli, Zucchini, Onion, Mushrooms, Peppers – So good with fried egg and avocado on top!
Arugula or spring mix and (sometimes) sprouts or microgreens to eat with meat, make salads, or use as a topping
Avocados
Cherry Tomatoes
Apples
Lemons (to add to water and use in dressings, etc.) and Limes
Berries
Bananas
Peanut/Seed/Nut Butter (make sure the seed(s) or nut(s) is the only ingredient)
Hemp Seeds (add to salads, oats, yogurt, smoothie bowls, energy bites)
Seeds and Nuts (for snacking and topping salads, bowls, etc. — pumpkin seeds, pine nuts, sunflower seeds, almonds, cashews, etc.)
Granola (love the KETO nut granola)
Sliced Turkey Meat
Chicken Tenders/Breast
Ground Turkey (brown up a batch to eat with roasted veggies)
Eggs (technically we get these from our backyard chickens, but wanted to add for the purpose of grocery list making)
Cottage Cheese (good culture is my fave brand and I usually go with whole fat)
Yogurt (the two good brand is low in sugar and high in protein, but tastes like stevia if you don't have enough toppings!)
Goat Cheese, Parmesan, White Cheddar, etc. for a topping or to eat with apples and turkey
Milk (I like coconut, my kids like almond)
Mini Chocolate Chips (for energy bites and chia seed pudding)
Protein Powder (current favorite – kids like it too)
Cocoa Powder (for chia seed pudding)
Catalina Crunch Cereal (for fun and curing a sweet tooth)
Dressings: anything Primal Kitchen, pesto (cut with olive oil), tahini, or simple lemon, olive oil, and S+P
Apple Cider Vinegar (for gut health just make sure it's raw/unfiltered — take "neat" or diluted in water)
Avocado, Coconut, and Olive Oil (for cooking, dressing, and drizzling)
NOTES:
As a simple guideline, my workout class trainer (Colleen ILY) suggested trying to get 20-30 grams of protein in each meal or snack. To help out your metabolism, appetite, and blood sugar, add some fiber and healthy fats to the meal/snack, too.
Another bonus that comes from increasing your protein is that it will boost your collagen levels and aid your bodies ability to produce it naturally. Chicken contains large amounts of collagen, while eggs, citrus, berries, leafy greens, cashews, tomatoes, lemon, and bell peppers contain nutrients that support your bodies ability to make collagen. Woot!
Just like addressing nutritional needs can feel like a risky game of dominos, the solutions always seem to have multiple benefits too!!!
What would you add!? Do you have any favorite high protein snacks or meals?
Xx, Rae
P.S. – For those interested, shop mini food trays here!