One of the most frequently asked questions I get, either in person or over the internet, is regarding the gallery wall in our family room. Finally getting around to answering all the questions and rounding up all the tips and sources. Buckle up (it's a long post!) and let me know if I missed anything. Here's how to make a gallery wall that your family and friends will love.
5 Things That Might Give Your Project Momentum:
Start with the end in mind… what are you going for!? Keepsakes? Favorite pictures? Displaying a collection? Is there a theme? Conversation piece? Certain colors? All black and white? Decide what vibe you're going for… it can always change, but having a direction helps. Sentimental was what I was going for hence the family photos, framed notes, and abundance of kid's art. A great way to figure out what you're most drawn to is to scour Pinterest and start a board.
What about the frames. Uniform, eclectic, different sizes, same sizes, oversized?
What's one piece of art or picture that I can build around? What colors or shapes can I pull from it?
Do I have a designated area where I can store the art, photos, and frames while I collect them!? (If not, make one!)
How much DIY am I willing to do? This will help you be realistic with budget, keep things from being overwhelming, and help you decide where to shop! Don't mind painting? Goodwill will be a fun spot to shop. If not, save your time and energy and skip the thrifting. Want to be totally hands off? Framebridge would be a great option!
Favorite Places to Find Art:
Your Kids' Art (how to scan, edit, and blow up kid doodles and art)
Personal Notes & Letters
ILY by, Rae (coming soon)
Search Local shops
Your Camera Roll (worth a deep dive, always!)
Lucy Mahon Prints are so Fun to me!
Uprise Art (speedy but has some good inspo if you're up for an art project!)
Favorite Places to Find Frames:
How to Arrange + Hang:
There are so many tips, tricks, and hacks for hanging art, including using velcro hanging strips (brilliant!). If you're not sure which route to take, I highly recommend a quick DIY search on YouTube — especially if your doing more of a grid style layout as opposed to a mismatched style (like ours) which is more forgiving. We like to start with the biggest or most middle piece and work our way out from there, using nails, a pencil or painter's tape, and an eye for spacing. Whatever method you use, it's helpful to remember that it's ok to mess up, nothings perfect, and good things take time (and maybe a couple different tries). Make it your own and tell a story that will make this a gallery wall that your family and friends will love.
Mindsets That Will Help:
Done is better than perfect and honestly, perfect is overrated. Also, it doesn't have to be perfect to be a pretty collection/display of things that make you happy.
Starting is the hardest part.
Holes in the wall are easy to fill with a little spackle and paint!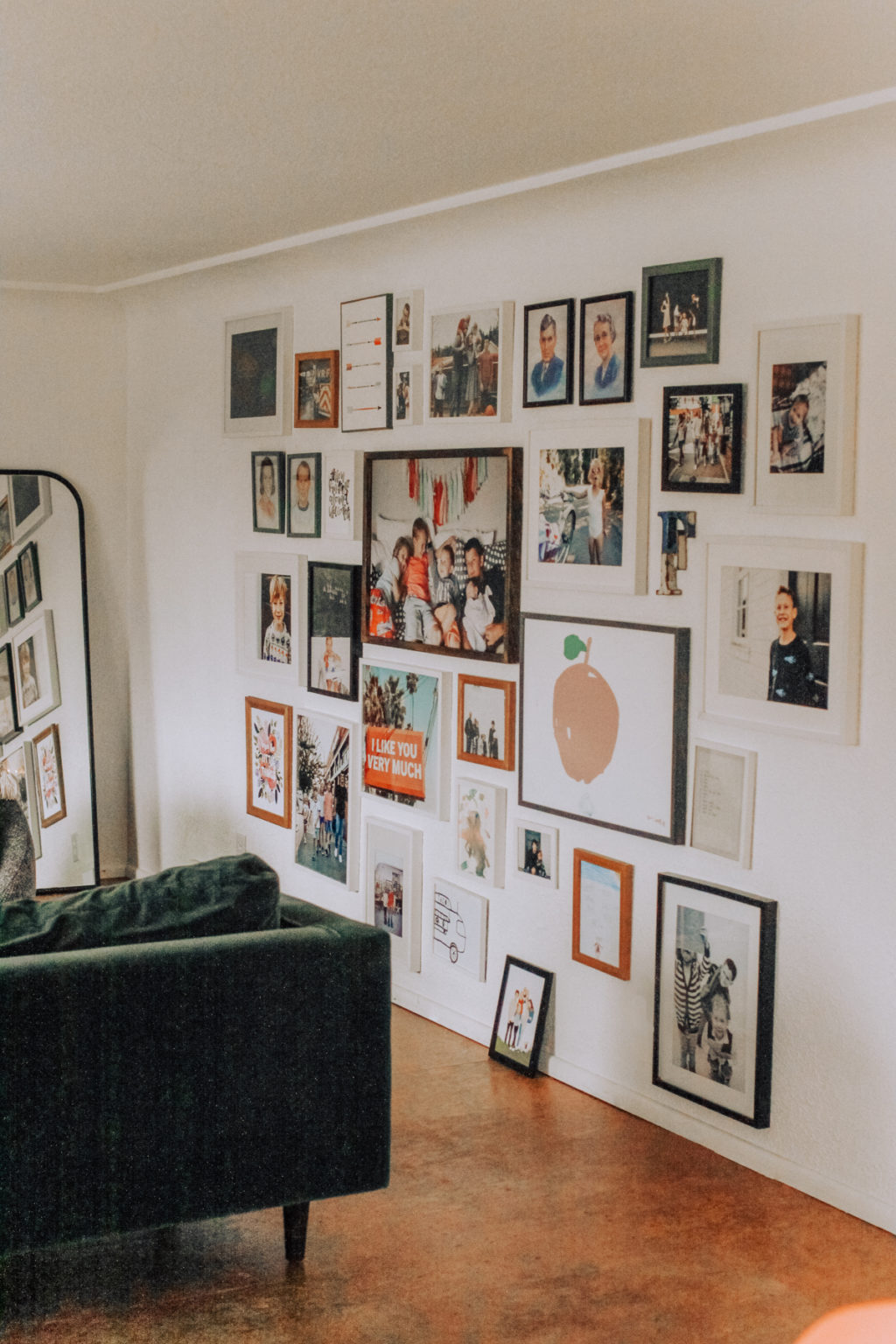 THE END!
Do you have a wall in your home that could use a grouping of art? Or a gallery project that you've been putting off? Hopefully this post will help!
Eventually, I will be moving this wall downstairs and doing something different and fresh (for us) here. Already dreaming of what I might want to include. Have my eye on this art (or something similar) and plan on taking up as much of the wall space as possible. Also hoping to add a few options to the ily shop!
Feel free to comment with any follow up questions.
Xx, Rae
A FEW POSTS YOU MIGHT LIKE: 5 budget friendly ways to update your home, "TEXT ME" printable poster, a mini summer (or spring) home-bar + playlist