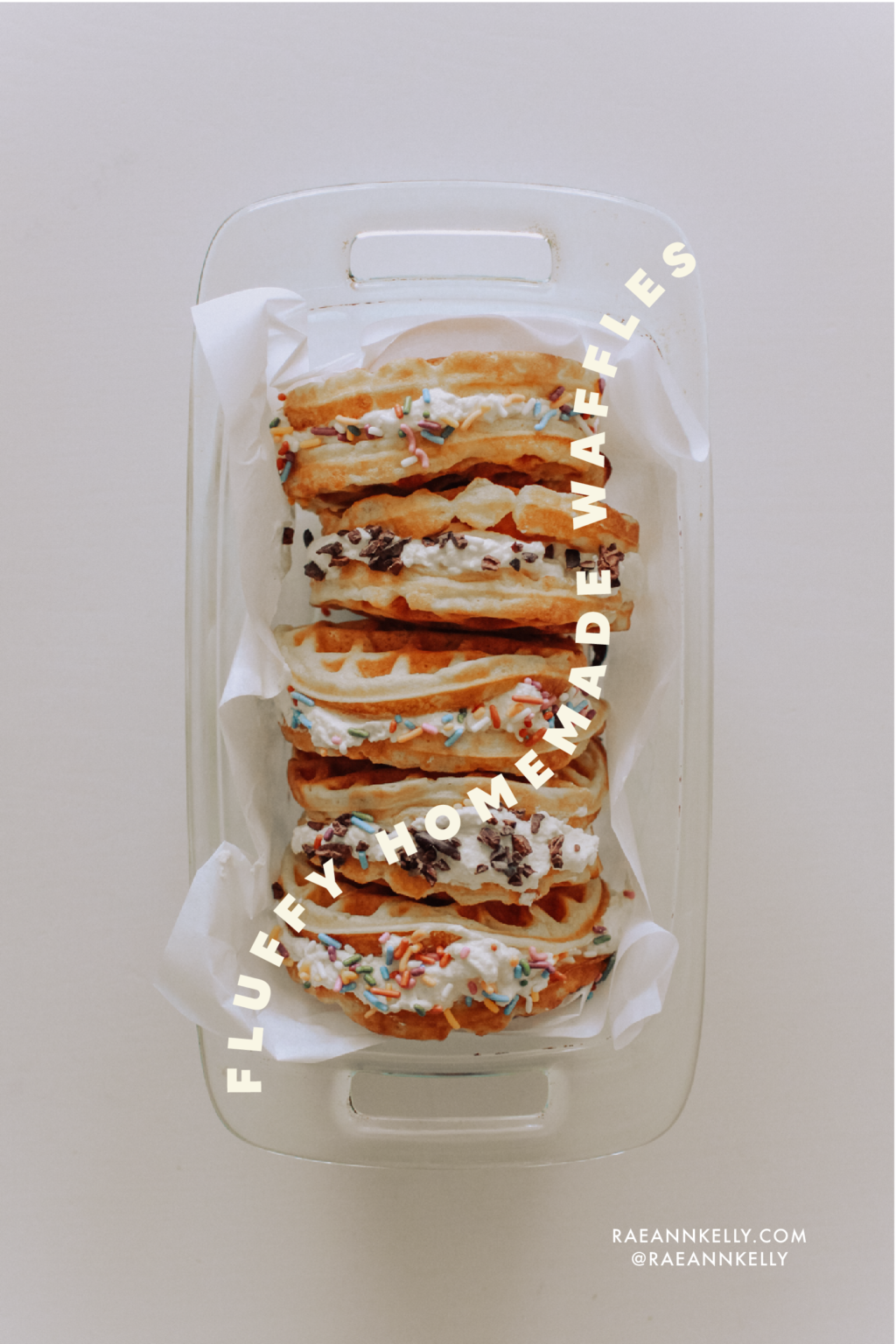 The perfect homemade waffles do exist! This recipe for crisp and fluffy waffles has become a staple in our home and completely replaced any premade pancake and waffle mixes… There is no going back! Best part is, you probably have all the ingredients on hand. Let us know in the comments if you give it a try!
CRISP & FLUFFY HOMEMADE WAFFLE RECIPE
YOU'LL NEED:
2

cups

flour

1

tablespoon

baking powder

2

tablespoons

sugar

2

eggs

(divide egg and yoke)

1-2/3

cup

whole milk

1/3

cup

butter, melted

2

teaspoons

vanilla extract

TOPPING IDEAS: butter, maple syrup, whipped cream, *sprinkles, peanut butter, jam, *cacao nibs, chocolate chips, powdered sugar, berries, bananas, cinnamon, sliced peaches, fried or scrambled egg, etc.
HERE'S HOW:
Preheat your waffle iron and melt butter over low, if using stovetop.

In a large bowl, combine all dry ingredients: flour, baking soda, baking powder, and sugar. Whisk together.

Divide the egg yolk and whites into two separate medium sized bowls.

Add the milk, butter, and vanilla extract to the yolk bowl and mix to combine.

With a hand or stand mixer, beat the egg whites on medium-high until stiff peaks form. Should only take a couple minutes and makes the waffles so fluffy!

Pour yolk and milk mixture into the dry ingredients and stir or whisk until combined, being careful not to over-mix. Add the egg whites and fold them into the batter gently.

Heat oven to 250-275 degrees to keep cooked waffles warm and crisp. Lightly grease waffle iron (I like to brush on a little butter). Use a measuring cup to pour batter onto waffle iron, until wells are almost covered. Close the iron and cook for about 4 minutes or until golden brown. (Tip: This is a great time to prep toppings or tidy up the kitchen. If you're like me though, be sure to set a timer!)

Place cooked waffles in a single layer, directly on rack in oven. When ready, top and serve!
Notes
Stacking warm waffles on top of each other will take away any crispiness, but they will still taste delicious!

This recipe makes approx. 24 mini waffles and feeds 4 kids with extra to spare, which we love to freeze or use in sandwiches for packed lunches.
If freezing, just pop in the toaster when ready to eat!
You can skip beating the egg whites and just include the full egg when adding to wet ingredients. This will change the fluffiness, but they will still be delicious!
To turn this into a pancake recipe, reduce baking powder to 4 teaspoons, add 1/2 teaspoon baking soda, reduce butter to 4 tablespoons, and skip beating the egg whites. Voila! 
Adapted from this recipe.
*Favorite sprinkles and best cacao nubs (or from Target)! Also, these parchment sheets always come in handy and I have this Teflon free (no PFOA/PTFE) waffle iron (or from WS) on my wishlist. How great are these waffle makers for fall!?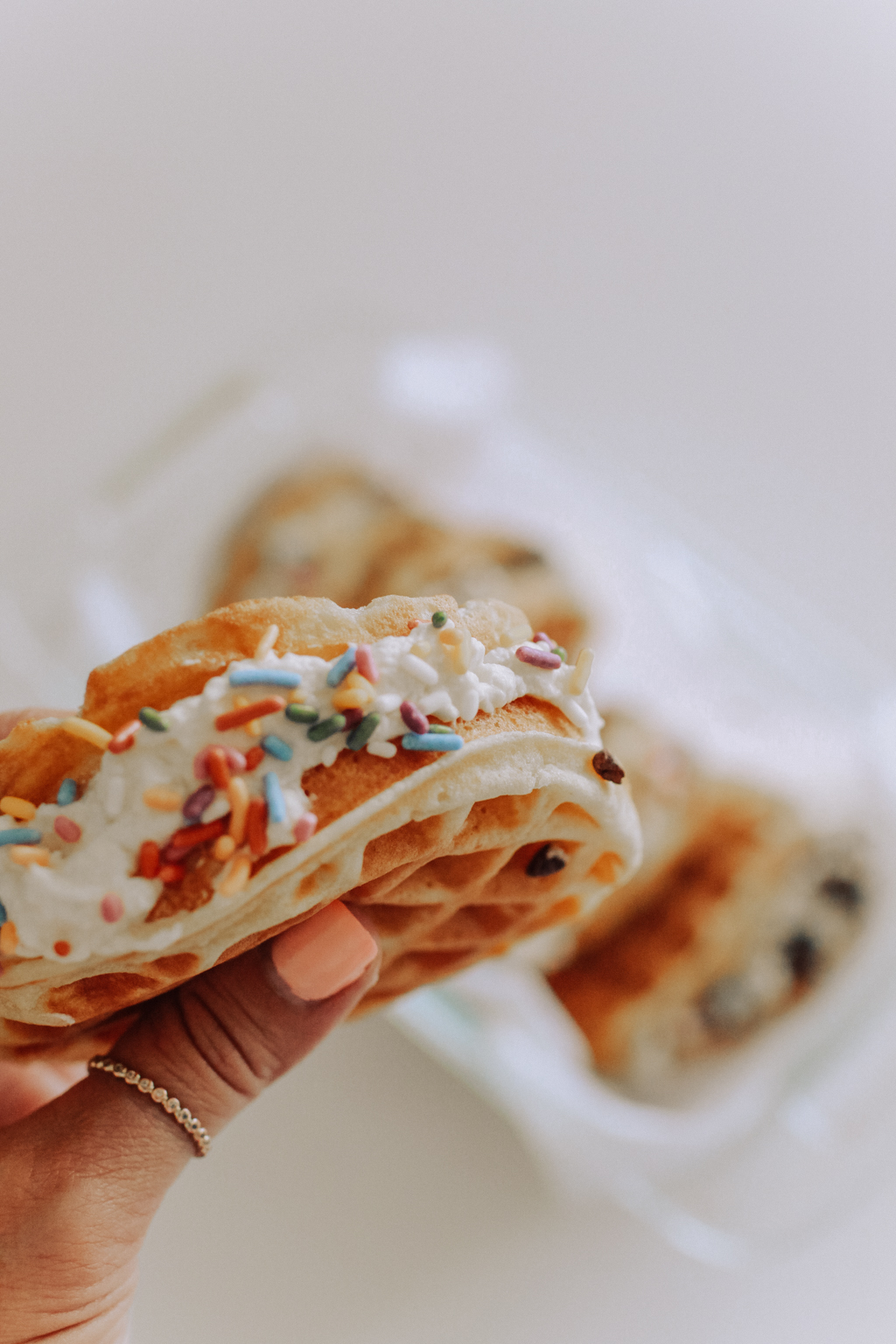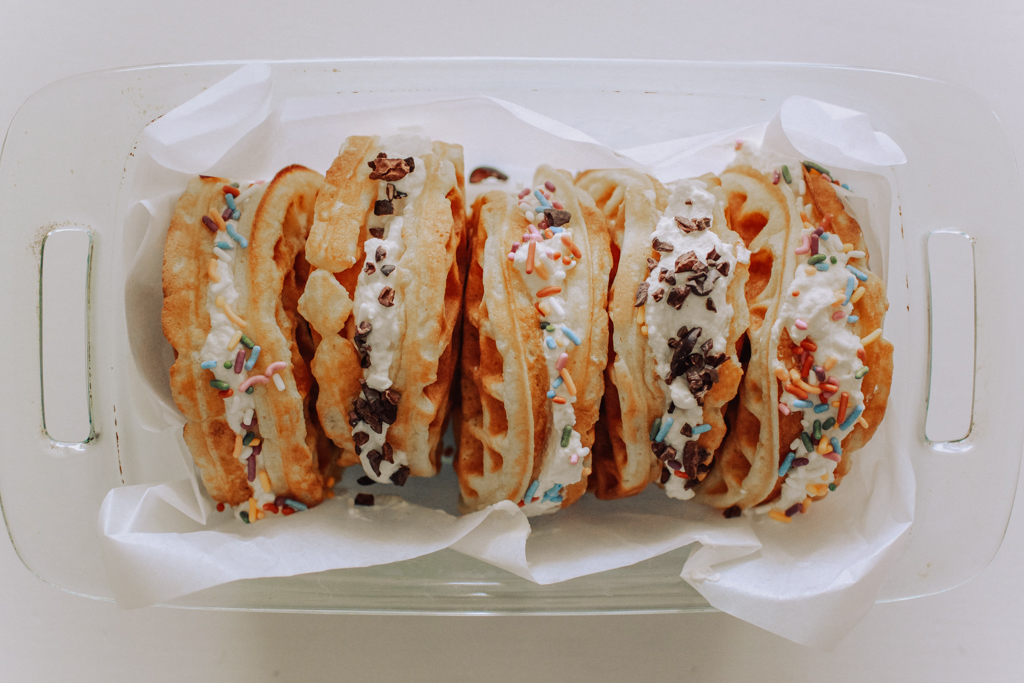 Did you see the note about turning this waffle recipe into pancakes!? There are just a few changes, but wondering if we need a separate post… What do you think?
xx, Rae
A FEW OTHER POSTS YOU MIGHT LIKE: A HEALTHY GRANOLA RECIPE THE WHOLE FAMILY WILL LOVE, THE BREAKFAST CLUB: BANANA SPLIT YOGURT CUPS, 12 EASY PROTEIN OPTIONS WE'VE BEEN PREPPING AND A GROCERY LIST