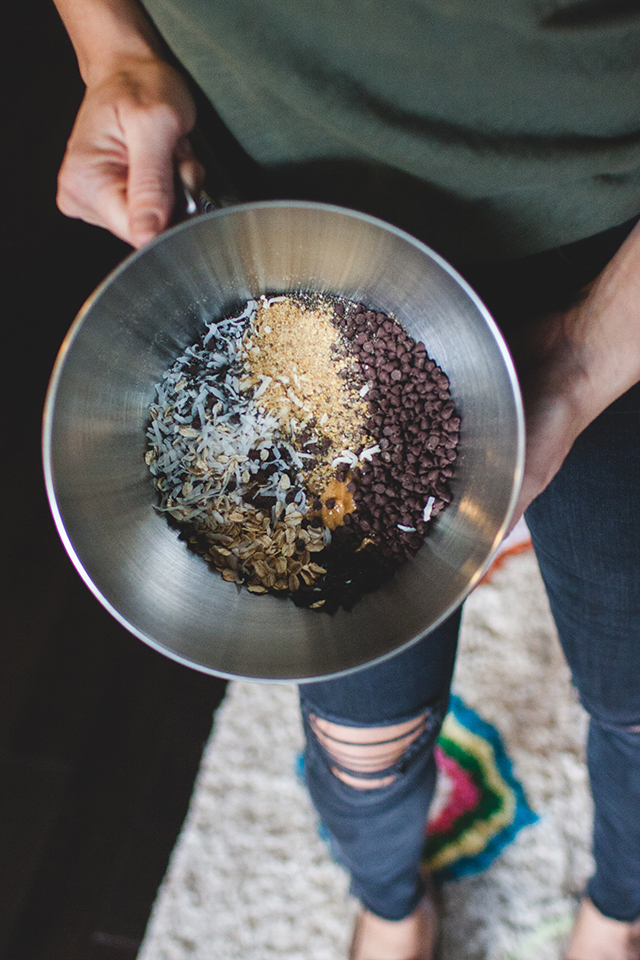 If I had a personal chef or the discipline/organizational abilities to meal prep once a week, these energy bites would for sure be on the menu every time. They're homemade (read: guilt-free), easy to grab and go, loaded with healthy stuff, tasty enough to satisfy a sweet tooth, and loved by (almost — because there's always that one…) everyone in the fam bam. They're also really fun to package up and share with friends. Even better when we've just made a fresh batch and the kids have buddies over!
I've always wanted to be the house with the best snack food for all the kids, without feeding them too much junk, and even though I fall short often, mixing these up makes me feel like I'm winning just a little :)
Peep the recipe below!
NO BAKE PEANUT BUTTER & CHOCOLATE CHIP ENERGY BITES, makes approx. 2 dozen
You'll Need:
1 cup old fashioned oats (like quaker), uncooked
1/2 cup coconut flakes
1/2 cup favorite nut butter (I like to use almond butter but usually use adam's peanut butter)
1/2 cup ground flax seed
1/2 cup favorite chocolate chips (I like to use the mini kind!)
1/4 cup honey (agave works too)
1 to 2 tablespoons chia seeds, optional
Here's How:
Using a hand or stand mixer, combine and mix ingredients until thoroughly combined.
Using your hands (and cookie scooper if you have one!), roll into 1 to 2 inch balls. Eat right away or chill first.
Store in an airtight container in the fridge for up to a week…. But I promise they won't last that long, LOL.
Happy Tuesday Loves!
xo, Rae
SaveSave
SaveSave
SaveSave
SaveSave
SaveSave