Worked on finalizing our Easter Basket loot over the weekend and wanted to share everything that made our list of ideas. I try to keep my baskets around $50 per kid, but don't include things that are already on my shopping list for them, in the total. For instance Poppy's basket costs $93 however, I would've bought the rain boots and graphic t-shirt regardless, which brings her basket down to $53.50. The older kids get to $50 a lot quicker, but I wanted to include the same amount of ideas for them, too (it was hard to narrow it down!).
If you've already finished your Easter shopping, head to J. Crew for all the adorable kids items that are on sale right now, including swim!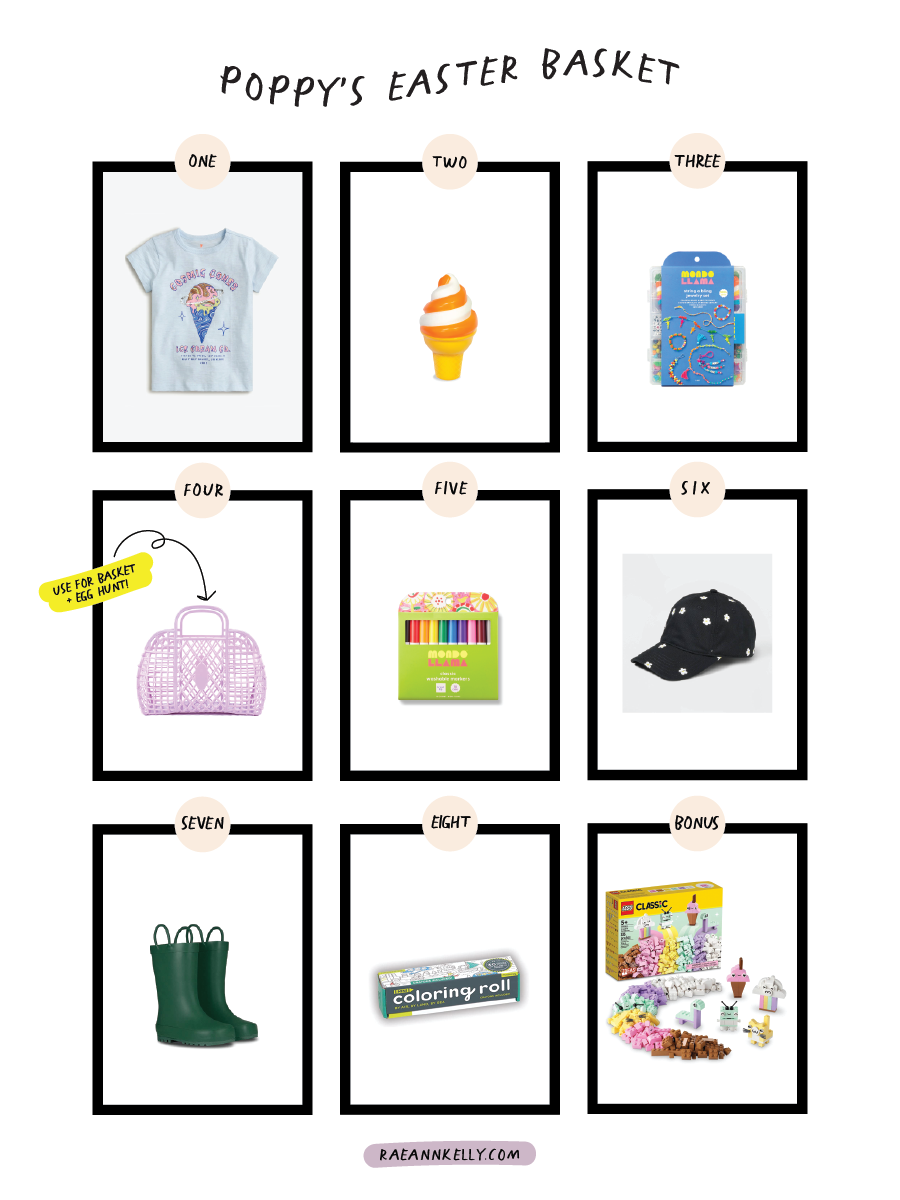 POPPY'S BASKET (8 Y.O.):
BONUS IDEAS: Poppy recently got this lego set and LOVES it, modeling clay and paint is always fun, anything from kids read truth (love the flashcard sets!), croc jibbitz (could grab a set and split between kids), Poppy also asked for a galaxy light and this tennis skirt.
TILLY'S BASKET (TEEN):
BONUS IDEAS: align tank, belt bag, decorative pillow, fun lights, pretty hair clip, sleep mask, Spa Headband, gift card for food/coffee, pretty plant for their room, glass silly straws (so fun!)
GRIFF'S BASKET (11 Y.O.):
BONUS: vintage baseball cards, favorite Drink (Griff loves Prime), pick up sticks, eye black, water bottle, sunflower seeds, big league chew
ESPEN'S EASTER BASKET (TEEN):
Skills Game $30
Adidas Sneakers $100
Striped Swim Trunks $25 (PacSun has great swim options for teen boys)
"I saw that" Air Freshener (I mean, lol) less than $1.50 each
Gift Card to Favorite Food/Sandwich Place
BONUS: waterproof drawstring bag for summer adventures, cute pair of sunglasses, water bottle, snacks/protein bar, sunflower seeds, big league chew
So excited to celebrate LIFE and Jesus this weekend, which has nothing to do with baskets, bunnies, or eggs, but always here for the fanfare!
xx, Rae