It's a busy week around here with birthdays, parties, and Halloween prep! For a hot minute I considered not putting together a meal plan (because what are the odds that we actually follow it?). HOWEVER it's always easier to start with a plan and make adjustments, than it is to have no plan and be scrambling to make a grocery list or throw dinner together at the last minute. Do you agree?
Here's what, may or may not be, on the menu this week!
MONDAY: Hot Honey Chicken Bowls
TUESDAY: Party nachos! Start with this carnitas recipe, then layer on all the yummy toppings over tortilla chips (cheese, sour cream, black beans, onion, avocado, cilantro, and cotjita cheese)
WEDNESDAY: Roasted veggie bowls with the best tahini sauce and adding grilled chicken or ground turkey.
THURSDAY: Birthday Dinner for Tilly! She's requesting lasagna…
FRIDAY: Pizza, Zucchini Boats, and Homemade Applesauce
YAY! SATURDAY!: Halloween Party Night (bring some Honey Whipped Goat Cheese and Hot Toddies, Mulled Wine, or Aperol Spritz)
SUNDAY: Leftovers, Breakfast for Dinner, or Rotisserie Chicken and whatever you have on hand!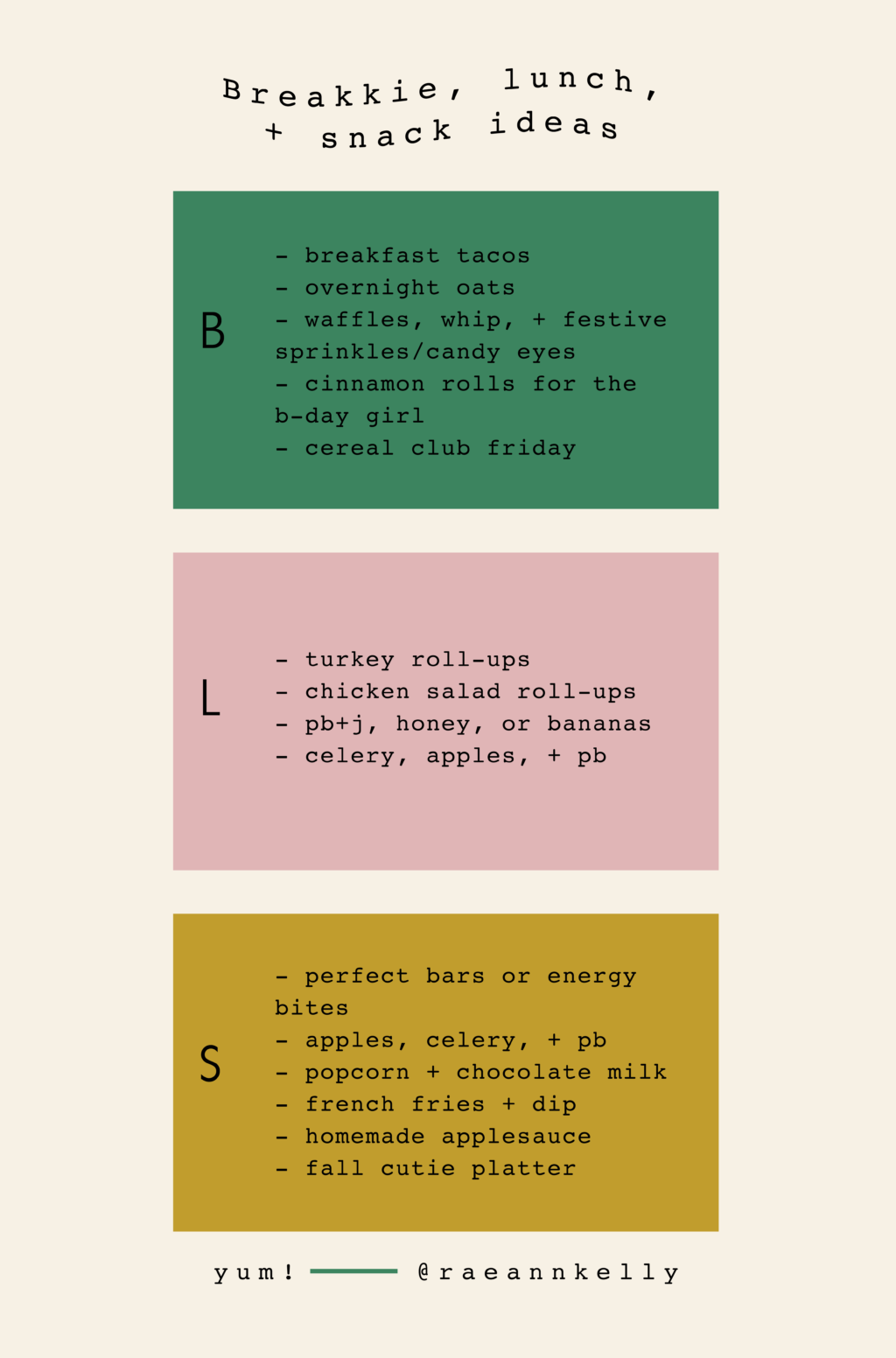 BREAKFAST: Breakfast Tacos, Overnight Oats, Cinnamon Rolls for the Bday Girl, Waffles, Whip, + Festive Sprinkles or Candy Eyes, Cereal Club Friday
LUNCH: Turkey Roll Ups, Chicken Salad Roll Ups, PB + J/Honey/Banana, Celery, Apples, + PB
SNACK: Perfect Bars or Energy Bites, Apples, Celery, + PB, French Fries + Dip, Popcorn + Chocolate Milk, Fall Cutie Platter, Homemade Applesauce
Anyone else celebrating Birthdays in the next couple weeks?
Cheers to a yummy (FESTIVE!) week!!!
xx, Rae
P.S. – Save the blank meal plan (below) to fill-in and share on socials, with friends, or save on your phone! We also have a printable option HERE you can laminate! Tag me if you share on Stories @raeannkelly.