My kids wait all year for applesauce making season and while it's hard to justify the time (and mess) when there are so many pre-made options to choose from, you just can't compare the two. One tastes like processed apples. The other tastes like magic in a jar. And if you're willing to make a few batches, you can develop a signature combination that your family loves and looks forward to. It's really pretty fun and the process is satisfying! Sharing a simple homemade cinnamon applesauce recipe below that can be tweaked to taste.
HOMEMADE CINNAMON APPLESAUCE
This recipe is easy to personalize, fun to make, and tastes like pure magic.
YOU'LL NEED:
6

pounds

apples (approxim 16 medium apples)

1 to 2

cups

water or apple juice/cider

(use less if you want more chunky consistency… we use 2 cups)

1

lemon, juiced

1

tablespoon

cinnamon (more or less to taste)

optional:

additional fall spices (nutmeat, allspice, etc.), brown sugar or maple syrup to sweeten
HERE'S HOW:
Peel, core, and cut up apples (or use the corer pictured… I'll link below!).

In a large pot or dutch oven, combine all ingredients including spices and sweeteners (if desired). Place over medium heat and stir occasionally for 25 minutes.

TIME TO BLEND! Use an emersion blender, food processor, or blender (work in batches if needed) and puree to desired texture. Add more spices if needed and serve immediately or store in the refrigerator.
*Option: If you prefer a little less prep-work and more nutrients, try leaving the peel on your apples!
SOURCES: Apple Peeler (only $15), Dutch Oven (6 quart), Striped Dishtowel, Prep Bowls, Oversized Chalkboard DIY (just paint instead of adding cork board)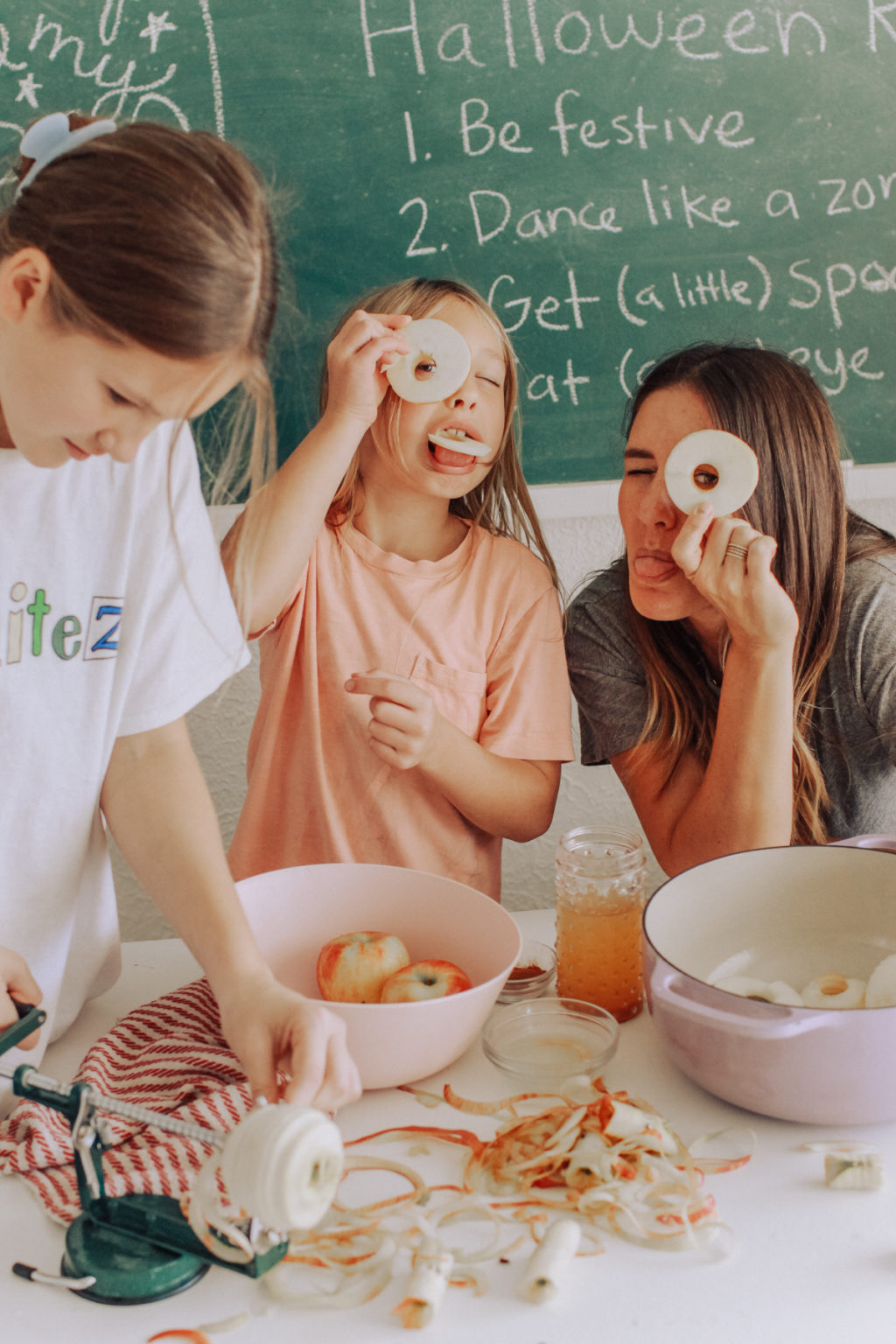 In-between making the applesauce and jarring it, we had to take a break and move our neighbor's piano into our basement (hooray!). While we were across the street, a wild pack of kids walked through the house and ate two-thirds of the apple sauce before I could finish making the reel or taking pictures. I wanted to be mad about it but honestly couldn't blame them, lol. What do you expect a bunch of boys to do when they stumble upon a fresh pot of warm cinnamon applesauce???? I was thankful to have one jar full… which also didn't last very long.