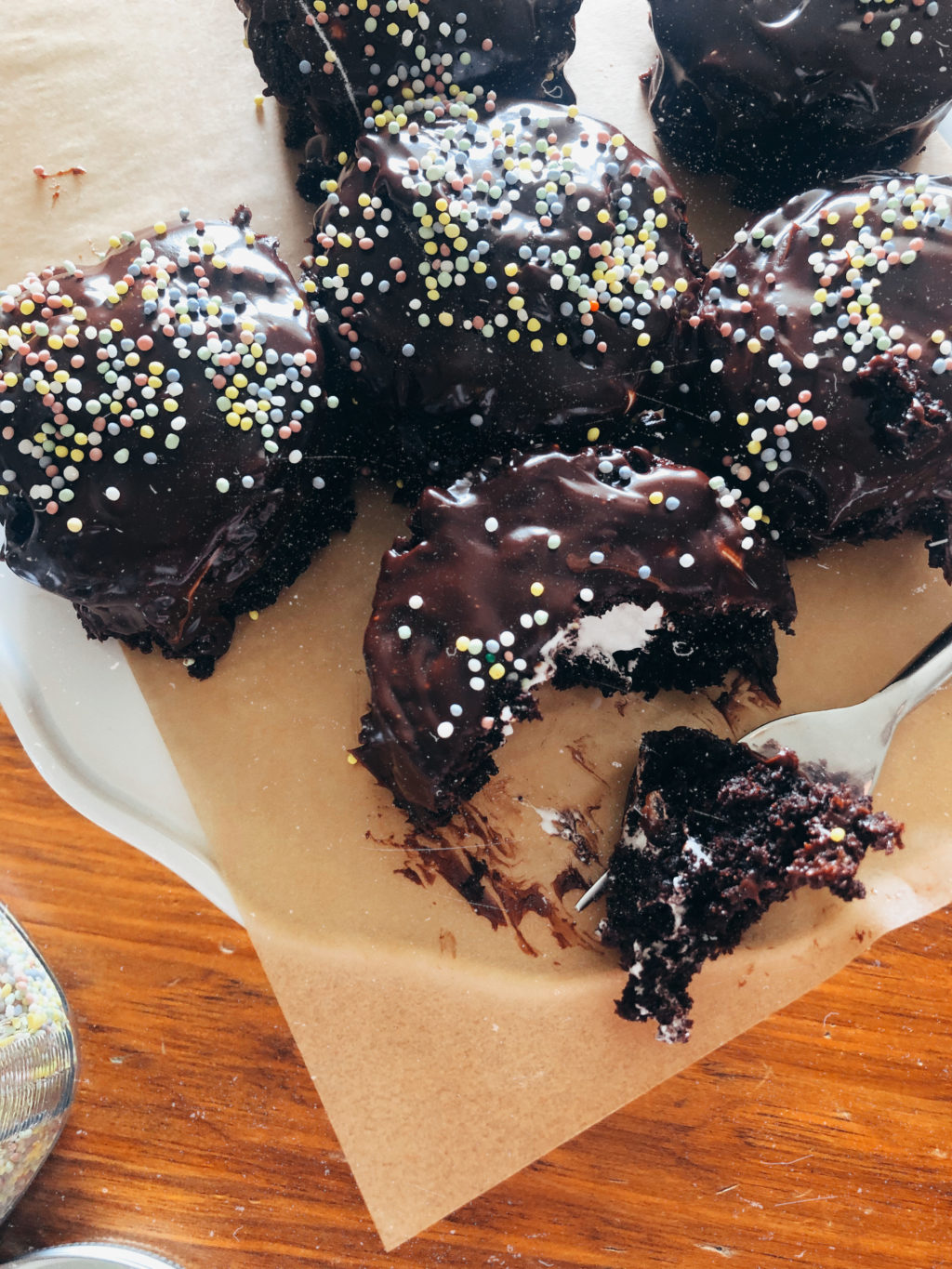 I've been trying to find ways to break up our days, add a little fun, and give us something to look forward to without killing myself since this quarantine thing is looking more like a marathon than a sprint. Hopefully you see that reflected in the meal plan this month. I threw in some kid's and dad's choice nights along with some takeout too so we can support the restaurants in our communities… so important! Will also be serving dinner picnic style (in the backyard, back deck or living room floor) at least one night a week if you want to join us. Even ordered some compostable takeout containers to make it feel extra special (and limit the dishes 😏).
Don't forget to add dessert to the menu too! Pics are from our mostly successful attempt at making homemade ding-dongs last week. Totally worth trying! This week we're going to try our hand at ice cream making.
Menu links below!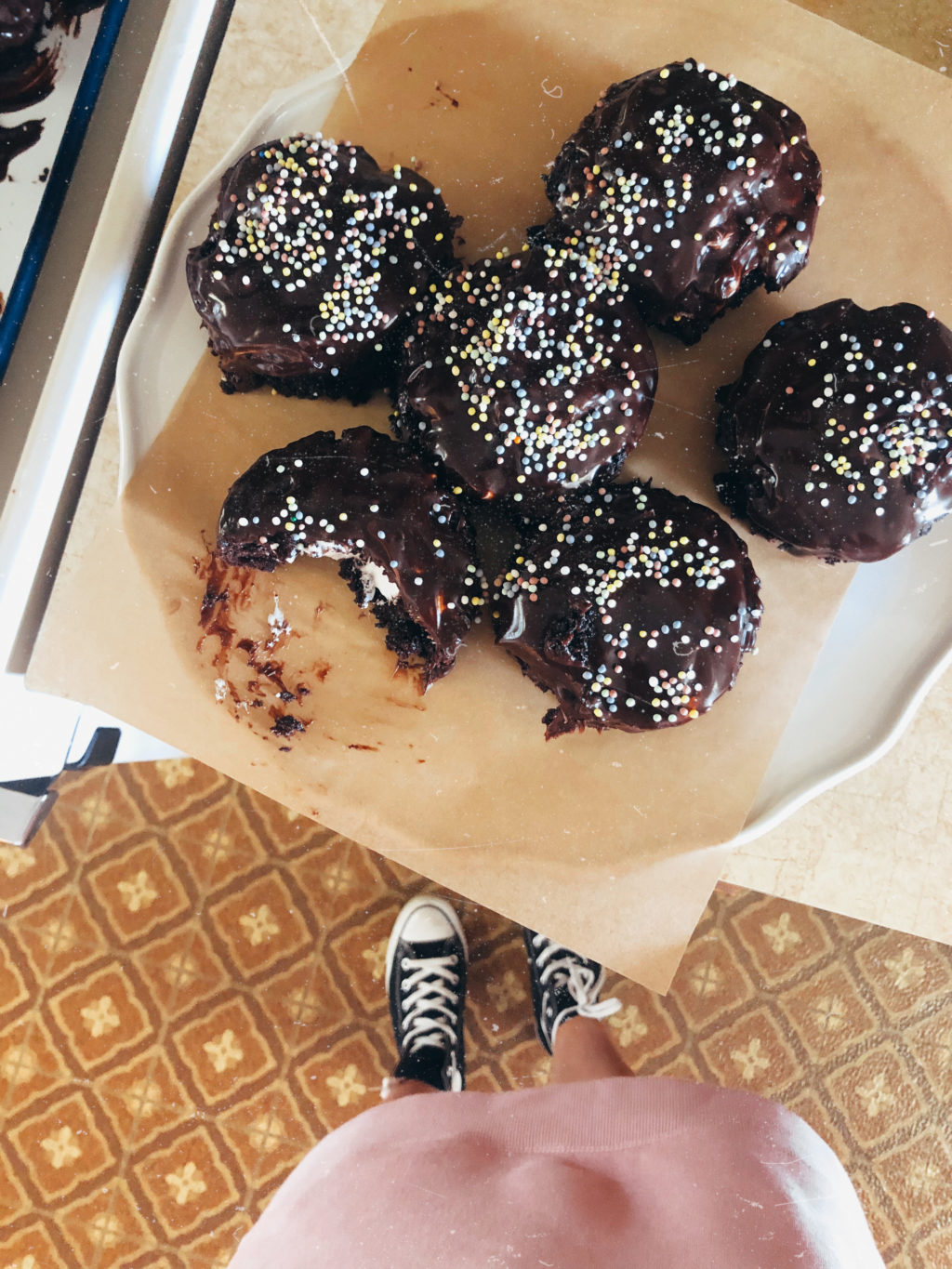 (How about those kitchen floors, ha! Been loving our new abode and all it's quirks… working on a move update for later this week!)
WEEK 1
M | Dinner + dessert night! Have the kids whip up something sweet in the kitchen earlier in the day. Also, this monday calls for a soup with pasta dish because pasta is the way to my kids' hearts and soup is the way to mine. Try this Pasta e Fagioli recipe or this crockpot version.
TU | Taco Tuesday forever — making Mexican slow cooker pulled pork carnitas! Reserve some meat for loaded fries on Friday!
W | KID'S CHOICE + a big salad! Here are a few good arugula salad options and this one is still a favorite in our home)
TH | Simple mushroom + broccoli stir fry noodles
F | Happy hour (we've been making Aperol Spritzers) + dirty fries (my family went crazy for them last month… will probably swap the bacon with Tuesday's leftover pork and add shredded romain, avocado, cojita cheese and lime!)
SA | Takeout so we can rest up for all the Easter festivities!
SU | HAPPY EASTER! We usually fill up on all the sweet and savory brunch food throughout the day and then cook up a lighter salmon dish at night. Going to try this salmon + green beans with a side of red potatoes. Would love to know what your easter food traditions are!
WEEK 2
M | Use up your leftovers from Easter… We'll be making this salmon, avocado, rice bowl with our leftover salmon.
W | KID'S CHOICE + a big salad
F | Happy hour + homemade Stromboli
SA | DAD'S CHOICE (maybe something grilled!?)
SU | Takeout night or leftovers!
WEEK 3
M | Quinoa stuffed peppers, FTW!
TU | Been craving some Korean-Hawaiian street tacos from Marination Ma Kai so let's try these Hawaiian tacos or these Korean tacos… if anyone knows a good fusion recipe between the two, do share!
W | KID'S CHOICE + a big salad
TH | Veggie chipotle Chili on toasted bread
F | Happy hour + charcuterie platter night! Here's a good list of options, just sub the seasonal fall fruits and veggies for something more spring-ish.
SA | DAD'S CHOICE
SU | Slow cooker meatloaf (looks so good!), with fries + a side salad or sliced melon
WEEK 4
M | Leftovers or make a fun pasta recipe! This spring pasta carbonara looks like a winner :)
TU | Breakfast burritos for dinner! Our favorite Sodo breakkie burrito is simply scrambled eggs, ground sausage, pico + cheese in a fresh tortilla. Or try this combo!
W | KID'S CHOICE + a big salad
TH | Asian slaw with chicken (or make it vegan!)
F | Pizza night!
SA | DAD'S CHOICE
SU | Slow cooker apricot chicken (always a fave in our home) over rice with a side salad
BREAKKIE |
Homemade cinnamon rolls, hardboiled eggs 🐰, omelets, chocolate croissants, bagels and cream cheese, lots of fruit, and cereal… also want to try this savory danish
LUNCH |
Bagels + cream cheese, leftovers, quesadillas, nachos, avocados, fruits + veggies, cheese/cracker/salami, + chips
Have you guys been spending extra time in the kitchen lately? If so, what have you been making!?
xo, Rae