2020 might be the year for loungewear, zoom calls, and wine whenever, but it is definitely not the year for half assery. And that includes doing everything I can to boost my families health and home environment, where we are still spending the majority of our time. We do this by diffusing and rolling essential oils, and by switching cleaner, non-toxic products (slowly but surely)… I totally get it if that feels crazy overwhelming, but it doesn't have to be! Start with one thing at a time, like these recipes that deter unwelcome house guests without the threat of poisoning your children or pets. YAY!
Follow the graphics below to make your own bug repellant spray… I also included the labels you can download print and use, too!
A couple months ago we made a spider spray after the crazy critters started coming out to play during our basement teardown. It's been awhile since I've seen any, but now that the weather is changing they'll want to start moving in to stay warm so I'll be sending the kids around the house to spray again!
You'll need an 8oz or 16oz spray bottle, splash of dish soap or witch hazel (this will help mix the oils with water), and 1 or 2 oils listed above — depending on what bugs you want to repel! Lots of them are included in a starter kit if you want to snag yours by signing up for with me here!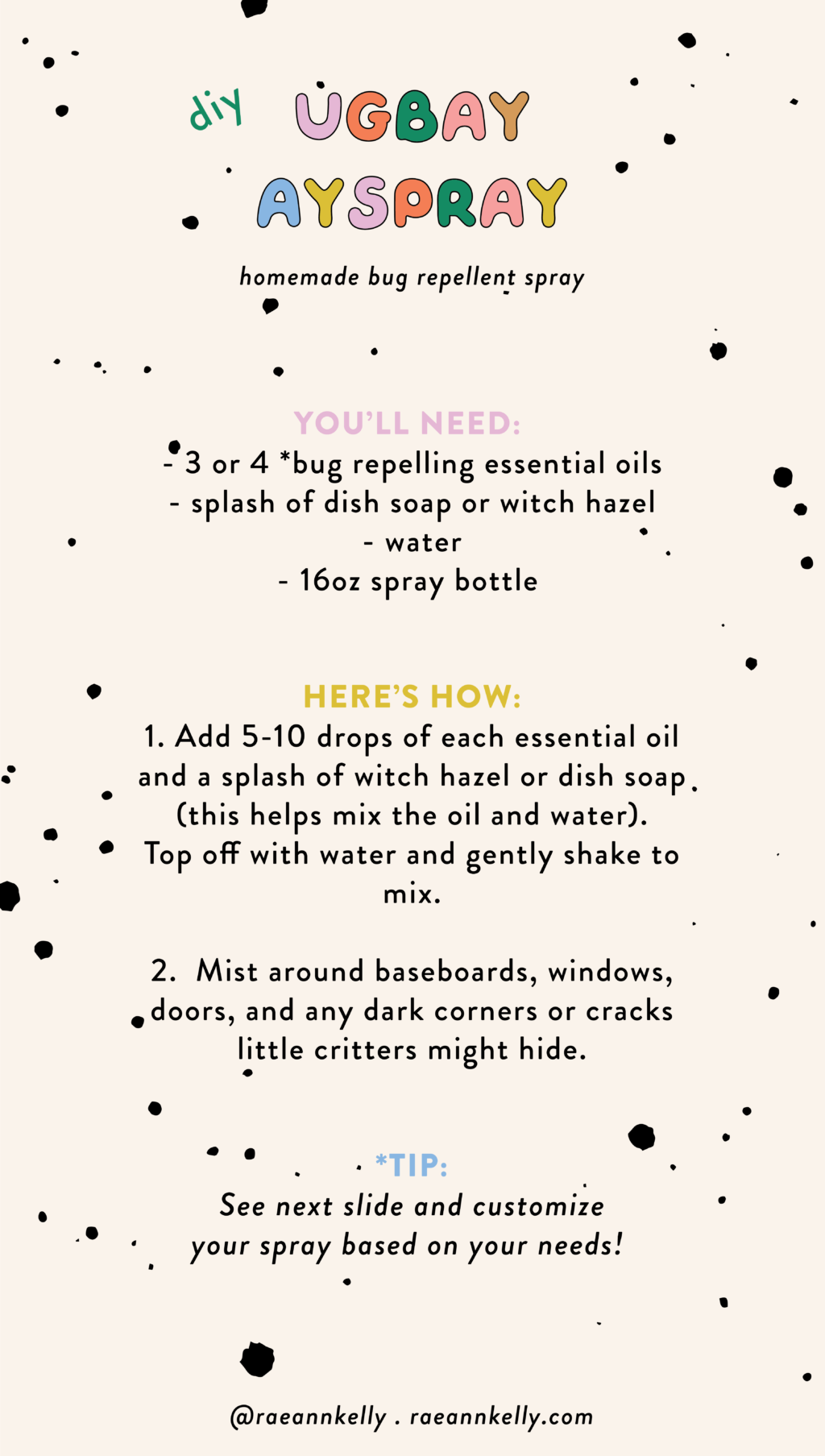 Several of the oils listed above come in the Welcome Home and Premium Starter Kits if you've been curious about oils or Young Living products (they're the absolute BEST!). I'd love to walk you through it, answer all your questions, and then hook you up with all the fun and magic (including a package of goodies from me!) and none of them overwhelm. It really is so much more simple than it looks… You just need to start! Selfishly, I'd really love to be your Guru… you won't regret it! You can follow the steps here or send me an email or dm!
xo, Rae