Not sure how the long weekend managed to go by faster than a normal one, but it did and I was far from being ready for Monday (hence a Tuesday post :). Trying to remember everything we actually did to fill the time, but assume it must have been good :)
One of the best parts was the bonfire and s'mores date we threw together on Veteran's Day (thank you, thank you to our brave military and their families!) and then dinner with friends afterwards. Instead of staying home, where we most likely would have filled much of our extra family time with yard work and laundry, we took off for my parent's house to use their fire pit and pretty backyard. And of course check the mail since they were out of town… You know, just doin' our part! Here's a few pics from our time around the fire…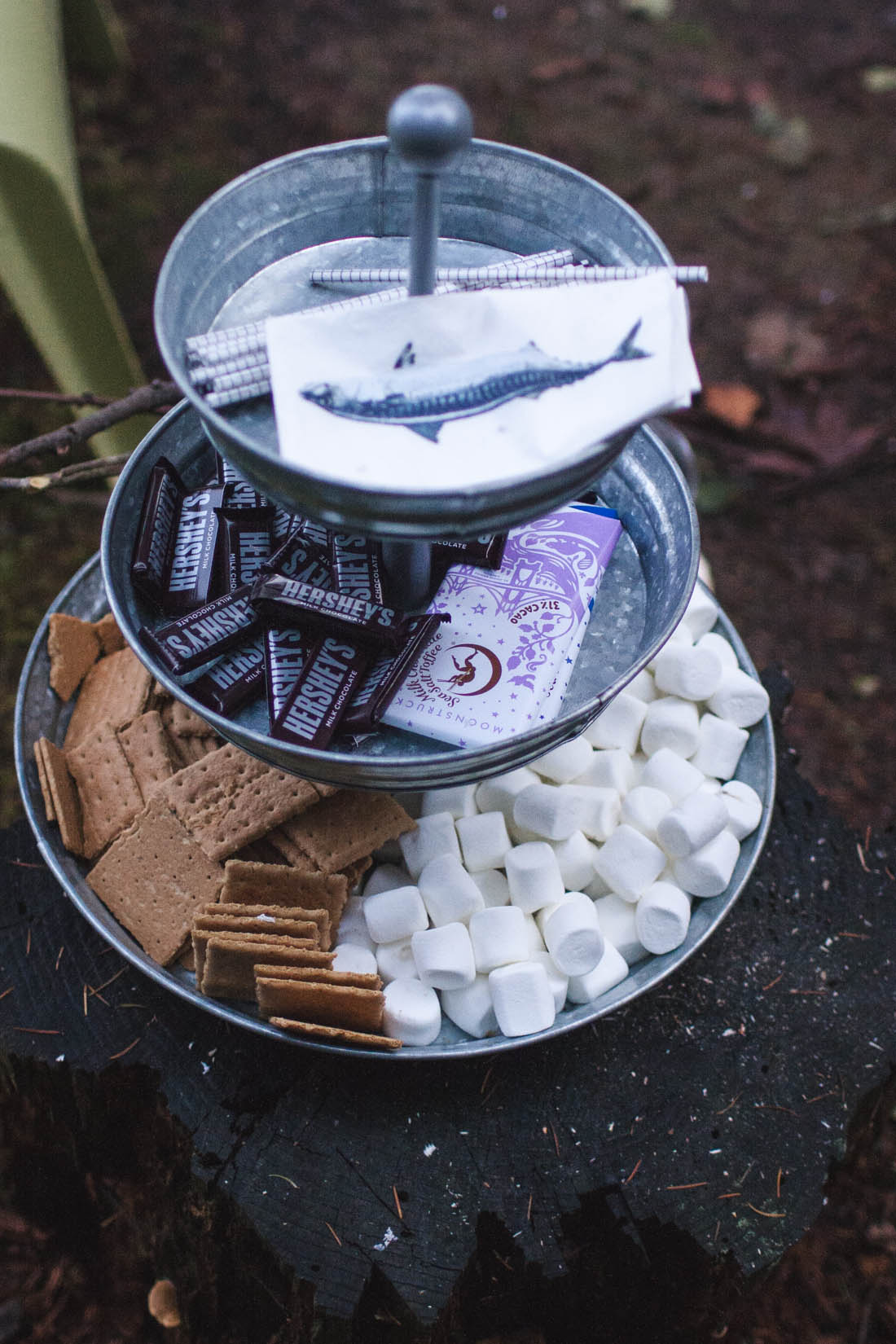 Dumped all the s'mores ingredients out in this tiered tray and it made it so much easier to assemble our treats!
My "spirited" kids searching for (but mostly playing with) the perfect roasting sticks. I was sure someone was going to lose an eye during this process and tried not to follow them around, nagging them to be careful every 10 seconds. A timeless mom dilemma, but seriously, what is it with sticks, rocks and kids!?
(My happy place! Also, mad for plaid.)
The three middle kids prefer a scorched mallow over a gooey golden brown one. Initially I thought they just liked the taste but now I'm thinking it has more to do with blowing out the fire and not having to wait as long to eat their s'more!
Oh, that first bite!
Even though Ozzie was traveling for football and Poppy was down for a nap, it felt good to have some dedicated family time while also checking s'mores off of our fall bucket list. Something I had been dying to do!!
Bringing things back to my first thought of the post, do you ever have someone ask you on a Monday, "How was your weekend?" and your like, "Ummmm, I know it was good but not exactly sure what we did!?"
That's me everyday lately, which makes me extra appreciative of the times we grab our phones or big camera to take a few shots of these fleeting moments. Now I just need to make more photo albums (a.k.a. chatbooks) out of them!
What is your favorite way to document memories?
XO, Rae
ME | buffalo check sweater, jeans, booties (similar), beanie from Target (similar)
TILLY | black coat, jeans, sneakers
GRIFFIN | buffalo check henley (similar-ish), jeans