You guys know I'm all about a good meal plan and shopping list but there are certain times, months and weeks during the year when simply having a stocked kitchen and a generous list of easy, fun and mostly healthy meals and snacks is the best option. To do this, it's more about the shopping than it is the plan and I think we would all agree Costco and Trader Joe's are the best places to accomplish this. Since I'm still a newbie at Trader Joe's, thought I'd start by sharing our Costco must-haves. Because we all know the way to a happy home is through everyones bellies. Case in point, below.
A Pocky little Poppy :)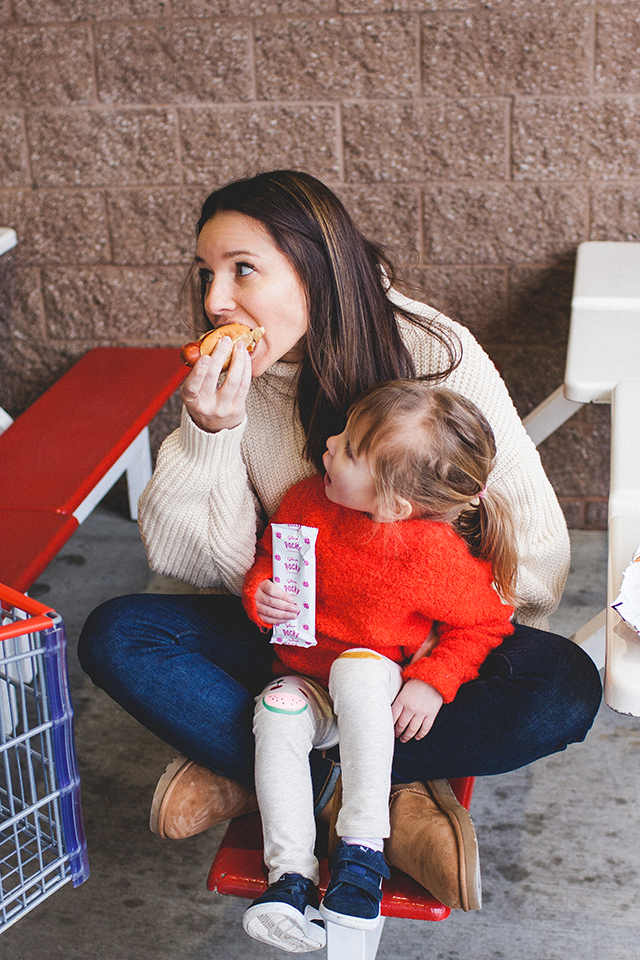 Feed me mama! Ha! Yet her half of the hot dog, minus the mustard, is sitting on the table. I swear my kids always assume that whatever I'm eating is somehow better than what they have?
There's my little birdie again, waiting for a bite!
Now for a loooong list of things we mostly keep stocked from Costco… Some of my pics didn't turn out (sorry) so there is a lot of stuff listed that isn't pictured, but hopefully it still helps!
PRODUCE: 
mini cucumbers (so yummy and convenient. easy to pack up and dip in hummus too!)
mini bell peppers (also so good and easy for packing and dipping)
the salad kits (i'm a sucker for just about any "chopped" salad, and we only use half of the dressing on each one. top with chicken, steak or sandwich meat and you have an easy dinner)
spinach or power greens (great with fried eggs or in smoothies!)
berries (for snacking, adding to yogurt, oatmeal or protein pancakes in the morning or packing up for a dinner side)
kiwis
grapefruit
limes/lemons
watermelon (when in season)
apples, bananas, grapes, cuties :)
FRIDGE:
carne asada (pictured below & it's soooo good. thank you to our friends for introducing it to us!)
organic chicken breast
flautas (usually served as a hearty snack or if someone needs to leave for a game/practice and dinner isn't quite done.)
chicken meatballs (the kids aren't crazy about them but Johan and I love them and they are already cooked so make dinner prep quick!)
pesto (for pasta night, breakfast sandwiches – that we often serve for dinner – paninis and THIS SALAD)
jack's organic salsa (my personal favorite but i don't like the spicy stuff. aside from snack and taco/quesadilla/nacho/burrito bowl night, i add it to my eggs in the morning.)
guacamole cups
hummus and hummus cups
half + half + milk
eggs (organic free range)
string cheese or babybel's
almond milk
ground turkey
FREEZER:
pot stickers
mango chunks (for smoothies)
blueberries (for smoothies)
berry mix (for smoothies)
edamame
french fries
spinach raviolis
DRINKS:
la croix
honest juice
izze sodas (every once in awhile)
bai juices (also every once in awhile)
beeeeer :) (also every once in awhile, but especially in the summer)
stumptown cold brew coffee (was available the last time i went but they don't usually have it)
PANTRY:
quinoa and brown rice packets by seeds of change (these pouches will change your life. warm up in the microwave and add to a burrito bowl, goddess bowl, breakfast burrito or THIS SALAD
cans of black beans
canned chicken for salad, chicken melts or to eat with crackers/cucumber slices
canned diced tomatos (for pasta al fresco, soups or chilis)
chicken stock
corn + flour tortillas
mike's killer or good seed bread
coconut oil
olive oil
raw almonds
organic spaghetti
mixed berry or raspberry jam
ALL THE NUT BUTTERS – adams peanutbutter, organic creamy peanut butter, almond butter
kodiak protein pancake mix
pretzels
late july sea salt multi-grain chips
pirate booty
organic tortilla chips
pocky biscuit sticks (bought these on a whim just before valentine's day so now the kids request them every time i go — oops — but i think they are less expensive at winco)
Kirkland coffee pods
fruit leathers
applesauce or go-go squeeze fruit pouches
chia seed pouches
fig bars
zbars
baobab superfruit powder (for smoothies)
ground flaxseed and chia seeds OR antioxidant blend with flax, coconut, acerola, açaí, and camu-camu (for smoothies, energy bites and oatmeal)
gold standard protein powder (our favorite kind because it's not chalky tasting. costco doesn't always carry it but last time it was there the price was $15 less than amazon)
BAKERY:
muffins (ftw, always. perfect for busy mornings because the kids love them as much as crepes so they hurry down for breakfast, but i don't have to cook :) — we usually serve them with scrambled eggs or a protein shake and fruit)
dinner rolls (sometimes we grab them for sliders, meatball subs or pulled pork sandwiches and then use the rest for lunches. they are the perfect size for the kids… but is also white bread so feels like a treat to the kids.)
pretzel buns (if we plan on feeding chili to a crowd!)
Is there anything sexier than a trunk filled with Costco goods? I think not! ha! When Johan and I first got married, our weekly grocery budget was approx. $50 so you better believe I feel so incredibly blessed every time I get to stock up on food for my family.
Do you guys geek out as much as I do over groceries and stores? Please say yes (lol) and tell me what your favorite part or place is!?
XO, Rae
SaveSave
SaveSave