My mocktail game has been strong this summer and (so far) this grapefruit thyme fizz is everyone's favorite! I used to kinda roll my eyes at the thought of a non-alcoholic cocktail (I mean, what's the point!?) but have come to appreciate how refreshing, fun, and aesthetically pleasing they are. A really simple and delicious way to make a mundane evening at home feel special. Of course, you could also add some champs or alcohol to this drink if you're feeling frisky! Take a peek at the recipe below and let me know in the comments (or @raeannkelly) if you give this grapefruit thyme fizz a try!
P.S. – Don't let the yellow grapefruit throw you off! Normally this drink would be pink instead of yellow, but Blanco Grapefruits were the only kind in stock at our local grocery store — and they were delicious!
REFRESHING GRAPEFRUIT THYME FIZZ MOCKTAIL
Whether you're looking for simple ways to romanticize your life, or you want to cut back on alcohol, this recipe is a good one to try! It's also light, refreshing, bubbly, and fun to garnish.
YOU'LL NEED:
SIMPLE SYRUP
1/2

cup

water

1/2

cup

sugar

3

sprigs

thyme
MOCKTAIL
1

cup

fresh grapefruit juice (2-3 grapefruits)

1

cup

sparkling water (like Pellegrino)

1

tablespoon

simple syrup (recipe above)

ice!

garnish: thyme, grapefruit slices

extra sugar for rim
HERE'S HOW:
SIMPLE SYRUP
In a small saucepan over medium heat, combine sugar and water, and stir until sugar has dissolved completely.

Remove from heat, add thyme sprigs, and let steep for 10 minutes. Remove sprigs, transfer to storage container and let cool before using in your cocktail. Store remaining syrup in an airtight container in the fridge for up to a month.
MOCKTAIL
Juice grapefruit, reserving a slice or two for your garnish.

Gently rub a slice of grapefruit to all or part of your cocktail glass of choice. Dip in sugar. Fill glass with ice, 1/2 cup grapefruit juice, 1/2 cup sparkling water, and 1 tablespoon of simple syrup.

Garnish as desired and serve immediately… YUM!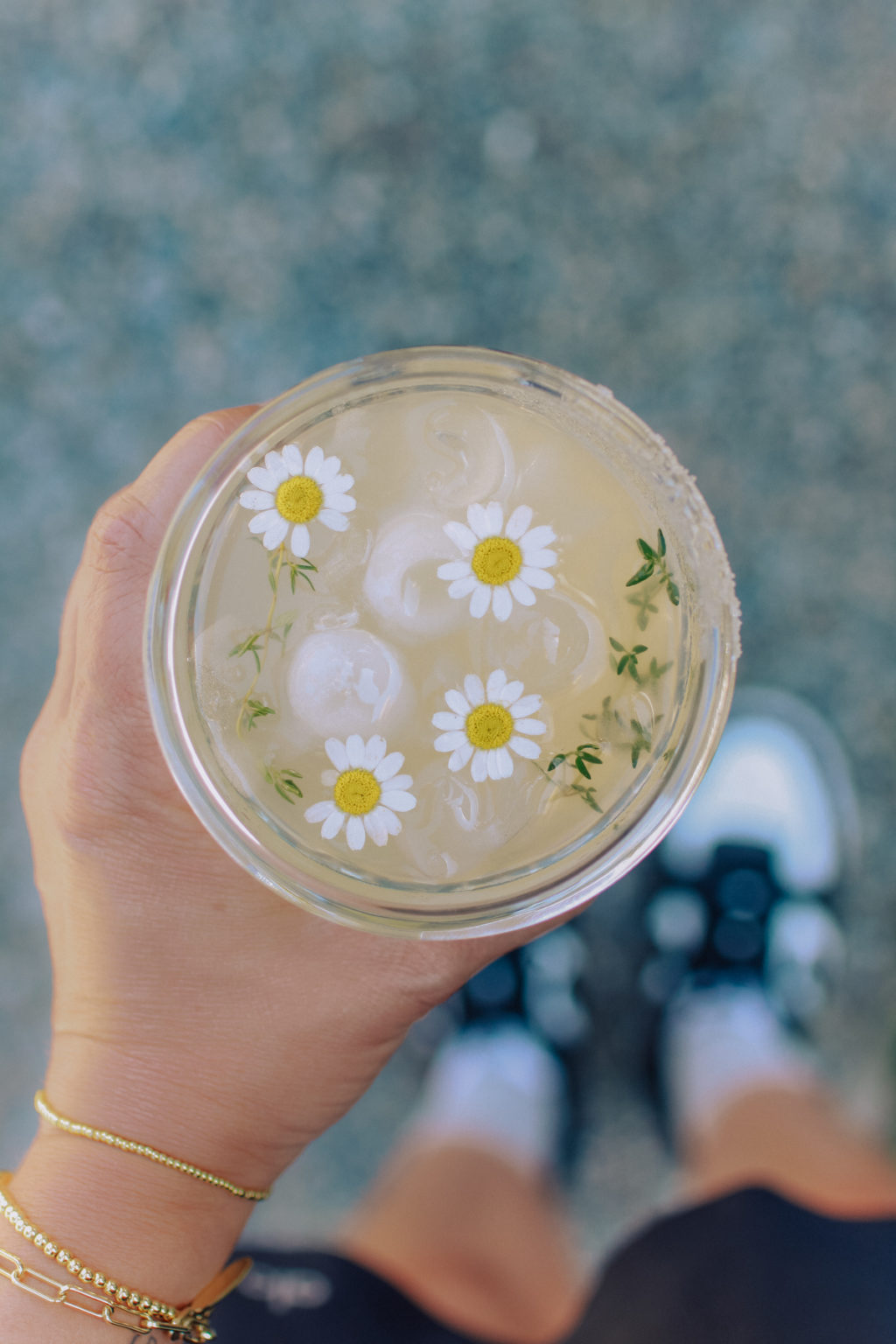 OTHER POSTS YOU MIGHT LIKE: DINNER TABLE CONVERSATION STARTERS (FREE PRINTABLE), THE SUMMER EDIT: COASTAL COWGIRL, THE MONTHLY SPREAD: JUNE MEAL PLAN, THE VANILLA SWEET CREAM COLD BREW YOU'LL WANT TO MAKE ALL SUMMER
xx, Rae