I've been talking about the girl's shared room makeover forevvvver (it seems) and today finally have photographic evidence to share. Yay! The girls and really everyone in the family is enjoying their bright cheery room. It's been fun seeing it used for playtime and reading.
I somehow finagled my husband into helping me paint the girls room white and it made all the difference. Here's a small peek at what it looked like before and a hanging plant DIY that didn't make the final room.
I'll give details as I go and link sources at the very bottom!
The view from their door. Obsessed with this striped rug from Land of Nod. It stays nicely in place and cheers up the carpet :). Decorative pillows rarely stay on beds around here so floor pillows it is which are usually accompanied by an array of books and dress up clothes. There might also be several plush animals and a Mariner's baseball bobble head being held hostage in the closet. Maybe.
A quick and easy to make yarn wallhanging Tilly helped me with keeps Poppy company during diaper changes.
A random display of pictures, prints, notes and trinkets over Tilly's bed makes it easy for her to switch or add things as she wishes. We opted for washi tape to hang things on her cork-board (and sometimes wall) and arranged a stack of different colors and patterns in her house shelf.
A simple and inexpensive ($6!) pendant light wrapped around a cute wall hooks from Land of Nod, next to Tilly's bed. Pretty smitten with this shake it off downloadable print as well.
A cut and sew fabric project adds a nice touch.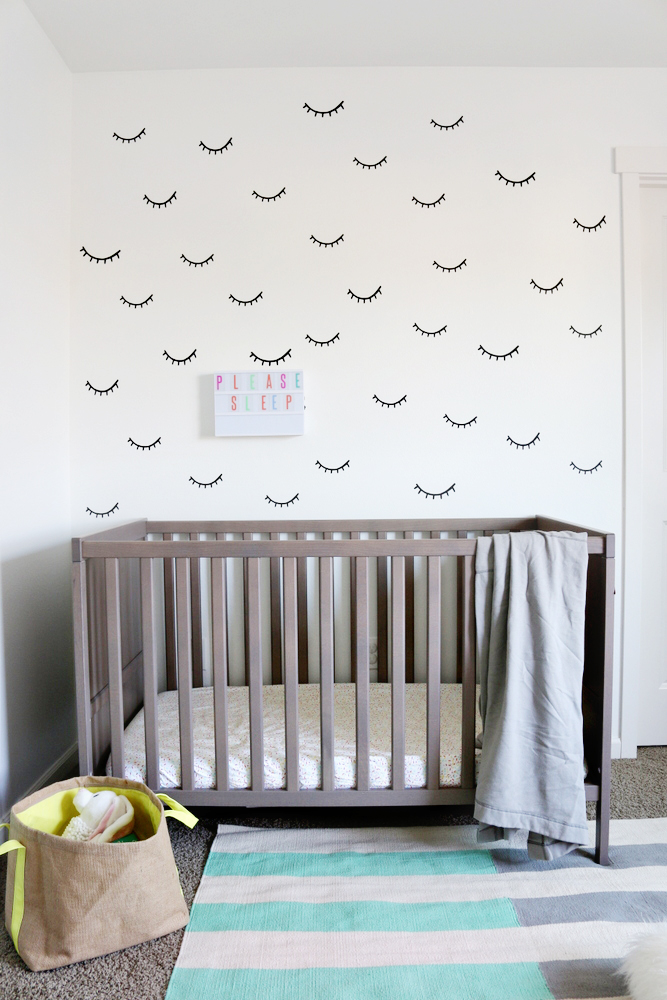 Poppy has been our most challenging sleeper (non-sleeper is more like it) and is still waking up at night so the sleepy eye decals and light box message seem highly appropriate and makes me giggle often. When you haven't slept many full nights in over a year being silly is essential.
A handmade sign I made for Poppy's original nursery. Love it and will share a template soon. Maybe for back to school?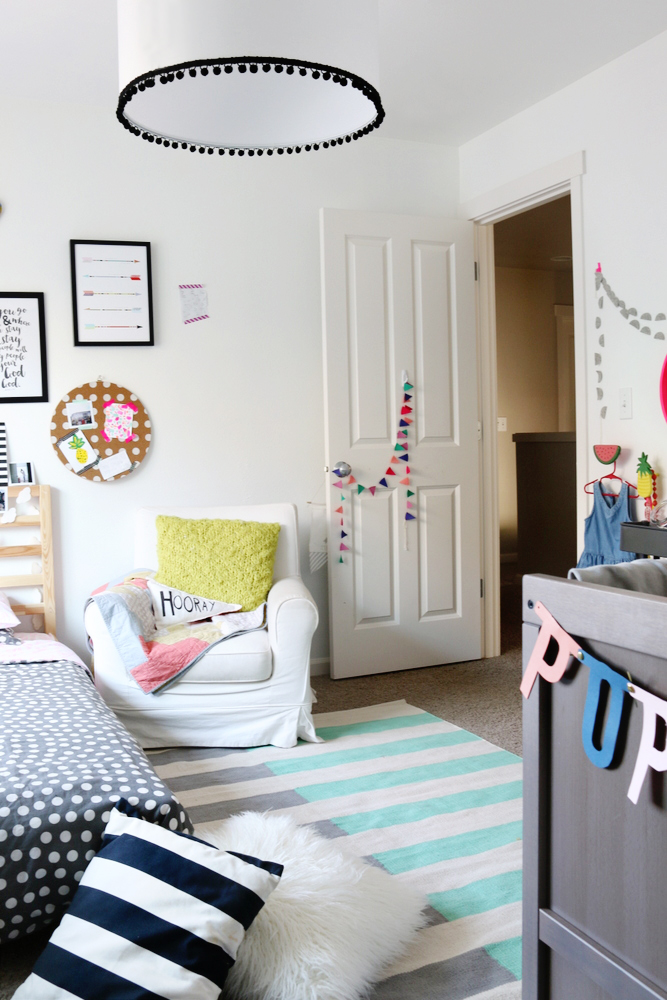 Love this point of view from the closet.
I'm clearly addicted to garlands as there are three in this one pic and I would gladly add more. It's like a little pop of party wherever they hang.
I feel the same way about pom-pom trim so glued  some to the bottom of the drum shade.
A couple wall hooks to hang Tilly's next-day outfits and some necklaces. The top bin of the cart holds other accessories and hair things.
Cute succulents in the (dirty) window. There has been so much construction going on around our house I think all of them look like this. Probably time to get the pressure washer out!
// S O U R C E S //
FURNITURE: twin bed frame, crib, cart, white chair
TEXTILES: duvet, twin sheets, crib sheet, grey blanket (a favorite!), changing pad cover (old but love this one), crib quilt (on the chair, by my talented mama!)
PILLOWS: fur, striped (fabric from IKEA), cube
DECOR: sleepy eye decals, floor catch-all, drum shade (pom-pom trim added), hanging pendant light, cloud garland, grey garland, flag garland, striped rug, curtains (old, similar)
WALL DECOR: house shelf, mirror, #shinanigans poster, shake it of print, arrow print and Ruth print (coming soon to the shop), pineapple print (part of JDC paperworks), cork-board, fruit wall hooks, light box
DIY's: yarn wallhanging (lots of cute options on pinterest), hooray pendant pillow, pop-tart banner (alphabet template coming soon), moose antlers (from some holiday kid crafts I put together for mom.me)
I probably left some details out so please comment if you have questions!
XO, Rae
P.S. — A GIANT shoutout to my girl Emily for taking pics of the girl's room for me. If your not familiar with Jones Design Company your in for a treat. I suggest starting with a look at her home!