The girls shared room makeover has been  s  l  o  w   going since my last post (in february! oh, my!). We had decided not to paint the walls but the grey-ish, tan-ish color, although pleasant, was really killing the vibe I was going for. So last week we got the tape and rollers out and painted the walls white and now I'm all in decorating mode and can't wait to finish up. Nothing jumpstarts a home dec project like a fresh coat of paint!
Here's what Poppy's wall looked like pre-paint: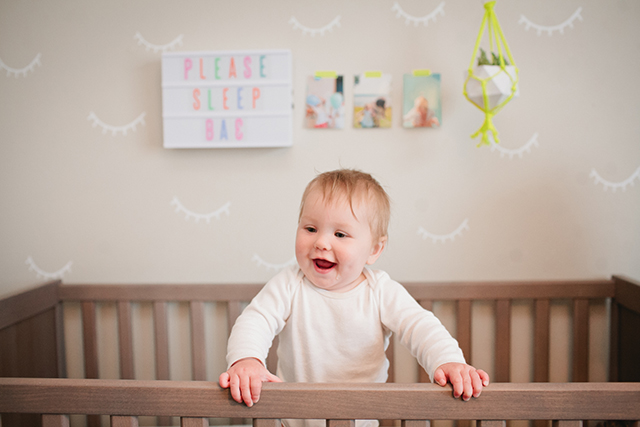 Still love the sleepy eye decals but will need to pick a different color (any suggestions?).
The hanging plant turned out super cute too exempt the paper planter I made (with a plastic cup insert) isn't holding up very well. Think I'll opt for hanging a few of these planters from IKEA in front of the girls' window and away from a sleeping babies head instead. Plants make a big difference in a room but I am always hesitant to add them to little kid spaces… actually I'm really bad at adding them anywhere but especially in the kids' rooms. However, I love the look and function (away from little hands) of hanging one or a few up and it literally took just a few minutes to make…. Instructions below!
You'll Need:
30 feet of para cord (check your local craft store or etsy!)
key chain ring
small planter
scissors
Here's How:
Cut the cord into 5, 5-1/2 foot pieces and fold them in half to make a loop.
Place the key ring over the loop and pull the ends through to make a knot and pull tight.
Take two cords and make a knot 11 inches down from the ring. Pull tight. Repeat until you have 5 knots and sections.
Now take the left cord from one section and right cord from the next section and tie them together in a knot about 6 inches down.
Place the planter in between the cords and gather the cords together at the base of the planter (extra hands or a hook to hang the ring from are helpful for this part!). Grab the longest cord wrap and tie it around the rest and pull tight.
Lastly, (I missed this step!) trim the ends of the cords and leave as they are or fray.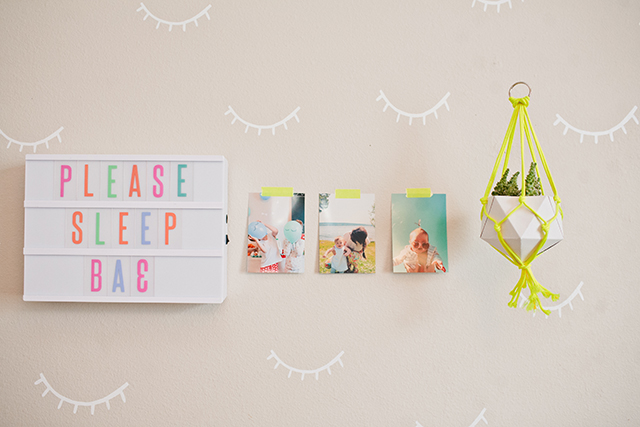 Super cute, right!? And I've seen them made with yarn too if you don't want to track down para cord.
Can't wait to finish the room and share pics with you!
XO . Rae