Last week was a BIG one around here and we managed to leave the house multiple times (!!!) this weekend so it feels like the perfect excuse to start our weekend wardrobe posts back. And since I'm bursting with new updates let's do a little life lately too! What-do-ya-say!?
RAE | jumpsuit (on sale!), puffer (similar or here it is in white + on sale!), sneakers (these would be so cute or similar)
POPPY |sweats, sweatshirt, backpack, similar boots (also love these same boot in a different color, these glittery hunters or some sparkly sneakers), jacket (similar in green or a more spring-ish option)
Mkay, so I guess it should be called the Friday wardrobe… I'll be better about pics next week!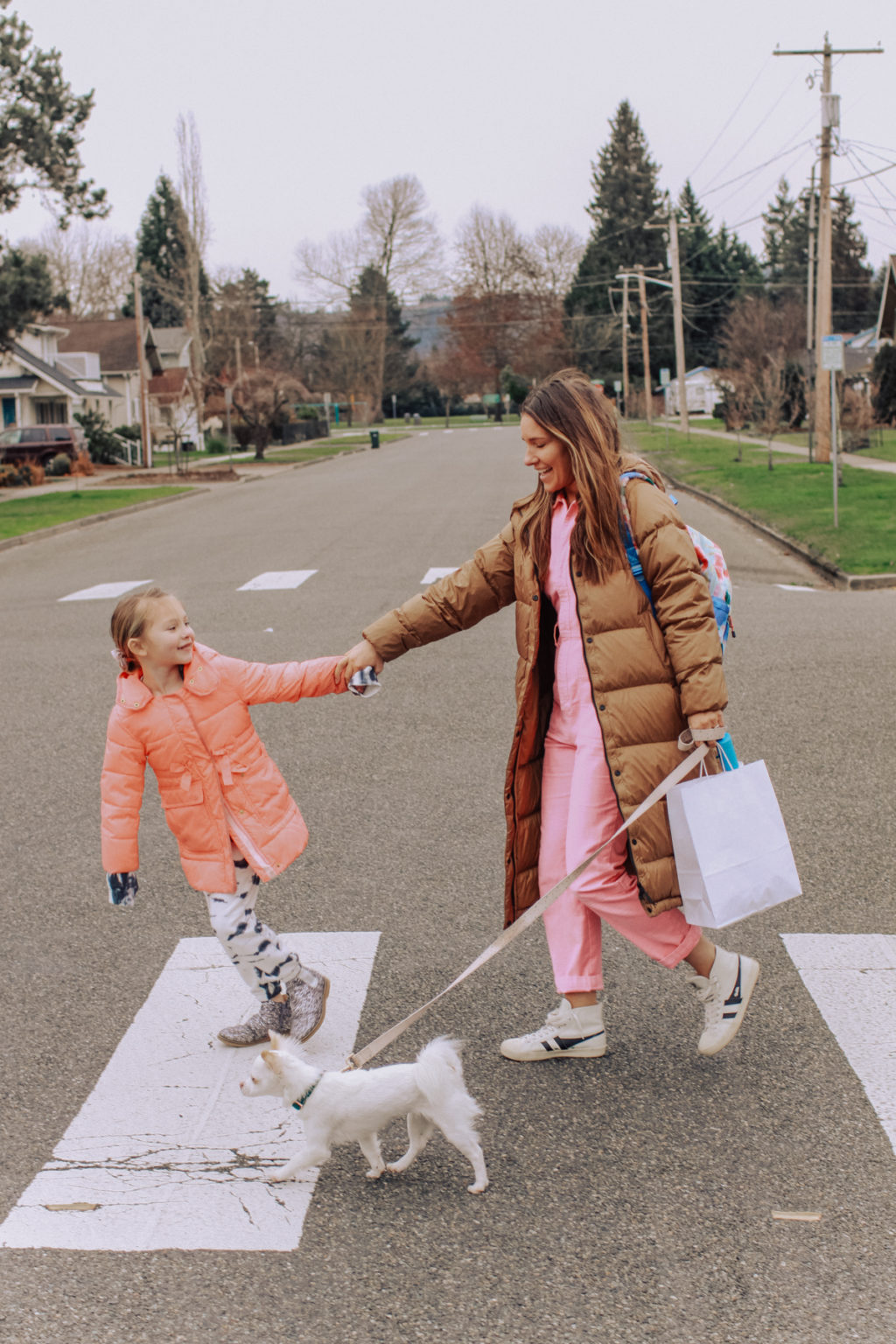 8 THINGS LIFE LATELY:
It SNOWED!!! Thank you Jesus. We needed something new and white and fluffy to play in… and exhaust my children! Nothing better than tired, snuggly kids at the end of the day.
Tilly left Thursday last week (so missed all the snow) to travel with her team to Arizona for a basketball tournament. After MONTHS of training over zoom, in their garages, on outdoor courts, and anywhere else they can find, it's been amazing to see them play games (the tournament is streaming live!). I might have cried more than once and can't wait to hug Tilly tomorrow!
Espen started in person school a couple days a week. He didn't have the same base of local friends when we moved here last March so he's hoping to get to know new people before summer and then high school (how!?) next year. The mask and distancing requirements are a bit excessive (IMO) which makes it difficult to talk to people let alone recognize faces and learn names, but we're just one week in so I'm hoping things will relax a bit! But also, it breaks my heart and you can bet I'll be writing a few emails 😬…
Poppy lost a bottom baby tooth last week and yesterday bumped her slightly wiggley top front tooth with a sled and knocked it out! A little traumatic and the tooth is lost in the snow (that's a first!), but her smile is everything right now and the tooth fairy will surely be throwing in a few extra dollars under her pillow.
Oz is loving his new job and adjusting to working all day while also keeping up with school (adulting!). Online is not the best fit for him especially, but he's figuring it out and I'm so proud!
Saturday night, Johan and I went on a double date with friends to a favorite local restaurant where we ran into other friends, drank one too many glasses of wine (turning my dry feb into a leaky feb, oops), talked about everything from pillows and politics to vacations and birth control methods (or non-methods), laughed, propped a phone up for a group pic, laughed some more, and then walked home. The night ended with me tackling Johan in the snow — he says he let me but I think the photo evidence says otherwise — and the next morning I woke up with a smile and tiny headache (lol) but mostly feeling incredibly grateful for a night (and day too) that felt so normal and totally magical all at once.
The scripture I've been repeating in my head every time I start to feel overwhelmed, disappointed, or exhausted with all the things — "For God has not given us the spirit of fear; but of power, and of love, and of a sound mind." 2 Timothy 1:7. AMEN!
Can't forget a Griff update! He started playing basketball, is loving home school, and has been successful at getting Oz to take him on "treat dates" just about every weekend. The best!
Valentines in hand! Girlfriend had two Heart Day parties at school last week.
My Valentines!
Hope everyone had (or is still enjoying) a good weekend!
xo, Rae