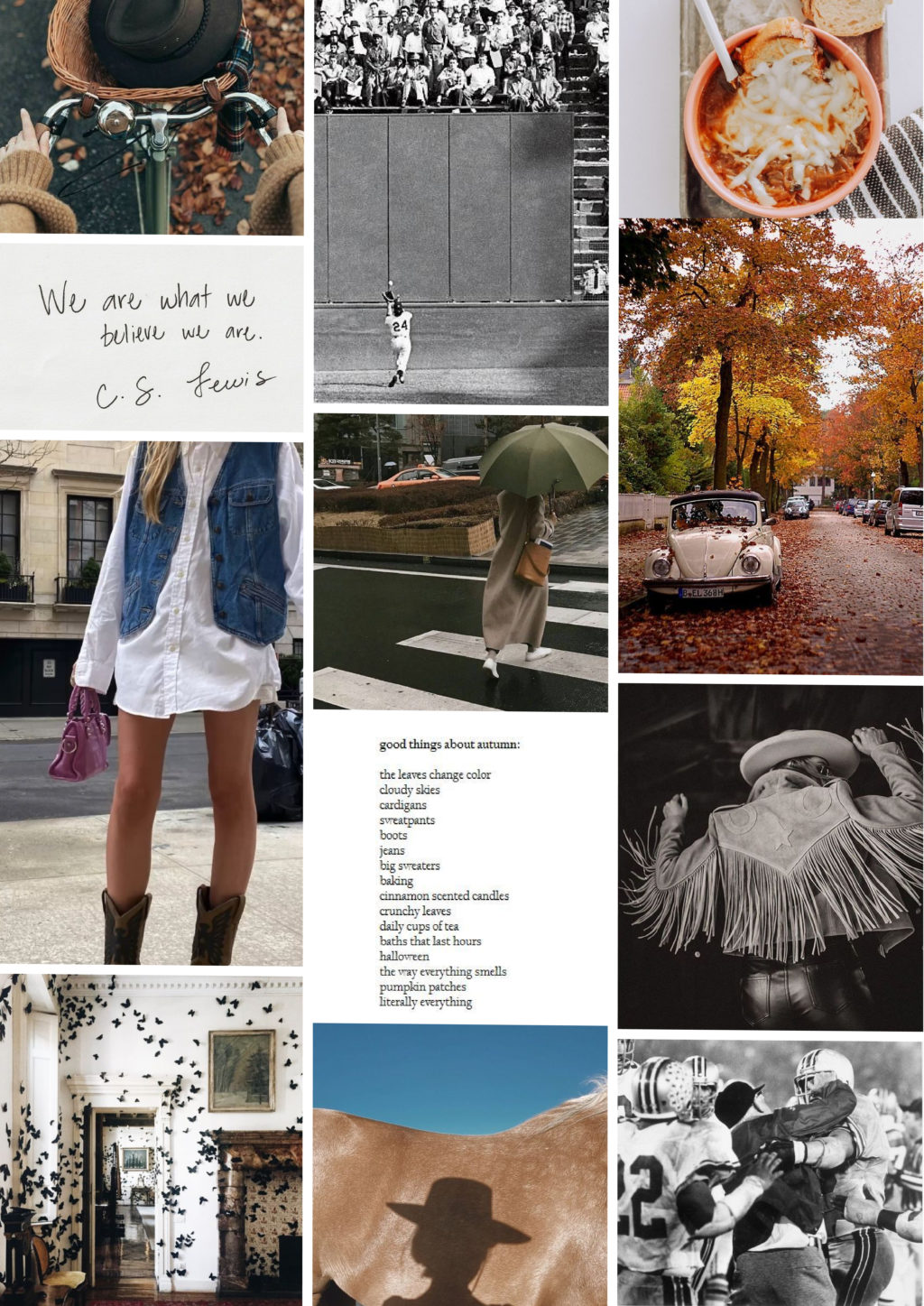 The October Edit is here! September was beyond good to us so I'm kinda sad to see it go, but October never disappoints!
A MOOD-BOARD that reflects all the goodness of October: The colors, baked goods, whimsy, ghostly ghouls, fall walks, fanfare, soup recipes, witchy women, Halloween decor, seasonal outfit inspiration, wise words, converse, cowboy boots, and the cutest neon sign (see if you can spot it!). October really is a mixed bag of opportunity so let's SOAK IT ALL UP and MAKE TIME FOR WHAT WE LOVE this month. (Don't forget to follow my new account, while you're there!)
WEARING: You can find all of my summer to fall outfit ideas here! It's still in the 70's and 80's in the PNW, but looking forward to more sweats (my favorite place to buy them), biker jackets (size down), and boots with everything!
INTENTIONS: Keeping it reaaalll simple 👉🏽 get on my shit. LOL. In other words, it's time to get organized. The pantry, our calendar, our budget, the toys, our mailing list… you get the idea. Anything I can do now to be able to stay present and avoid burnout during Thanksgiving and Christmas, is the vibe.
WELLNESS GOALS: Daily walks, good sleep, and protein! Who wants to join!? For me, good sleep means ditching wine and the screens early (why is that so hard!?). I have no intention of being perfect about it, just better.
SEPTEMBER MIXTAPE: Since one of my goals for this month is to get off the screens and unplug earlier, a COZY BEDTIME VIBES playlist seemed like the right move! Nothing better than a fun but chill playlist to help everyone wind-down. Pairs well with bubble baths, cozy pjs, and lavender, cedarwood, and orange in the diffuser! 
AROUND THE HOUSE: Time to cozy things up, rearrange rooms, decorate the porch, add twinkle lights, and maybe paint a few things (lol, always)! Hoping to answer all the FAQs about our gallery wall (used as a backdrop in some of these pics) this week and also have a roundup of decorative accents that can be used for Halloween, Thanksgiving, Christmas, and New Years (praise!) to share. Johan's working on converting the small room upstairs into our master closet (on a tight budget) and I'm so excited and relieved to have the extra space (our master bedroom is small with a tiny closet). Have been sharing peeks on Instagram Stories and will share here when it's finished.
COMING SOON: We're opening an online shop the end of this month (eek!)! Any guesses what will be in it or what it will be called???!?
I know there's a mix of "us" and "me" lingo above, mostly because I don't want to be bossy and never want to make assumptions, but also love this cozy community so want you to know that you're always included. I mean, Ghouls just want to have fun (right!?) and since it's my Birthday month, you know that's exactly what we're going to do around here! Always better together!
xx, Rae
P.S. – If you're ready for a head start on next month (or just want more fall inspiration), here's our November edit from last year!