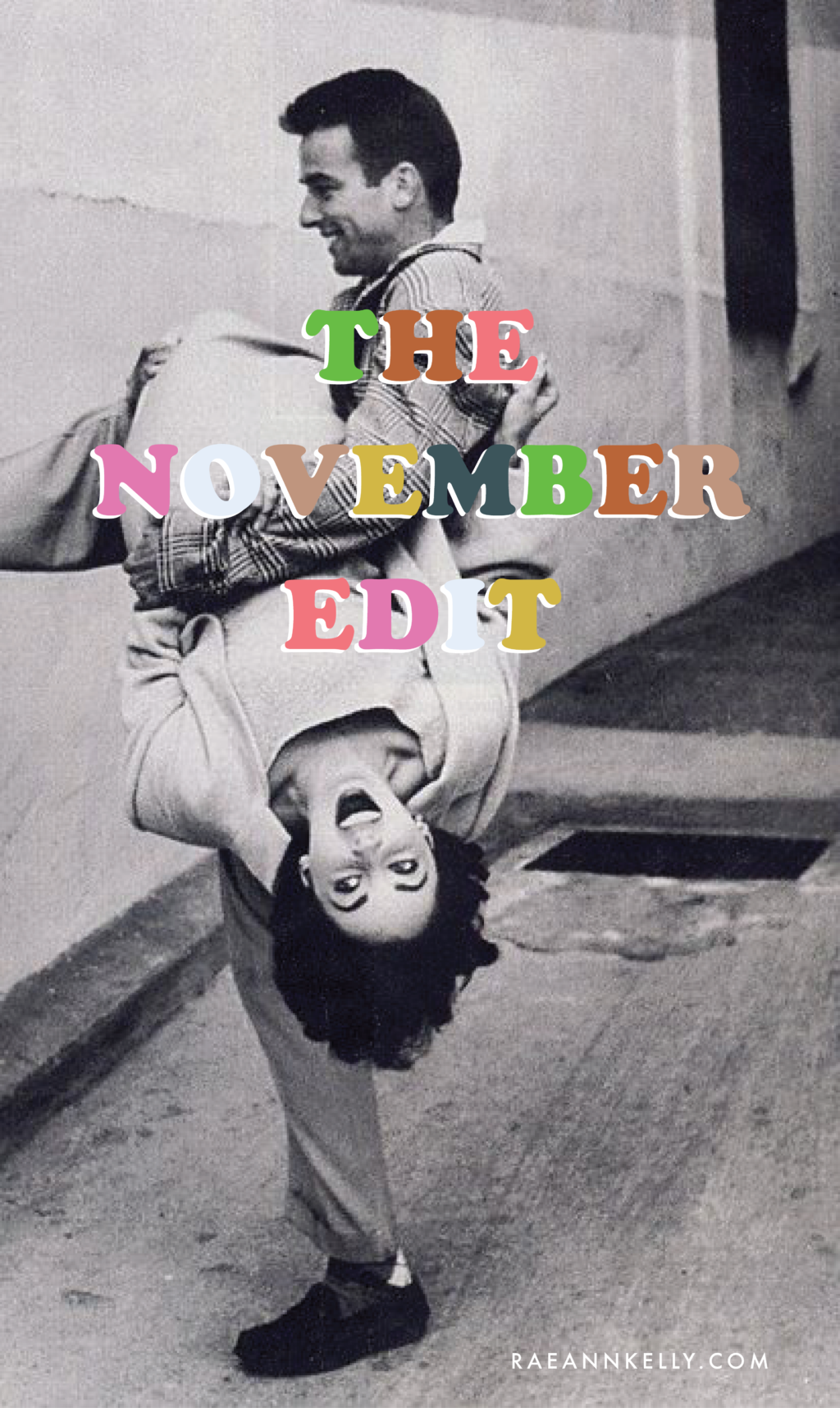 So excited to welcome November with this edited collection of everyday things to brighten your month. A mix of music, food, fashion, wellness, and encouragement. Hope it helps you get into a rhythm and squeeze the most out of the next few weeks. Thankful for a Creator that brings order and peace to our chaos by giving us seasons and filling them with beauty. Here's to making the most of the next 30(ish) days!!!
NOVEMBER INTENTIONS:
To use our words to encourage others. Highly suggest sending spontaneous texts to loved ones and complimenting perfect strangers!
To be present and revel in the simple things in our lives (i.e. a cup of coffee, bedtime baths, messes on the dinner table, etc.). It's truly one of the keys to happiness!
To slow down enough to be silly and dance (slow dancing encouraged).
To spend time bundled up outside and gathered with friends and family inside.
HINT: gratitude helps with all of the above!
NOVEMBER MIXTAPE:
Pretty obsessed over this playlist. It's a little more mellow and romantic than my usual go-to's but still sweet and flirty and perfect for a cozy fall evening!
PINTEREST BOARD:
CLICK HERE! I hope you love it! Linked some good recipes, easy diys to do with the kids, encouraging words, cute outfits, inspiration for getting outside, but also gathering together with family and friends.
UNIFORM:
Fully embracing sweater and boots season, investing in good jeans or wide-leg pants, keeping our hoodies on heavy rotation (tip: they don't all have to be oversized), trying some mono-chroming, and looking for new ways to wear our teddy bear coats.
OILS + WELLNESS:
Vanilla, Christmas Spirit, Orange, Grapefruit, and Idaho Blue Spruce for diffusing. Plus extra Thieves Cleaner for hostess gifts, Mint Satin Face Scrub for winter skin, and Super B for the energy and immune system boost! Head here for easy shopping and let me know if you're not sure how to qualify for the wholesale pricing!
HOME DECOR:
Cozying up with layers, warm lighting (especially the twinkly kind!), homey textures, and unexpected pops of color. Also, picking a couple thoughtful things we LOVE to add to our Christmas decor collection.
IN THE KITCHEN:
Whipping up all the warm cozy dishes and baked goods, but being resourceful with our time in the kitchen by making extra to share with friends and neighbors, or taking advantage of leftovers. Also purchasing duplicates at the grocery store so we can drop some off at the local food bank!
Happy November!
XO, Rae