Just over 4 months into our basement renovation and I'm over the moon to be able to share an easy to see and almost ready to move into, update with you! The process has been slightly slower than I ever imagined (understatement of the year), but the reasons and circumstances (like EVERYONE but Johan being home all day, everyday since March) have been too precious to me to to spend more than a minute complaining about. Nevertheless, the idea that our family of 7 will soon be turning our 2 bedroom, 1 bath home, into a 4 bedroom, 2 bath home is enough to make this mama tear up a little!
Of course I can't go on without bragging on Johan for all his brilliant handiwork, late nights, and consistent networking that made it all happen! He managed to learn way more about construction, permits, and the managing of all the moving pieces (contractors, budgets, etc.) than he probably ever imagined and I'm so thankful for it all!!! Love seeing my people step outside their comfort zone and see it payoff on the other side. Safe to say that's probably something we've all (including you, friend) been doing a lot of this past year!
For anyone interested in the process, I'll share a timeline below and if you want a peek at the details of the bathroom, I've rounded up all our sources and colors in this post today, too!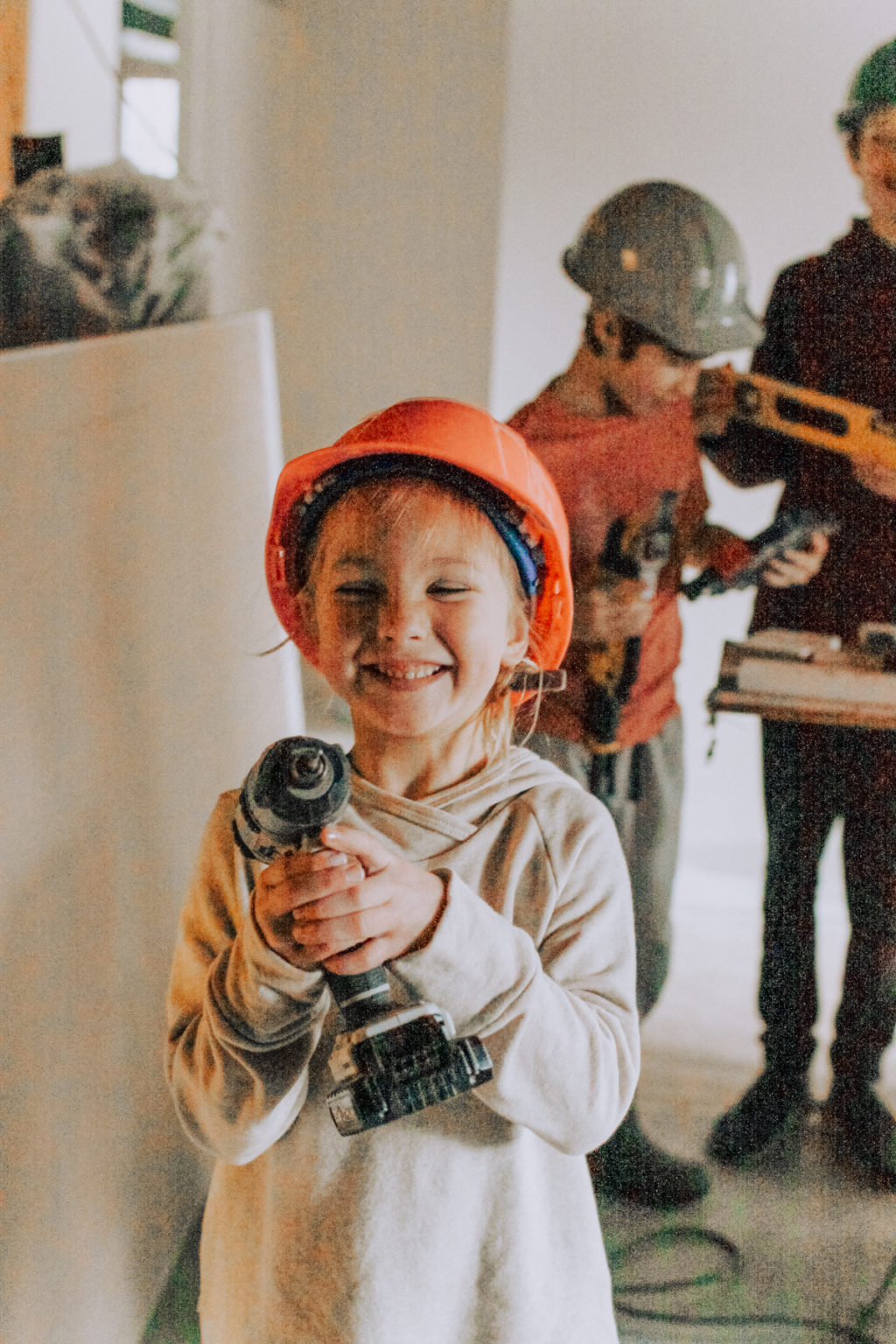 Living in and around construction is no joke, but I'm thankful most of the work happened separate from our living space for this first phase. It's going to get interesting when things move upstairs!
Here's a breakdown of how things progressed:
DRAWING UP THE PLANS: For a month or so before, during , and after moving in we worked with an architect who walked us through the permitting process, figured out where all the load bearing walls were and how to keep the structure sound while also adding a door, bigger windows, and bringing everything up to code. He also helped us break up the spaces to accommodate out needs in away that made sense for all the other work that had to be done.
DEMO TIME!: From our move in date in March until Oz moved back to WSU in August, there was a lot of demoing, offer-up-ing, and cleaning happening. The space had previously been used to store antiques, a pool table, and as a canning room. Part of our agreement with the previous owner was that we would take care of anything that she didn't want to bring with her. Totally worth it but a lot of work!
LET THERE BE (MORE) LIGHT: In August we carefully measured all the window and door dimensions we would need to replace and add and then ordered from my Aunt and Uncle's company, Kell-Chuck Glass. Then we crossed our fingers and hoped we were right! Ha!
CUTTING THROUGH CONCRETE: A few weeks later a team showed up to cut through the concrete to make Espen's bedroom window longer, turn an existing window into a door, and cut trenches and a space for the sewer pump and plumbing pipes to go, in the soon to be laundry and bathroom. After that Johan worked on installing the new windows and doors — something he has never done before — which was a pretty big project but it all passed inspection, yay!
MAKING FRIENDS WITH OUR PLUMBER: Sometime in September (I think) our plumber (who we love and appreciate beyond!) spent a couple days adding all the pipes and hookups that will be needed for the bathroom and laundry, prepping the sewer pump, and moving the water heater. Getting to this step felt mon-u-mental.
SO CLOSE, YET SO FAR: October and November was mostly spent figuring out how to work around all the pipes and air ducts, framing and updating/adding electrical thanks to our talented friend, Cody (you should've seen what he had to work with!). I'm sure I'm simplifying this step — I just know there was a lot of sawing and nailing happening!
WE MADE IT TO DECEMBER: Where things all started to come together and we could see the finish line! Lot's of installing of fans and vents, insulating, drywalling, tiling, and painting. We did hire a contractor to help with most of the drywall and painting which was a lifesaver. This week we'll be putting the finishing touches on the bathroom and cleaning things up in the bedrooms and play area… the kids are hoping to move into their rooms over the weekend!
THE NEXT FEW MONTHS: There's still a lot of molding that needs to happen as well as electrical, insulation, and walls in the open area so I suspect that will be happening on weekends for awhile. I also have some plans for wallpaper and storage at the end of the kids' hallway, storage in the laundry, and getting the wood boards back up on the ceiling will be a big project, too! Will continue to share as things actually get finished, but for now we'll be enjoying having a little extra room and closets!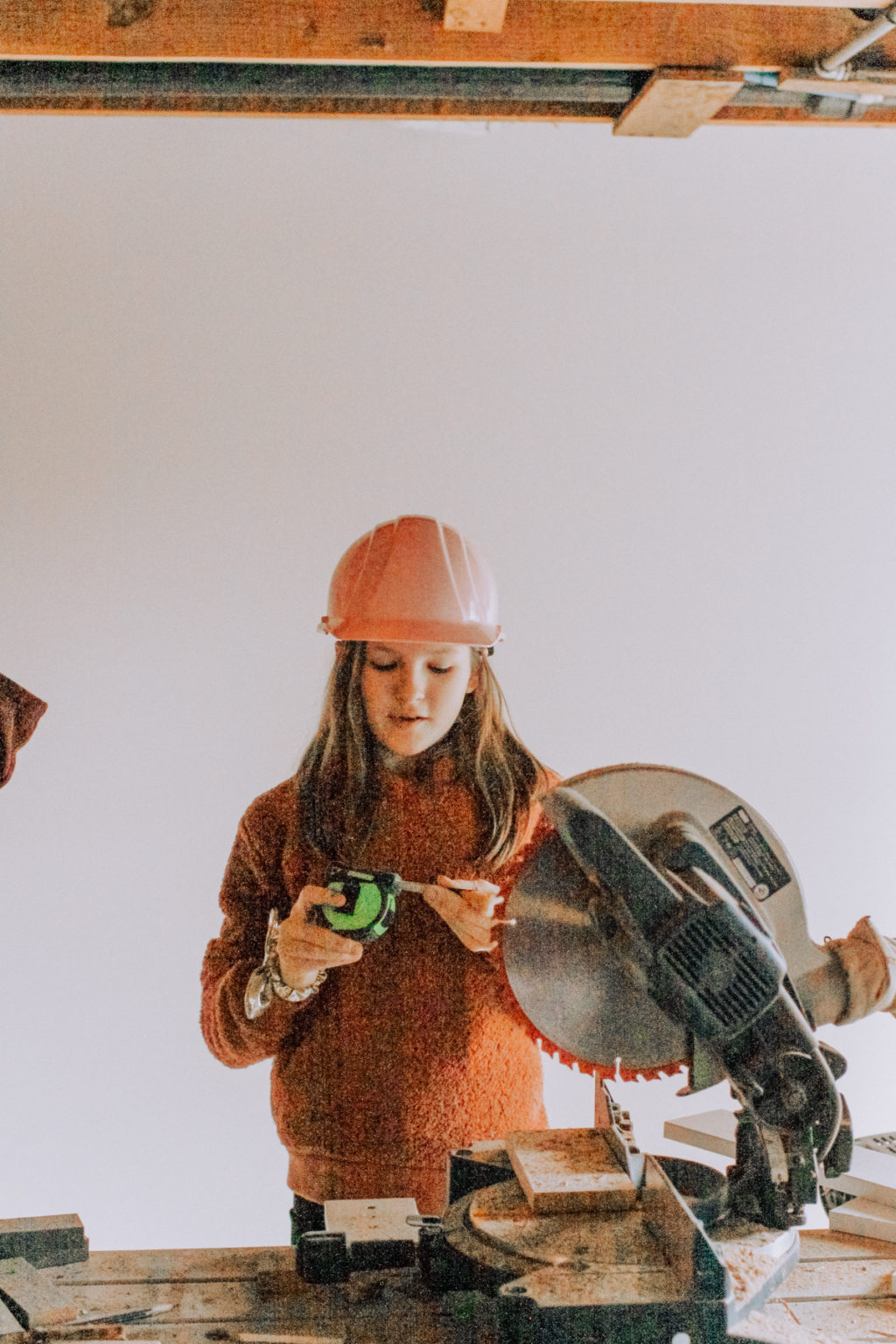 Playing with tools in the soon-to-be open dance, play, and movie watching area!
Griff measuring to make sure there will be enough room for the washer, dryer, and utility sink, along the back wall of the laundry room. Just one of those things that we measured and figured multiple times but now that it's done we're like — gosh that looks too small! Guess we'll just have to wait and see!
The kids bathroom of my dreams! Complete with a fun pocket door, patterned tile, and trough sink that we're hoping gets delivered this week!
Espen and the hidden door in his bedroom… It'll make a fun hide and seek spot, but too bad it only leads to the hot water heater and sewer pump :)
My dream team (just missing Ozzie), standing in Tilly's soon-to-be bedroom! Poppy looks thrilled, lol.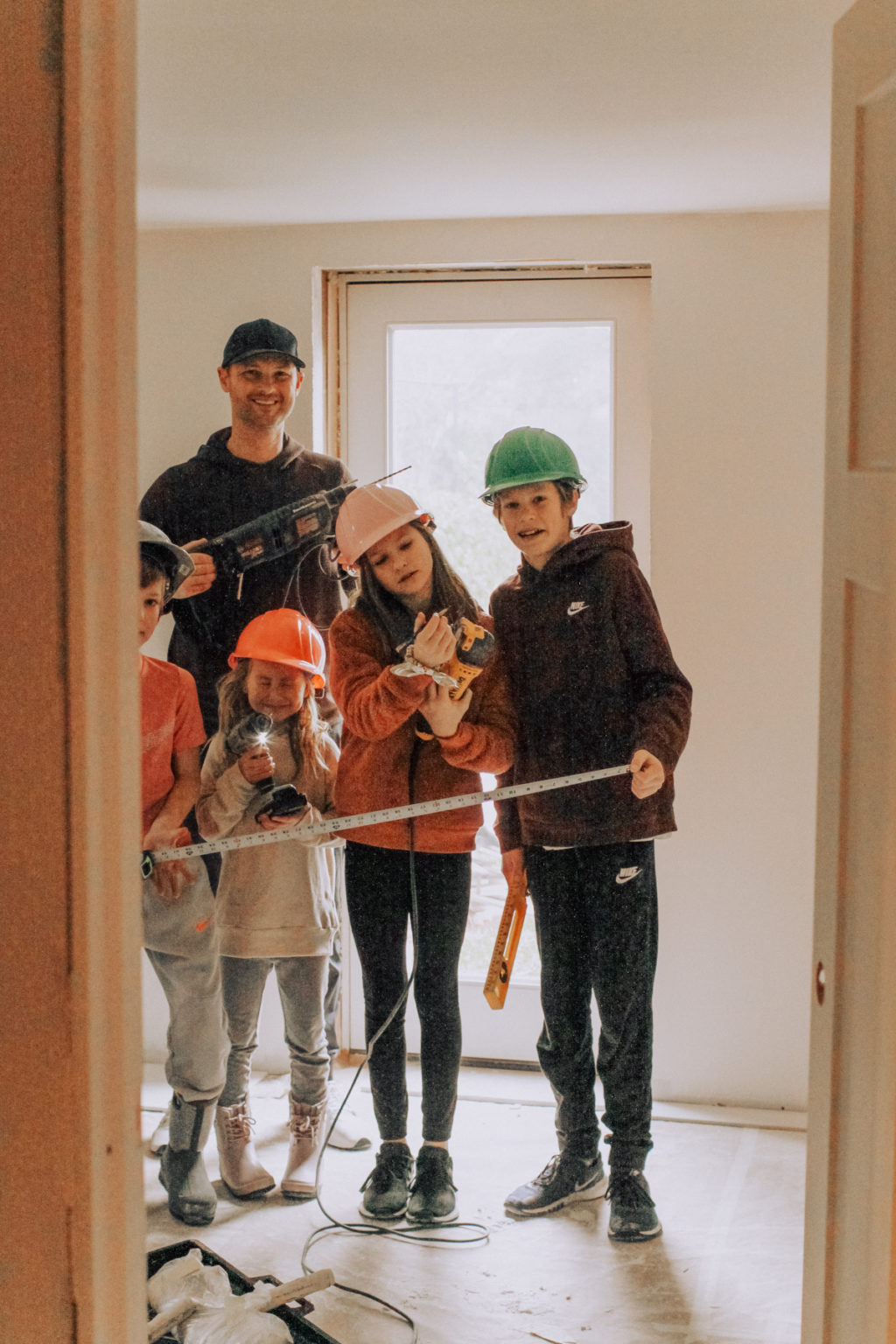 Things are starting to get very exciting around here and I'm so thankful for everyone that's shared in it! More soon!
xo, Rae
P.S. — Sharing basement bathroom details here!