baseball season is here! oz, espen and tilly are all on teams and johan is coaching. so. um. yeah. our evenings are about to get crazy busy and unless we want to spend a fortune on unhealthy takeout i'm going to have to bring my A-game when it comes to meal planning. starting with snacks that are hearty enough to tide my mvp's over until dinner. so i thought a food post would be a great way to kick off the week.
here are 11 of my kids'  snack time faves. these aren't all super original but they are tried-and-true snacks i know everyone will devour. i'm in need of some fresh ideas too so i hope you'll share your snack time go-to's in the comments below!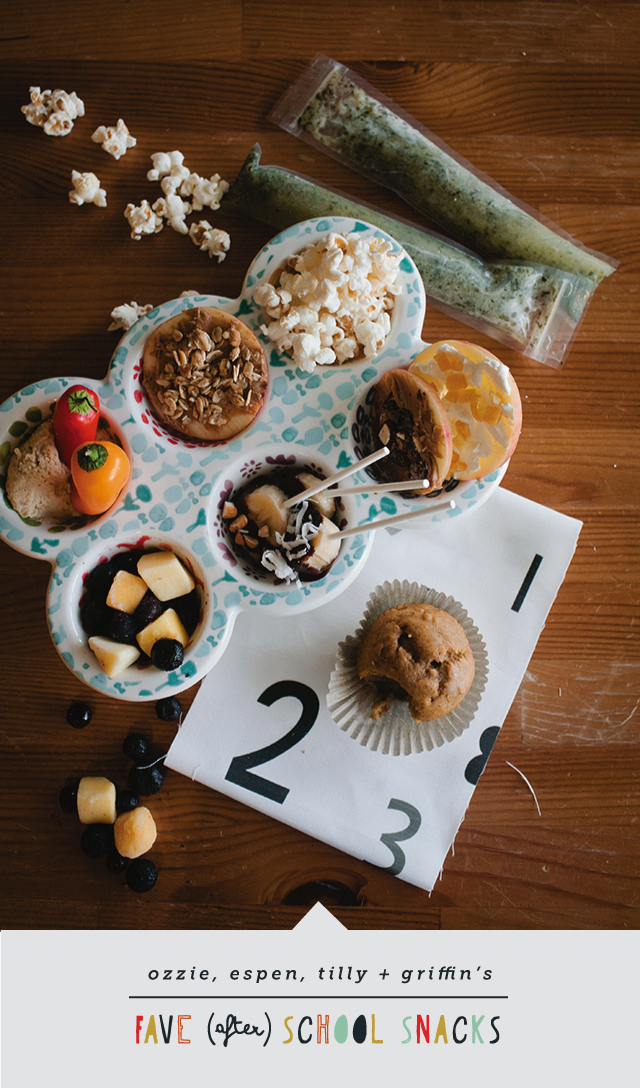 SNACK IDEAS
smoothie pops – we always seem to have leftover smoothie after breakfast. instead of throwing it out i bought these freezer pop zip-locks. just fill, zip closed and throw in the freezer.
popcorn – popcorn is a staple in our home and was my favorite after school pick-me-up as a kid (with a side of chocolate milk). we eat it several times a week drizzled with a little butter and salt. to feed a crowd or make it portable i often pop a couple batches, dump them in a paper grocery bag, add toppings, shake and go! if you don't have an air popper, the stove works just as well.
apple cookies (seen here) – a new fave. just slice apples into rounds, cut out the core, top with almond butter (or similar) or cream cheese and top with granola, chopped nuts, chocolate chops, or fresh or dried fruit. fun, easy and the kids can add their own toppings!
chocolate dipped banana bites – mix approximately 1 cup dark chocolate chips in the microwave until just melted. dip chilled, sliced (or peeled and whole) bananas in to the chocolate. drain extra chocolate. dip into crushed nuts, cocoanut, granola, or pretzel or graham cracker crumbs and put in the freezer on a lined baking sheet until chocolate.
baby bell peppers + hummus – this is also easy to pack on the go or in lunches and the baby bells are the older boys' favorite veggie to snack on.
frozen mangos + blueberries – we always have a costco size bag of frozen blueberries for smoothies but they are also great for snacks. frozen mangos are also yummy, inexpensive and an easy way to avoid the drama of cutting up a fresh one.
corn fritters – one of my personal favorites and i sometimes serve these for dinner (with sides) when johan is gone. here's the recipe.
parfaits – i don't think my kids have ever turned down greek yogurt with toppings. head here for a list of parfait pairings.
salami, cheese + apples – pretty self explanatory and easy to pack too! add crackers to the mix or slice apples into rounds for easy stacking. also, i try to opt for nitrate free meat and white cheddar… did you know cheddar cheese is orange because they dye it?!
peanut butter brekkie cookies – full-disclosure, my kids fight over these and they never last more than a day unless i hide them.
apple pumpkin muffins – these have become another fast favorite since making them for griffin's preschool class and i always make a double batch. keep scrollin' for the recipe!
i usually add a hardboild egg or deli meat to round out any of the lighter snacks. i also, try to get the most out of my time in the kitchen and serve the muffins and brekkie cookies for breakfast and snack. i often do the same with pancakes (here too) and crepes.
APPLE PUMPKIN MUFFINS: 30 minutes start to finish, makes a dozen or 24 minis
to make, you'll need –
3 tablespoons

 

vegetable or canola oil

1/2 cup

 

honey (agave works too)

1

 

egg

1/2 cup

 

milk

1/2 cup

 

pumpkin puree

1 large

 

apple, peeled and grated 

2 cups all purpose flour

2 teaspoons

 

baking powder

1/2 teaspoon

 

baking soda

1/2 teaspoon

 

salt

1/2 tablespoon

 

cinnamon

1/2 tablespoon 

pumpkin spice
here's how –
preheat oven to 350. grease muffin tins or line with cups (i lightly spray these too).
whisk the first 6 ingredients.
in a separate bowl, mix the remaining ingredients and slowly add to the wet mixture. stir until combined.
poor batter into prepared muffin tin, filling each cup about 3/4 full. bake for 18 minutes or until a toothpick comes out clean.
let cool and serve or store.
i'm always in need of kid friendly food ideas and would love to know: what are your kids favorite snacks?
xo . rae