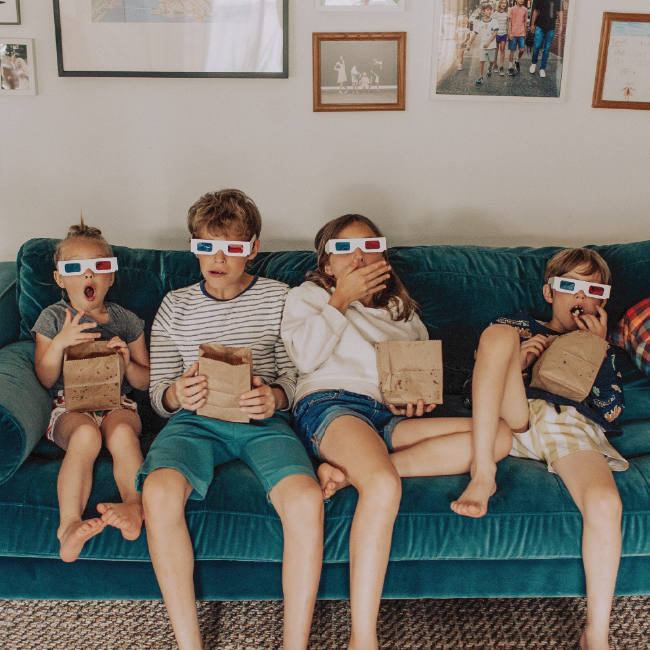 We love a good movie night but it can be hard to find flicks that the whole fam bam agrees on. So last week I shared our faves on Instagram in hopes you guys would do the same in the comments and OMG there were some good ones! Figured I should compile and share the full family movie edit here so it's easy to find a reference.
Here's a list of THE BEST FAMILY FRIENDLY MOVIES according to my kids and the gram…
BEVERLY HILLS CHIHUAHUA
THE PARENT TRAP
MARY POPPINS RETURNS
ENCHANTED
ALEXANDER + THE TERRIBLE, HORRIBLE, NO GOOD, VERY BAD DAY
FREAKY FRIDAY
THE SANDLOT
MARMADUKE
BEDTIME STORIES
HIGH SCHOOL MUSICAL 2
SCHOOL OF ROCK
JUDY MOODY AND THE NOT BUMMER SUMMER
A LEAGUE OF THEIR OWN
THE GOONIES
KARATE KID
42
TROOP BEVERLY HILLS
REMEMBER THE TITANS
SECRET LIFE OF PETS (1 + 2)
HONEY I SHRUNK THE KIDS
CHARLIE + THE CHOCOLATE FACTORY
HEAVY WEIGHTS
THE PRIVATE EYES
MARY POPPINS (either or both!)
LEAVE IT TO BEAVER
JUMANJI (both)
FATHER OF THE BRIDE (also both)
THE BABYSITTERS CLUB
DISNEY DESCENDANTS
CHEAPER BY THE DOZEN (1 + 2)
MATILDA
E.T.
PIRATES OF THE CARIBBEAN
THE GREAT RACE
SWISS FAMILY ROBINSON
THE SOUND OF MUSIC
SINGING IN THE RAIN
AUNTIE MAME
PADDINGTON (1 + 2)
RADIO
HARRY POTTER (the early ones)
NANNY McPHEE
IRON GIANT
NOW + THEN
CARS MOVIES
DIARY OF A WIMPY KID
FERRIS BUELLER'S DAY OFF
BECAUSE OF WINN-DIXIE
THE BAD NEWS BEARS
SECOND HAND LIONS
HOTEL TRANSYLVANIA 3 (but really all of them)
THE WAY, WAY BACK (this is actually on my list to watch while folding laundry and then with the older kids if appropriate!)
SING
WONDER
SPIDERVERSE
What a list! Hopefully it makes choosing a family movie a little easier.
Just a heads up, there are some PG-13's sprinkled in there… and if you're in need of a resource, I like to check common sense media before turning a movie on for the kids that I haven't seen or heard about from a friend.
Do you have any movies to add!? Share in the comments and I'll add them to the post!
xo, Rae