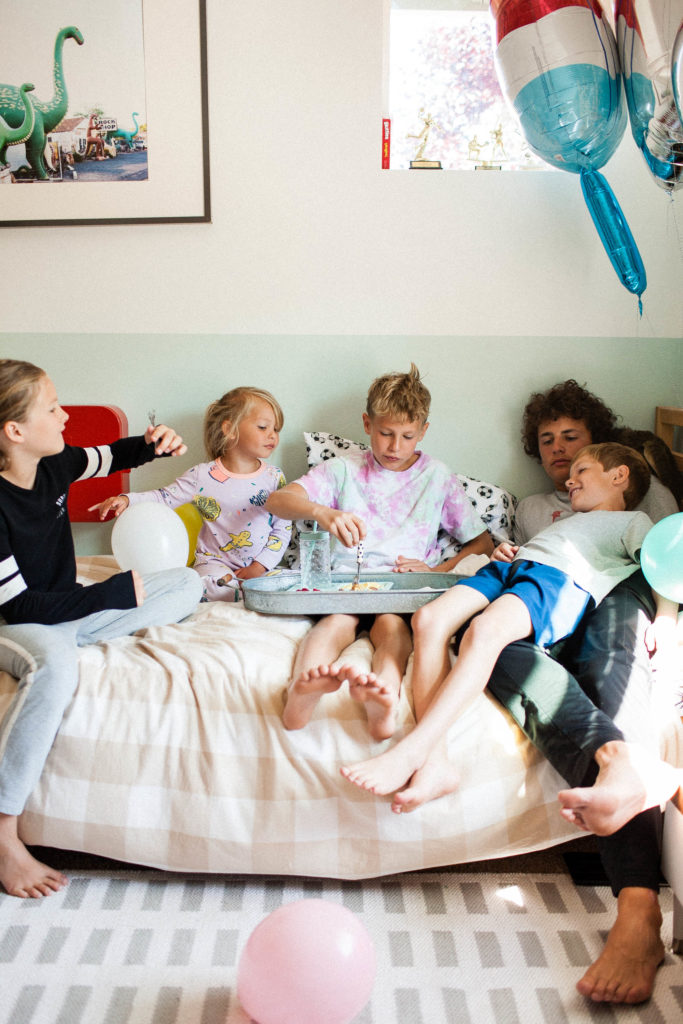 A few days ago upon arriving at the spash pad in a neighboring town, I overheard a girl say, "What is Espen doing here!?" to her friends — and then they all grabbed towels and huddled in a spot where they could observe and chat and giggle. So I think it's safe to say we've arrived at the awkward, innocent and still so, so sweet stage of middle-school-hood. Or tweenager as it's often referred to where their world is getting big but they are still very much young. I've learned by now not to say it's my favorite stage – because they're really all my favorite — but I love it, for it's highs and lows and purpose — it makes me tear up how each stage of childhood weaves together – none any more or less important. Just wish it didn't all fly by so fast!
It's been so much fun doing our interview video series the last few months and I'm excited to share Espen's below! Feels a little bit like we are bottling them up at these specific ages each time I watch them. This interview surprised Johan and me the most… it's always the quiet ones, LOL!!! Press play to find out what Espen (the introvert of the fam) likes and dislikes about being 1 of 5 kids, who he get's along with most, and what some of his favorite things are.
Love so much that our very consistent and predictable child was so unpredictable with his answers. You may also notice my question about his favorite sport and needing to know his runner up too… Johan and I have a quiet competition going – both of us sneakily wanting our kids to love our favorite sport. So far Johan is blowing me out of the water with our two older boys being diehard baseball players, but I'm holding out hope for Tilly and Griff, lol! Truthfully we don't really care, but it is fun to tease each other about it.
You can watch Tilly's video HERE and Griffin's HERE. Next up is Poppy and then Ozzie! Should probably do ones for Johan and me too. Let me know if the comments if you have any question requests or ideas!!!
A few pics from Espen's birthday morning and our traditional breakfast in bed…
Birthday breakkies in bed are a big deal around here (because is there anything better than eating in bed?!). The kids almost always ask for crepes or donuts but this year Espen requested dutch babies with a side of fruit and scrambled eggs and I loved being able to make something different than our norm!
Almost as good as the B-day kids excitement for their special morning is seeing how excited their siblings get to make the morning special for them too. It's definitely a family affair and the sweetest thing to watch! Hope it's something they continue as the littlest ones get older and the bigger ones become young adults… I imagine them sneaking into each others apartments with balloons and donuts or showing up at their school with a fun treat. No pressure kids, LOL!
Espen, we love you to the moon and back times 100 and are so incredibly proud of who you are and how you love, lead and serve others. It's pure magic to watch.
Do you guys ever daydream about your kids 10 or more years down the road!?
XOXO, Rae