Finally getting around to sharing a Mother's Day recap with you! Although, I still feel like I'm celebrating over here, lol. Anyone else? So thankful for this family of mine… Motherhood (and being a wife, too!) is probably the one thing I've never questioned myself about. It hasn't always looked how I imagined, my house and car are more often than not a mess, the laundry is overflowing, I'm usually tired and running behind, but it's exactly what I've always wanted. These are THE DAYS and I love them. At least until 9 o'clock when I'm ready for a little break.
Saturday morning, the kids brought me breakfast in bed then we spent the rest of the day at Ozzie's baseball games, cheering him on, chasing Poppy and Griffin around and snacking on picnic food (my favorite). Sunday, Johan had to work, but Oz and his sweet girlfriend surprised me with Starbucks and homemade cookies and then we all drove up to my parents house for some lake time and cheeseburgers. Looks like Father's Day weekend will look very similar and I'm not mad about it one bit. Pics below…
Wish I could have 5 more of them!
Early in our marriage, when Johan and I would talk about how many kids we one day hoped to have, 5 seemed like such a big number and I know we are considered a "big family", but I don't feel like we are, even in pictures.
There are however,  two scenarios when I do get a bit of a reality check 1. anything travel related – packing bags, loading the car, booking tickets or planning housing and 2. mornings when everyone is in the car and we decide to grab Starbucks and our order is  a mile long!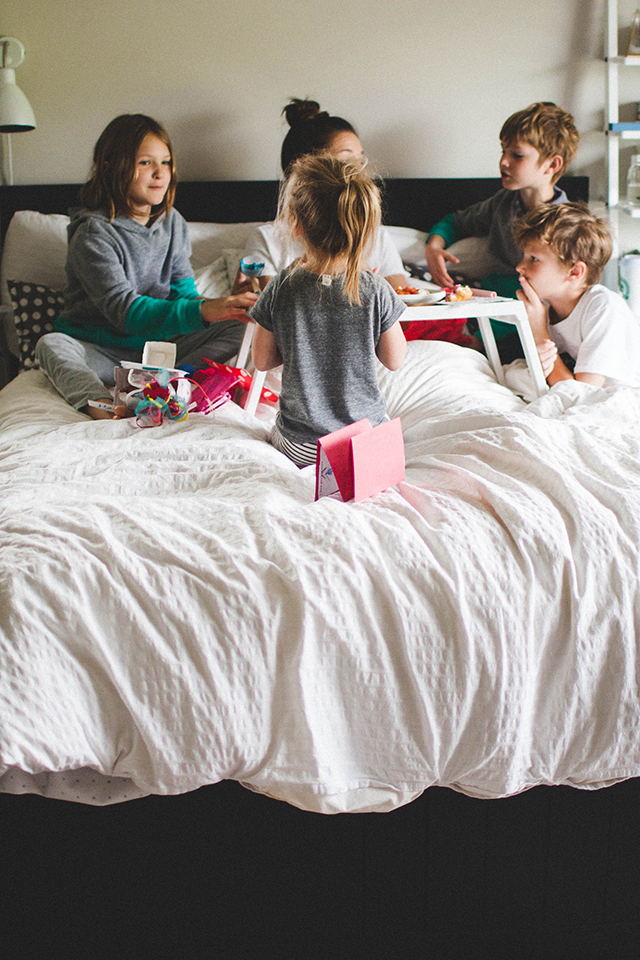 A very fancy breakkie in bed and a donut monster below! Don't worry though, she gave me a bite ;)
Handmade cards with little kid handwriting! Ah!
Take us out to the ballgame! Just make sure to pack all the snacks.
Sunday at my parents…
These two have the sweetens friendship.
The kids, plus one! The more the merrier.
This seems like the perfect one to end on because I love this moment between Oz and Tilly and then… Griffin's face! Ha! He should be a professional photobomber.
I know that Mother's Day looks different for all of us and that there are many without family to celebrate with or a baby to hold and still others that are in the trenches of motherhood and I want you to know that you're seen, loved, capable, incredibly significant and you deserve the world!
Love you.
XO, Rae