With Mother's Day approaching quickly on the calendar, I thought it would be fun to to play with flowers! Not only are they an easy way to bring the outdoors inside but they add life to a space or someones day. Since I know nothing about choosing, cutting or keeping plants alive I asked my stylish and adorably pregnant friend Teressa (the brains and beauty behind Teressa Johnson Studio) for backup. She obliged and brought over a selection of flowers from her yard while I DIY-ed some tin can vases to put them in.
And here is how they turned out! Pretty cute I think. The vases of blooms (and succulents) can be grouped together for a centerpiece and then broken up and given as party favors or made as gifts for mommy friends on their big day.
Here's how to make the vases but be sure to keep scrolling! At the bottom of the post, you'll find a few really good and simple tips from Teressa about how to make floral arrangements.
PAINT DIPPED VASES 
Rinse and dry tin cans.
For a dipped look, use painters tape to tape-off the part of can you don't want painted.
Use acrylic paint to cover the untaped side and let dry. Repeat until the can is covered.
PAPER COVERED VASES
Click to download the patterned paper and print on card stock.
Rinse and dry tin cans. Measure the height and outside of the can and cut paper to size.
Tape or decoupage the paper onto the can. If you choose tape, be careful not drip water on the paper or the pattern will smudge.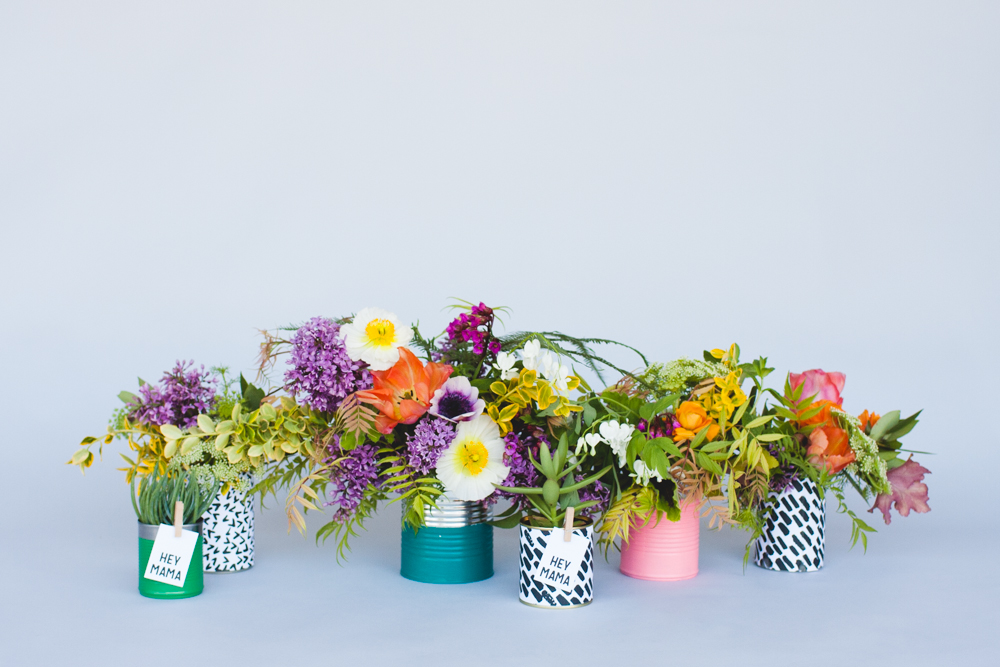 Group the painted vases with the ones covered in fun patterns all together…
… Or pick your favorite DIY (dipped or covered) vase and keep it simple.
Clip "HEY MAMA" tags to the vases for a graphic touch or use as a gift tag.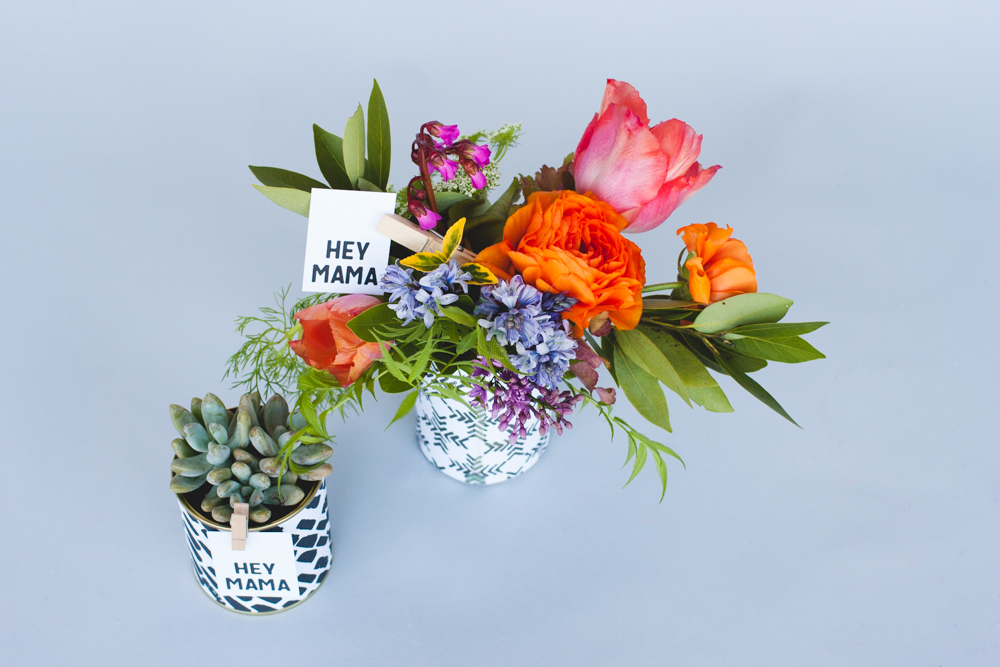 HOW TO MAKE FLORAL ARANGEMENTS – tips from Teressa!!!
Cut your stems at an angle so there is more surface to soak up water.
If deciding on a color palette feels overwhelming, keep it simple by sticking to two colors. Greenery is considered a neutral.
When blooms are sparse create an organic look by using only foliage.
Use what you have or, what your neighbors have! Don't be shy. If you spy something pretty in the neighbor's yard, bring over a plate of cookies, compliment their blooms and ask to forage a few stems. It's a great way to meet the people living around you and strike up a conversation.
Last but not least, don't take it too seriously — it's not a science and should be fun and playful!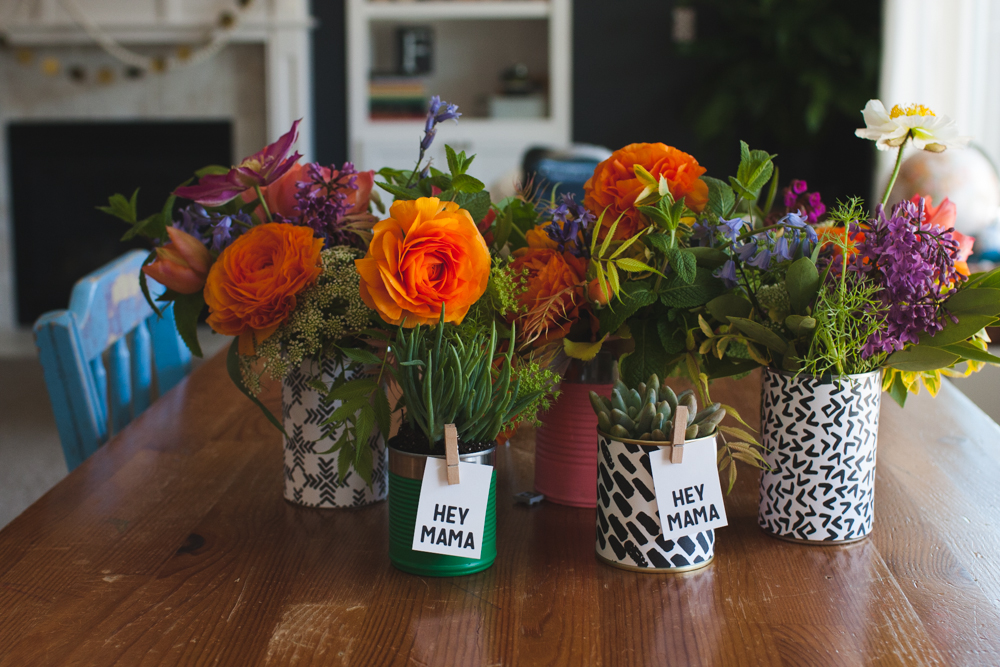 So helpful, Teressa!
If you are local to the Seattle area I highly recommend checking out her latest brainchild, wild + gathered, recurring seasonal floral arrangements delivered right to your doorstep. And just like the arrangements from this post, the wild + gathered bouquets can be divided and shared with friends or spread out around the home or workplace.
Flowers make everything better. Yes?
XO, Rae