Mother's Day is in T-minus 6 days (say, what!?). With so little time left, I wanted to design something that would make it fun and easy to celebrate all the brilliant, strong, cool and all-together amazing mamas I know. Since I've never met a mom that didn't love fresh blooms and because everything looks cuter when mini, I thought tiny bouquets with some pertty paper would be perfect!
Of course I had to share… Links are below along with matching wrapping paper for little gifts.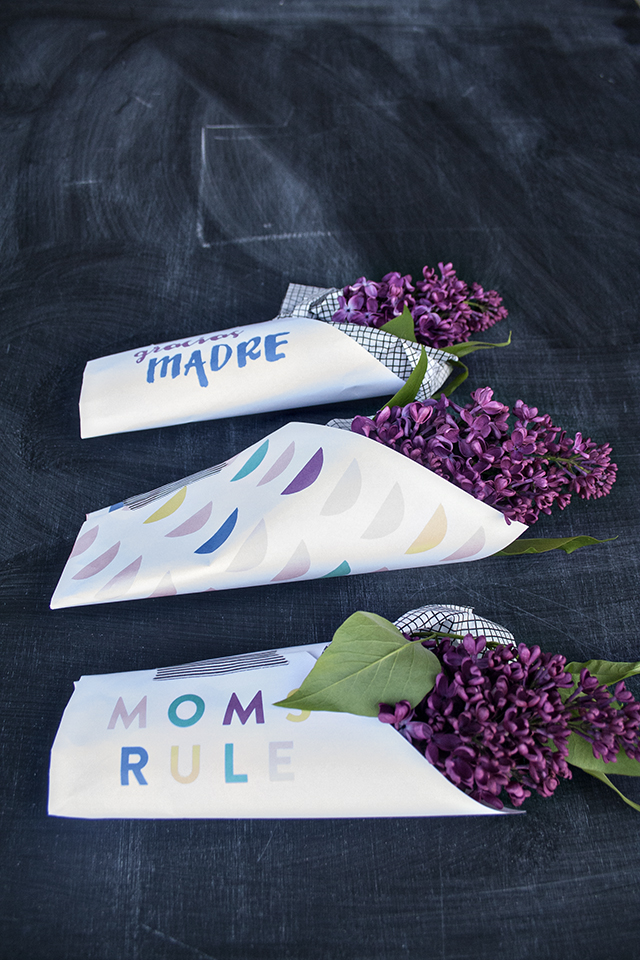 MOTHER'S DAY bouquet paper, PDF
MOTHER'S DAY gift wrap paper, PDF
Here's how to wrap up the flowers: Wrap flowers in tissue paper to your liking. Download and print the bouquet paper on regular printer paper. Lay facedown with the words on the right side. With the stems towards the middle of the paper, place the flower end to the left of the top right corner. Fold the bottom left corner up over the stems and then the top left corner down over the top. Finally fold the bottom right corner up over the flowers, tuck the point under and secure with tape or string.
Aren't the lilacs beautiful?! Funny-ish story, I didn't even realize they were blooming in my front yard until a friend pointed it out! Sheesh. Truth be told I have a very brown thumb (succulents have died under my care!) and as much as I love flowers, landscape and gardens I just haven't been bitten by the horticulture bug. My fingers are crossed hoping that one day it will happen. If you have any secret tips please spill the beans!
Lots more Mother's Day fun this week so stay tuned!
XO . Rae
P.S. – Here is a project from last year.