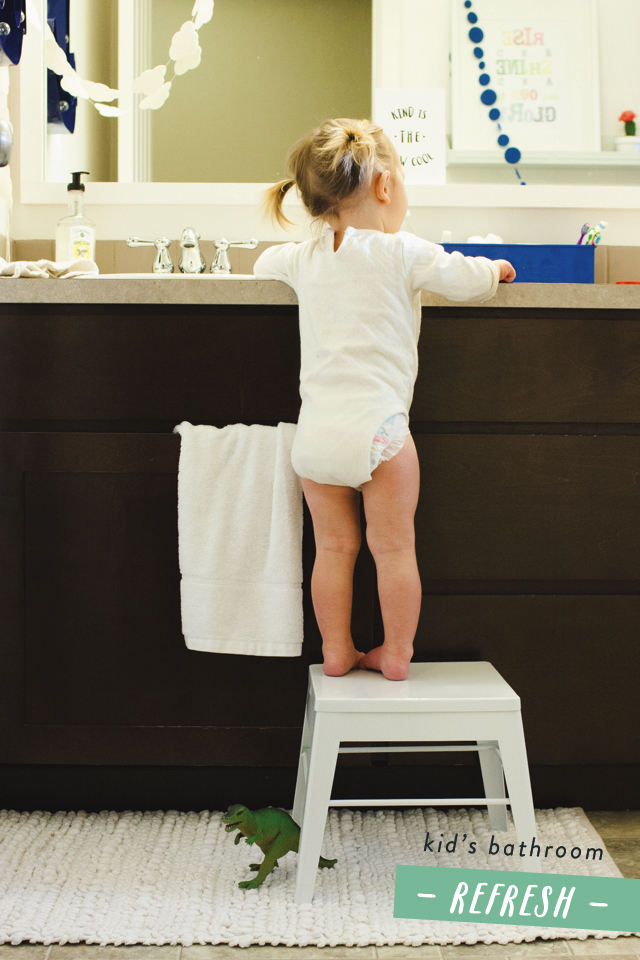 I don't usually have much of an itch to update or decorate our bathrooms but after looking for places to display artwork from our maker + ink giveaway a couple weeks ago and having a hard time making this adorable art print look somewhat cute in the kid's bathroom, I felt really inspired to make a few quick updates. I mean, we spend a lot of time in this space for it not to feel cheery and fresh, right!?
As with any decorating projects, we had a few challenges 1) kids of all ages use this room as well as sleepover friends and grandma and papa when they stay the night. 2) there isn't a lot of natural light – just one small window in the toilet/shower area. 3) this wasn't actually a planned project so there wasn't much of a budget… since we're renting any expensive updates (like tiling or flooring) is out of the question anyways.
With those things in mind I'm pretty smitten with the outcome and think we struck a good balance between little kid and adolescent. Take a peek at the before and after as well as sources below! (SIDE NOTE – it was really tricky taking pics in such a small space without good lighting but I hope you still get a good idea of what it looks like!)
One of the only DIY projects we did was add a frame around the standard mirror.  There are quite a few tutorials on Pinterest, but Johan did his own thing and built the frame around the mirror without taking it down using 1×2  pine trim.  Let me know if you are interested in a tutorial and I'll get all of the details for you.
We also painted the walls and added knobs to the cabinets. Both of which are an easy upgrade to any room, and finished the look with a few new accessories and fresh towels.
It certainly won't be gracing the pages of a magazine but it was simple, effective and makes being in the kid's bathroom a little more fun for all of us.
Big dot shower curtain / White metal stool / Blue "things" organizer / Rise and shine print / Blue dot garland / White cloud garland / Chunky white bath mat / Anchor marquee light / Yellow hooks / White wall shelf / White towels
(Those little fingers and piggies are  e v e r y t h i n g )
Everyone agrees the shower curtain is the best addition. It's cool enough for a teenager and whimsical enough for the minis.
Our bedtime routine got a whole lot easier the second this stool showed up. It's the perfect height — Griffin can reach everything he needs and Poppy is able to play in the sink without being able to reach anything else (cotton balls, toothbrushes and faucet). 1 point parents. It comes in a few other colors too!
Are there any spaces in your home that could use a little update?
I'm hoping our dinning room will be next on our refresh list! Or maybe some new spring/summer touches in the family room! Always so hard to decide :)
Hope your Friday is off to a good start you guys!
XO, Rae