I'm so excited it's Friday guys and to make things even better, I have a super simple (and functional) DIY and printable to share!
Between 3 kids starting school,1 in preschool, two playing soccer and one playing football, our google calendar is filling up. Even when we keep it updated I still find away to forget things. Like Poppy's well child visit we barely made it to earlier this week. I started thinking that maybe I need a weekly calendar that stands out, catches my eye and looks perty. Something I'll see when walking into the living area of our home instead of staring at my phone or computer.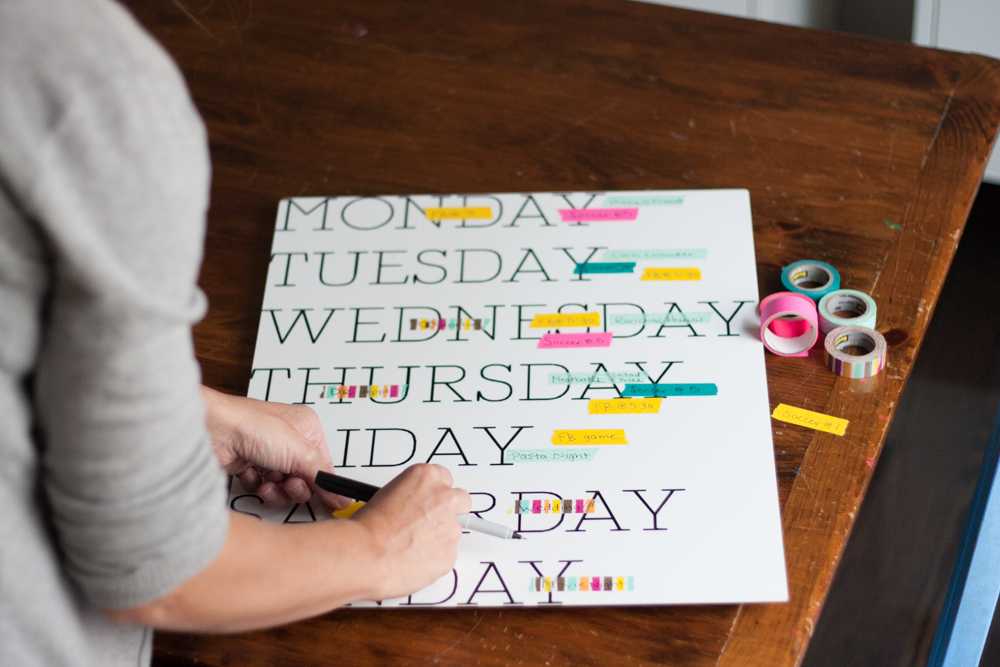 So I decided to turn our days of the week print into a weekly calendar by ordering it as a 16×20 metal wall art via tiny prints and then used washi tape and a sharpie to write down appointments, outings, practices, games and our dinner menu.
A framed version would work just as well and be less expensive but I wanted to try something a bit more durable and different. Especially since it is hanging where sticky kid hands can get to it.
It's been so handy and earned several compliments in it's short existence. Even the kids (and husband!) can take a peek and see what we have going on that day or what we'll be eating.
Like any good thing, one is just not enough so I ended up ordering a 10×14 inch metal print of the multi-color version to use in my office. Can't wait for it to arrive!
All the files to DIY are linked below and ready to use at tiny prints, costco or most other commercial print places.
CLICK LINKS BELOW TO DOWNLOAD FREEBIES:
For an automatic download PDF or printed version, head to the design shop and use code: BLOGLOVE20 to get 20% off your order! You have no idea how much we appreciate every single purchase. :)
Happy weekend!
XO, Rae