now that thanksgiving has had it's moment in the spotlight (hope yours was lovely!) i'm so excited that it is officially christmas season and i can wish you  MERRY CHRISTMAS!
minor disclaimer before i really start this post – i'm not a home dec person. sure, i can style a wall or nook, but an entire room sends me into a tail spin of indecisiveness. so most of the rooms in our home are halfway finished with hand-me-down furniture that is either waiting to be refinished or  replaced…. if i could only make up my mind!
(NOTE: giveaway details for the tree decal pictured above are at the bottom of this post)
however, what i have gotten savvy at over the years is moving items around the house and finding small ways to spruce things up. so i thought i would share a few ways we added some winter wonderland to espen and  tilly's room.
my hope is that these small updates inspire creative playtime, cozy reading sessions and sweet (sugar plum's dancing) kind of sleep… so far it's done the trick!
here's what we did:
COZY LAYERS – to their beds and the floor.
sources: faux fur blanket, plaid blanket, buffalo check pillow case, faux sheepskin, flannel sheets
PAPER SNOWFLAKES – over espen's bunk.
so simple and yet festive.
not to mention hours of entertainment for busy hands… i'm hoping to add lots more to the ones pictured.
A FEW KNICKKNACKS – like this snowglobe…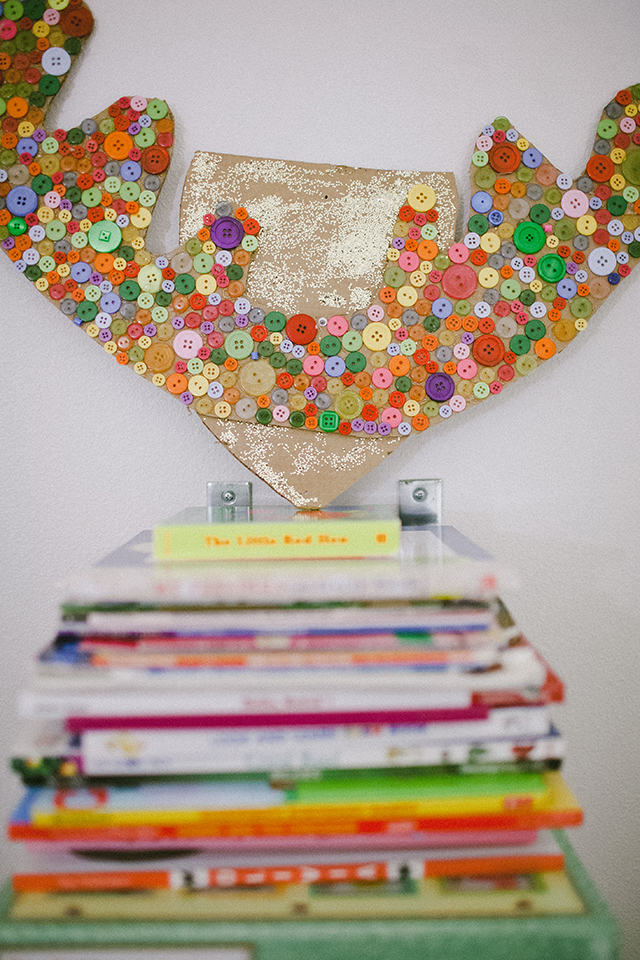 … this moose antler craft we made for mom.me, here…
…smelly pinecones and these photo props i stumbled upon while cleaning out my craft supplies last week (found here).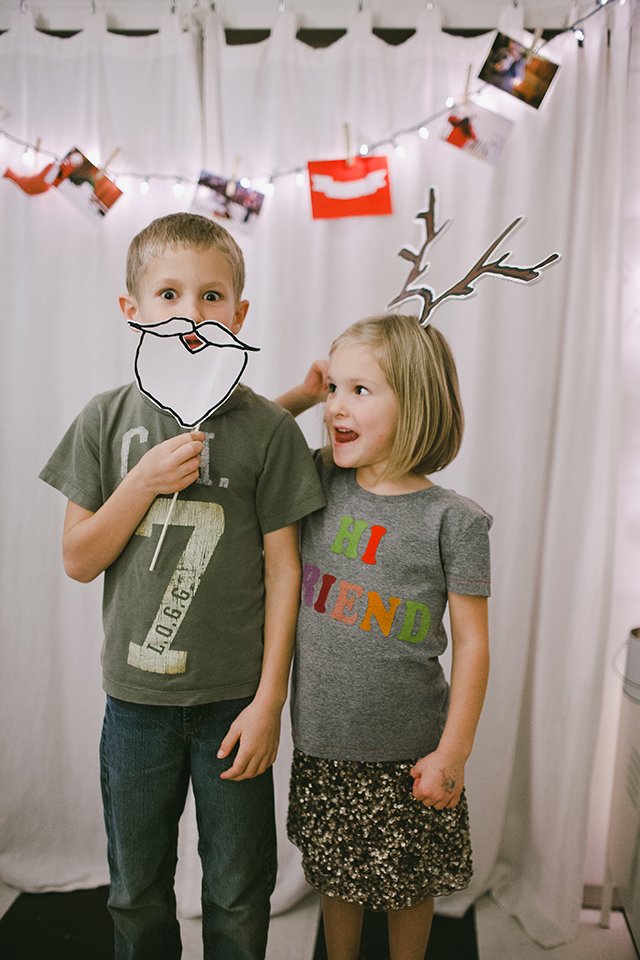 since the kids love taking silly pictures and video on espen's ipod, they seemed like a perfect addition.
LIGHTS, lots of lights – an easy way to add a little whimsy.
some old pictures hung from the lights for a personal touch.
and of  course more lights above tilly's lower bunk. the soft light is so inviting… especially for a sleepy daddy.
A LITTLE TREE – makes any room instantly feel christmassy.
(GIVEAWAY details) the one pictured is a wall decal i designed for spoonflower and guess what!? they are giving one away HERE. you can also read about my design process on their blog HERE.
now all that's left is to make a good christmas playlist!
speaking of, do you or your kids have any favorite holiday tunes at the moment? 
the relient k christmas album is always a fave around here…
now, off to do a little christmas shopping!
talk soon . xo . rae