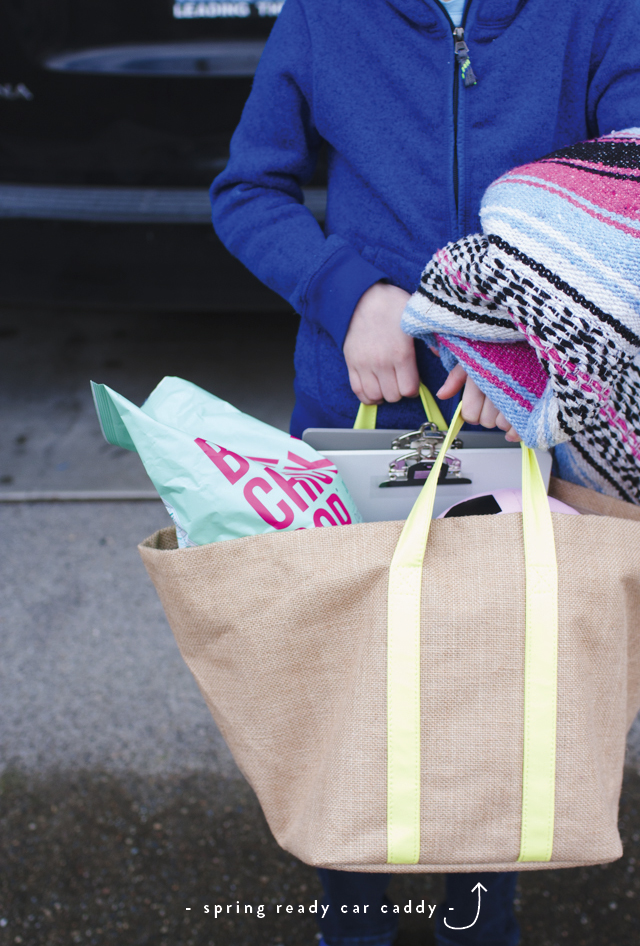 One of my many flaws in life is that I'm late. A lot. I would blame it on my kids but the truth is I've always been this way. Rushing around like a crazy person at the last minute trying to get ready and grab everything I need. Diaper blowouts, shoe debates and car seats only add insult to injury.
While I should probably make a "be on time" resolution I'm more of a baby step kinda girl. One of the things I know would help is packing up a few hours or (gasp!) the day before we have an outing or activity. Since spring baseball season is notoriously a busy time of year for us and little league tryouts were this past weekend I decided to put together a car caddy full of snacks, activities and other necessities for my mini spectators. Baseball might not be your thing this spring but a car caddy could easily be updated for park dates, trips to the farmers market or weekend outings and would definitely be handy for trips to the pool this summer.
Here's a look at what I packed:
Tote/Caddy/Crate – Love this basket-tote from Land of Nod and it's on sale!
Blanket – We use this Gunner and Swain Mexican blanket for almost everything but I would like to find something that will work well when the ground is wet.
Snacks – Popcorn, Cliv Kid ZBARS, trail mix, honest kid juices, and boxed water.
Treats – Lemonheads and bubble gum remind me of watching my big brother play baseball so I had to throw those in there.
Activities – Sidewalk chalk, clipboards and coloring supplies, oversized jax game, and a soft soccer ball.
Misc. – Bandaids, neosporin, hand sanitizer and wet wipes.
Now if I can just keep it stocked and ready! Did I forget anything?
Are you an on-time or mostly late kind of person? Or maybe in-between? Please share any tips you have in the comments below!
XO, Rae