Thanks to everyone who is playing along with the belated Birthday giveaways. If you missed them there is still time to enter! Just scroll down to the next two posts or head here and here.
I'm back today with a reveal of the kids' new reading nook in my office. I gave a sneak peek on Instagram a couple weeks ago and mentioned that the kids often (sometimes all 5 of them at once!) pile in my office while I'm finishing up a project or sending a quick email. Honestly I love that they want to hangout but there wasn't anything for them to do so they would end up hovering over my desk, snooping through my piles and asking a bazzilion questions or the worst, bugging each other! Instead of enjoying their company it just ended up being a big irritating distraction and I hated it. It's the opposite of what I want my kids to feel in their own home.
Something had to be done so I started brainstorming with my man and a couple weeks later a little reading and quite play space was born. It's been well loved and used since. Sure they still hover over my desk but I can sweetly suggest they cozy up with a book and the pillows or play checkers or dig through the pouches and find something fun for Poppy.
I'll list sources below and share a few DIY's later this week or next…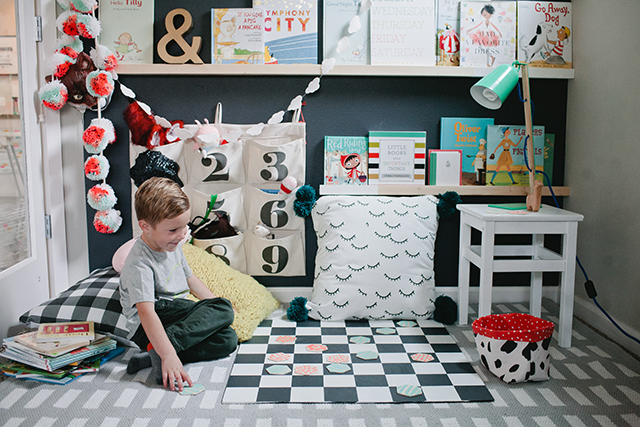 (One man game of checkers, LOL. Poor Griffin didn't have any siblings home when we shot pics)
KIND IS THE NEW COOL PRINT (my current personal fave) // WALL COLOR // RUG // POM + CLOUD GARLAND // WHITE TABLE (painted from IKEA – similar option) // NUMBER ORGANIZER // FLOOR PILLOWS (DIY – sleepy eye fabric, check fabric) // BOOK SHELVES (DIY) // OVERSIZED CHECKERBOARD (DIY) // LAMP // SWISS CROSS CANVAS  // FABRIC STORAGE BIN (DIY)
DIY's coming soon… Let me know if I missed anything else!
I do kinda wish the wall color was white to lighten the blow of contrast but I also wanted to make the nook feel like it's own place and all the other walls in my office are light so we went dark. I also think it's so easy to just go white these days… it's so clean and crisp and "IN"! What do you think?
XO, Rae
(Photos by Stacy Jacobsen)