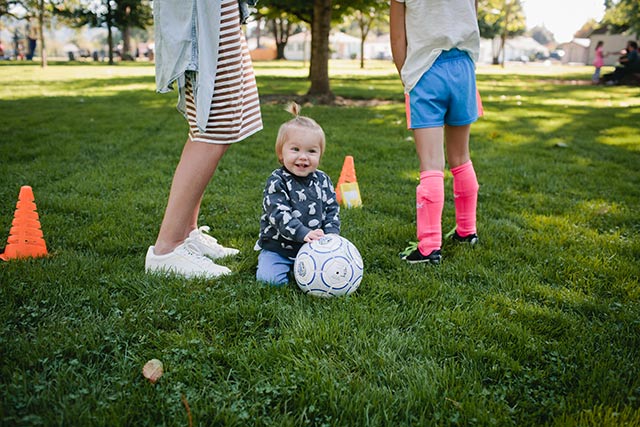 My favorite part about fall in addition to the return of pumpkins, plaid, football, and comfort food is soccer season and watching my kids play. This year is especially fun because both Espen and Tilly are playing! Our entire morning and early afternoon was spent on soccer fields (and taking a few pics) last Saturday. As a former competitive player it was the perfect way to spend the day!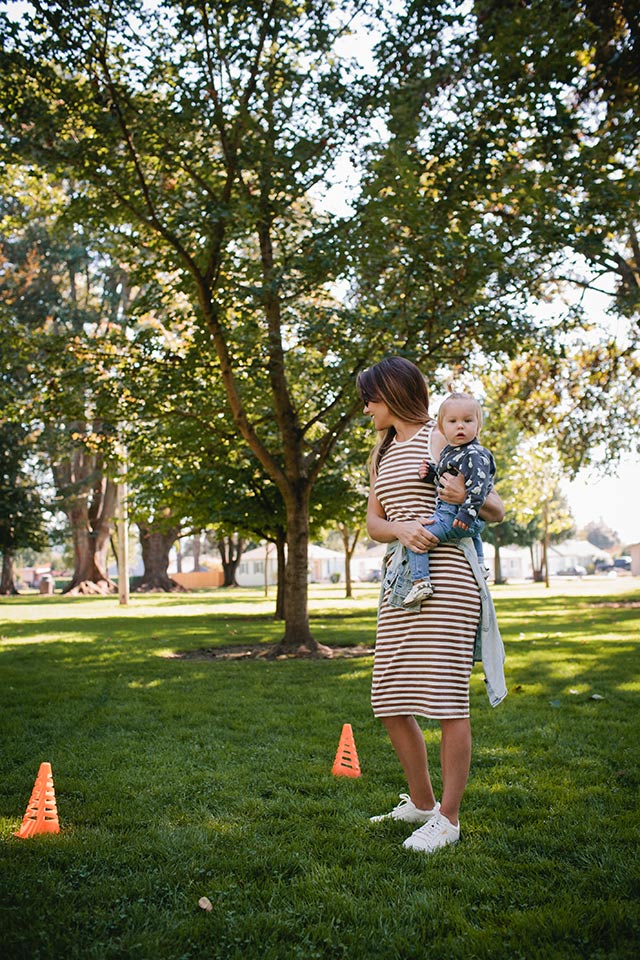 MAMA OUTFIT: midi dress (similar 1 2 3 4), chambray (similar), sneakers, sunnies (similar)
I always feel a little stumped when it comes to getting dressed for a day of watching soccer, running around and wrangling the kids. I want to be cute but not overdressed and comfortable but not frumpy. I guess it's kinda silly to put so much thought into it, but I like clothes and getting dressed so I think about it :)
Some gamedays I'm in my workout clothes and others jeans but last Saturday I wore this cute and sporty jersey knit midi dress with fall-ish stripes, a chunky sweater (not pictured), layer of chambray and sneakers — Always sneaker, or boots when it's rainy — and it felt just right.
Regardless of cute or sporty, being able to play in what I wear is a must. There is always a little free time to fill or bored siblings to play with. And honestly, I know I said that I love watching the kids play, and I do, but I also have a hard time just sitting and watching and end up multitasking between watching, playing with the other kids and chatting with other parents. I guess part of that is unavoidable with a one-year-old but my goal is to be better about just watching.
POPPY OUTFIT: pants, shoes, sweatshirt
TILLY OUTFIT: top, shorts (Marshall's), socks (Target), shoes (cousin hand-me-downs)
Also, hard pants on Poppy! I like my babies being comfy and cozy and didn't think she (ahem, I) was ready for jeans, but these are still nice and soft.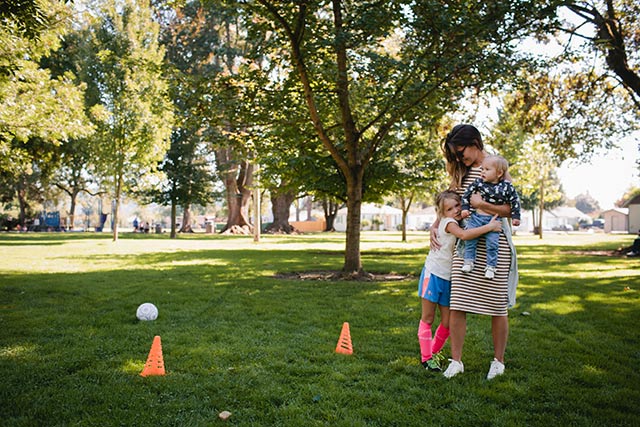 What are your favorite game day digs!? Also, are you more of multi-tasker during games or do you give your undivided attention?
XO, Rae
(images by Stacy Jacobsen)
P.S. – Just to end on a funny note. We had a real america's funniest home videos moment during these pics when Tilly hit Poppy with the ball perfectly in the forehead. I didn't even know she could kick like that! Anyways, Poppy didn't cry until she saw my face. Not my finest mom moment but I could not stop laughing when I saw this photo.