It was haircut day at our house a couple weeks ago and since the boys have gotten lots of compliments on their do's since we started giving them an actual hairstyle (as a posed to their usual buzz cuts), I thought I'd put a tutorial together. Husband reminds me often how much money we save between his handyman and barber skills and it's true! So if you get an itch to save some dollars and a trip to the barber keep-on-scrollin'.
Here's how we do this cute and totally doable — business on the sides, party on the top — haircut officially called an undercut.
1.) Get the top part of the hair damp.
2.) Comb up the hair that is  in the "horse-shoe" shape on the top of their head. I'm always a little conservative with this part and comb up too much hair, but it's easy to adjust or trim later.
3.) Put a #2 guard on your clippers and shave the sides and back, blending the hair that is closer to the long hair on top.
4.) Next, put a #1 guard on and clean up the hair around the neck, sideburns and ears.
(a towel over their shoulders and hair duster thingy :) helps!  I forgot about the towel this time, poor Espen!)
5.) Using your fingers and hair scissors, do some rough trimming to add texture and shape and your done! Espen's hair had gotten a bit too long so we trimmed off some length and then added long layers.
A little hair product helps when styling… I just grab whatever is handy if we have time before leaving the house but would love to find something that is light and meant for boy hair. If you have any suggestions, please share in the comments!
Then repeat on the next little dude.
Griffin loves having uneven bangs and getting his hairs cut.
Not.
It looks like he's smiling a little but he is actually squealing and flinching and driving his daddy bonkers. We almost always need to fix parts of his hair a day or two later when he has calmed down.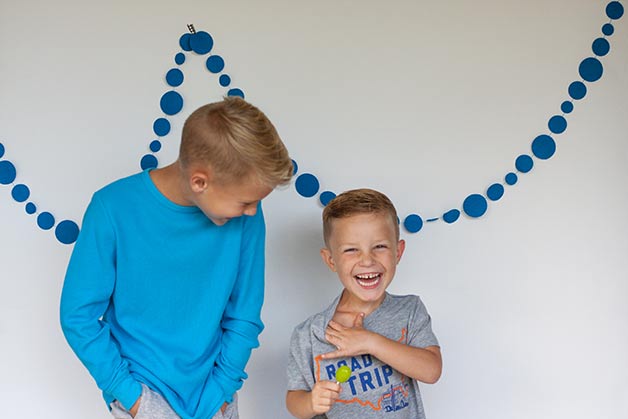 Lollipops work as a bribe and a tubbie afterwards helps to clean off all the hairs!
We are by no means hairstylists and don't exactly know what we are doing but it works for us and I think they look pretty cool :)
What about you… Do you DIY haircuts? What's your favorite boy hairstyle?
Let me know if you have any questions or suggestions in the comments too!
XOXO, Rae