Laughing at the title of this post a little because in the pic I kinda look like one of the kids (HA!). We had just finished attending Griffin's Kindergarten graduation celebration and decided to grab lunch and head to the park for some playtime. Can't beat overalls for their ability to be comfortable and playful but also special enough to dress up for a daytime event.
Which is one of the many reasons why overalls are one of my favorite wardrobe staples and go-to choice on days that I just really don't know what to wear. However, not everyone feels the same. If that's you, today I'm going to try and change your mind by sharing a few styling tips… (you know that friend that is obsessed with something and won't stop bugging you about it until you try it? That's me. Try to not get too annoyed, mmmkay? ;)
Sooooo, whether you're not sure if you can "pull them off" (btw, you totally can), or you would love some ideas for styling the overalls that are already hanging in your closet, here are my 3 tips for wearing overalls while also feeling like a grownup:
Pair them with a softer/pretty/feminine blouse or button up instead of a t-shirt. If you really want to keep things grown-up-ish, add strapy sandals (or heeled espadrilles in the evening) and a straw hat and basket bag.
Stay monochromatic… black and white always make things look a little more sophisticated, so a black or white tee with black accessories (think shoes, sunnies + purse) is an easy win!
Remember that there's more than one kind of overall… Opt for a dress overall like this one or this one that will look so cute in the early fall with a sweater and booties too. Or wide-leg overalls like these that have more of a pinafore look to them. A denim jumpsuit is also an option! Love this one and this one.
Of course cute slides or sneakers and a striped t-shirt are always an option and usually how I wear overalls. Actually, it's how I wear most things, lol.
Outfit details are linked below as well as a few tid-bits about what we were up to in our outfits, too!
A giant playground with climbing toys, swings, slides, etc. but the drinking fountain and bicycle rack are an obvious choice.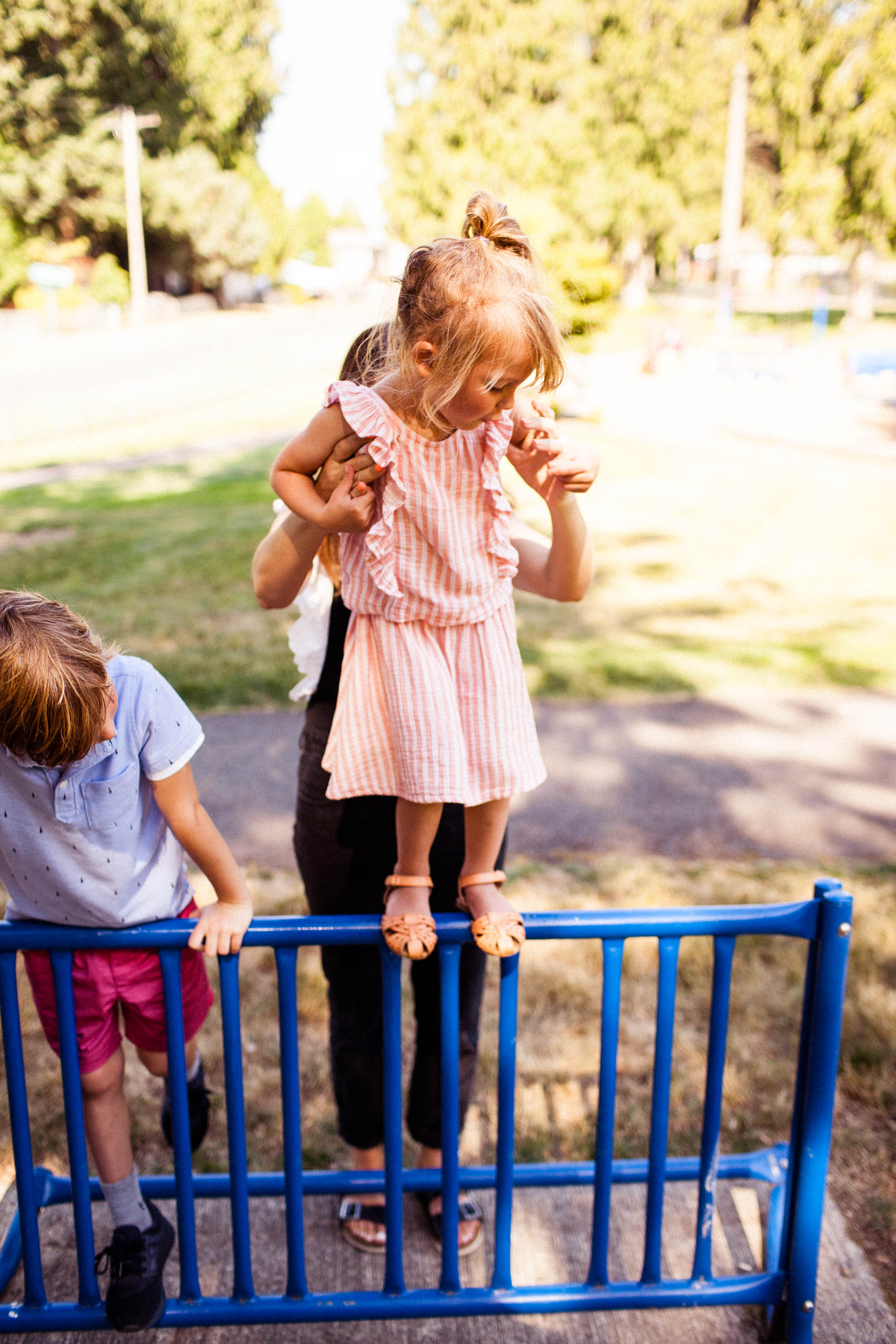 Griffin took this pic of Poppy… gah! Every time we get the camera out lately, he asks for a turn and i love to see what he ends up shooting. There are always a few gems and a few funny captures. Also, Poppy is looking very comfortable in front of a camera, LOL. Love them both mucho.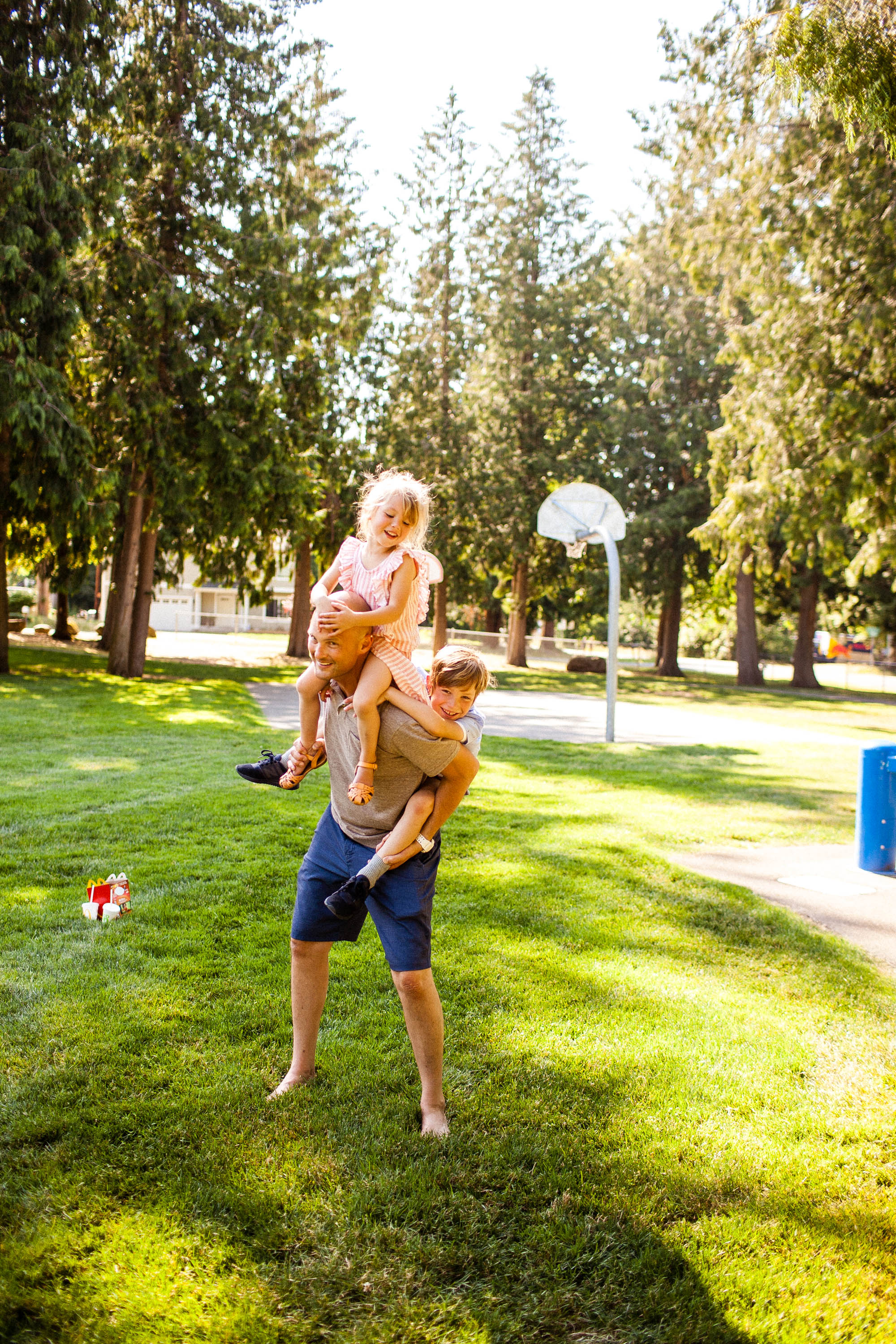 Happy to have Daddy with us for Griffin's graduation and festivities afterward. He's also always the best choice for something to climb or play on :)
We asked these two what they wanted for lunch and/or treat after the graduation and they both insisted on happy meals! It was so surprising and hilarious to Johan and me since it's not a normal request or food option for our fam. We later realized (when they didn't eat their food) that they were in it for the toys. Now I just need to figure out where they saw the advertisement for the happy meal toys, lol. But really it was kind of a fun flashback to growing up in the 90's.
Now back to the overall discussion… did I convince you?
You guys are the best!
xo, Rae
RAE | overalls are old from madewell but THESE are very similar from topshop, top from urban outfitters — wearing a small but could have sized up, birkenstocks are old from J.Crew but these are similar
POPPY | top and skirt by alice + ames, shoes from target
GRIFFIN | rocket polo from rockets of awesome, dock shorts from J.Crew and are a summer staple for the two younger boys