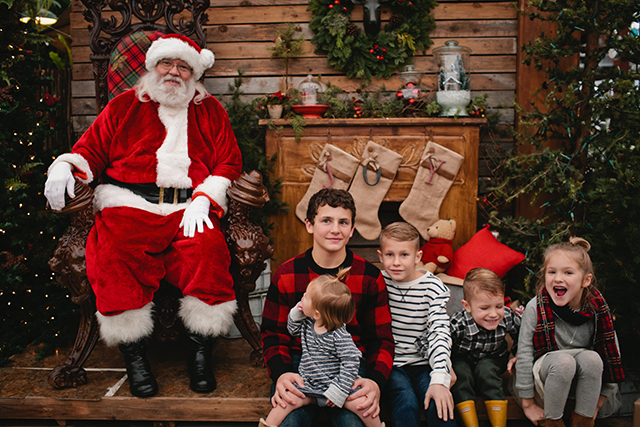 Every year, from the time I was a newborn in a bunting to the time I was a teenager in a flannel and baggy jeans, my parent's would take my brothers and me to get santa pictures. I hated it as a baby, loved it as a little girl and resented it as a teenager. So naturally Johan and I decided to carry on the tradition with our own offspring (HA!).
After several years of bringing the kids (a much smaller brood back then) to see Santa, we stopped. All the lines, coordinating and bribing (of kids and adults) just didn't seem worth it and in all honesty I wasn't really sure how I felt about Santa being such a big part of Christmas (but that's another story!). So we ditched the Santa tradition.
Then, a few years ago my mom framed all of our childhood santa pics including a few from my dad's childhood and displayed them all together. When I walked in and saw them, my heart exploded into a million pieces as I carefully examined every single one. At that moment I decided our family would pick up where we left off with the jolly old guy.
//Can you feel the love?//
//Espen's at that in-between age and I wasn't really sure how he would feel about Santa but when it was his turn he hopped right up on his lap and whispered in his ear and it was really the cutest thing ever. I'll take every year I can get of him not growing up too fast!//
//Obviously not a fan but somehow crying babies on Santa's lap are just as cute (if not more) than happy ones.//
//Griffin was a little more brave this year and grabbed a candy cane from Santa's hand. Progress!//
Now, after a few years in a row of seeing Santa I'm so happy we made a comeback. Not because it's easy. Don't be fooled by these adorable pics. A lot of hard work and patience went into getting everyone there and a teenagers life might have been ruined in the process :), but it was oh so worth it!
It's crazy to me that something that requires such effort and causes chaos can end up being such a sweet memory. But I guess life is like that in general…. The crazy things end up being the best things.
Are there any Holiday traditions you are wanting to bring back, or start or maybe give-up!?
It's a lot of work this whole Holiday Season isn't it? Through all of the hustle and bustle, memory making and fa la la-ing, I hope you feel the love, joy and hope that comes with it! Merry Christmas you guys… It really is the best time of year!
XO, Rae
(images by Stacy Jacobsen)