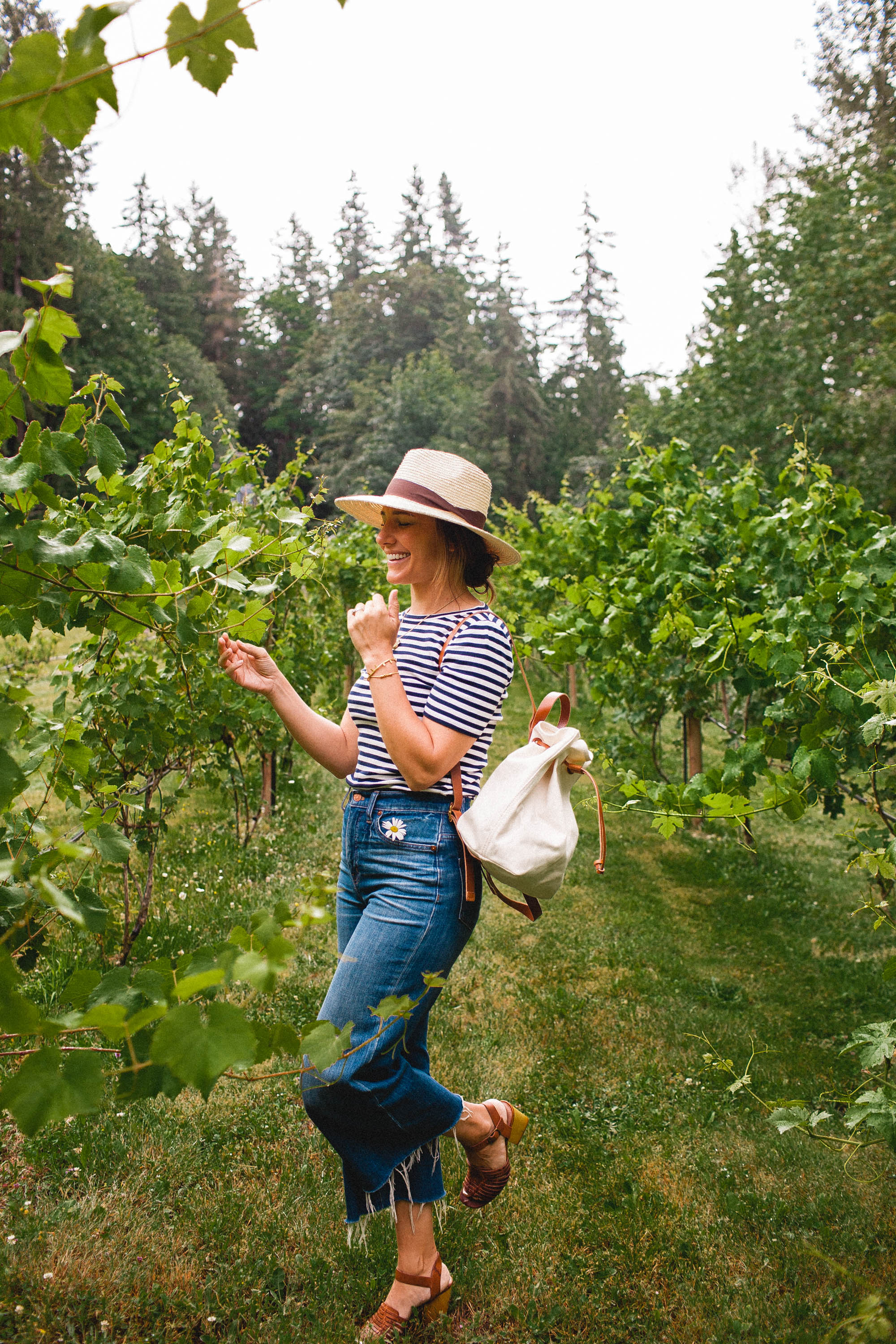 Just me, in my wide leg jeans and straw hat, trying to look all casual like I'm in my element walking through grape vines, but really just hoping the deers we saw earlier snacking on the grapes, don't return and beat me up. From a distance, I'll be the first to admire any wild animal, but otherwise they really freak me out!
Anyways, you might be wondering why I'm walking through grapevines??? Well, Monday night Johan and I dropped the kids off at my parents house and headed down the road to a B+B and winery for the night. It was a very different experience than I'd ever had, but fun to try something new. We chatted our innkeeper Bob's, ear off and asked LOTS of random questions during the wine tasting, ate a delicious breakfast while chatting more with Bob (HA!) and enjoyed the pretty grounds. We also left the winery to visit friends in Kirkland and eat a yummy dinner out (just the two of us) too. If you haven't been to a B+B before, it's worth the experience and the place we stayed was great… sweet people and delicious food and snacks and some of the best wine I've tasted at very normal prices. Not sure it will be a regular thing for us but I would love to hear if you've been to a B+B and if it's something you would do more of!?
The weather seemed to be a little unpredictable for our stay so I threw these wide leg jeans in my suitcase. They're perfect for cooler days but breezy enough for warm days too which is why I totally recommend adding a pair (if you haven't already) to your wardrobe. After posting this pic on Instagram last week, I got asked on DM, how else I like to style mine. So thought I'd share my answer here in case anyone else is wondering…? I like to wear a fitted top or tee I can tuck in all the way or a cropped-boxy  top I can front tuck. It's really all about balancing out the wide bottom with whatever is on top and making sure I still have a waist. A peasant top that doesn't have too much fabric and can be tucked in would be really cute too!
Let's chat about these bracelets because they're inexpensive and receive lots of compliments. Both are sold out from Madewell, but you can find similar HERE… love the friendship bracelet options!
When you're in front of a camera and have no little ones hanging on you or grabbing your hand and no coffee to hold, you do weird things with your hat ;)
OUTFIT DETAILS: hat from Nordstrom, striped tee (on sale) from J.Crew, jeans are old from Madewell (but I love these even more), huarache sandals are old from Madewell (similar)
Thanks to my sweet husband for the fun date!!!
XO, Rae