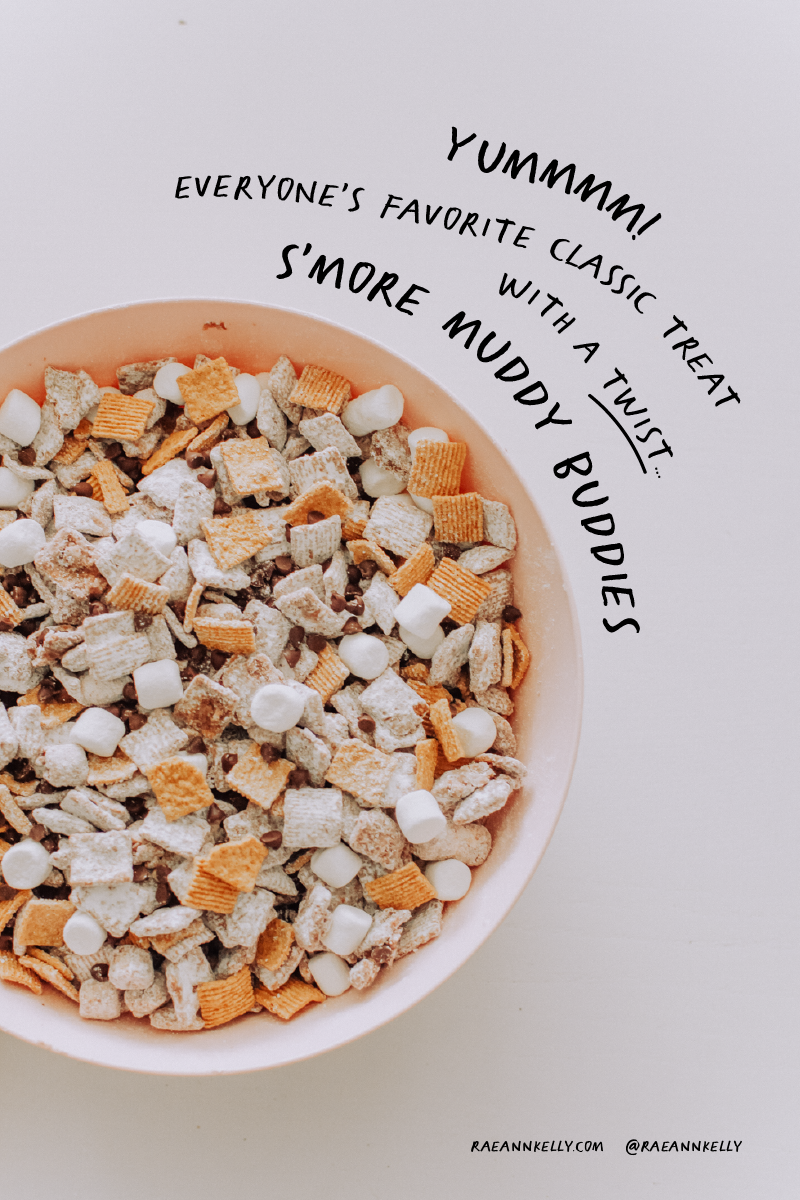 I almost feel guilty sharing this recipe because it's so good and sweet and your kids will beg you for it and then devour it in 10 minutes. The s'mores spin on the already classic muddy buddy (aka puppy chow) recipe makes it even more delicious! Let me know if you give it a try (comment below or @raeannkelly)!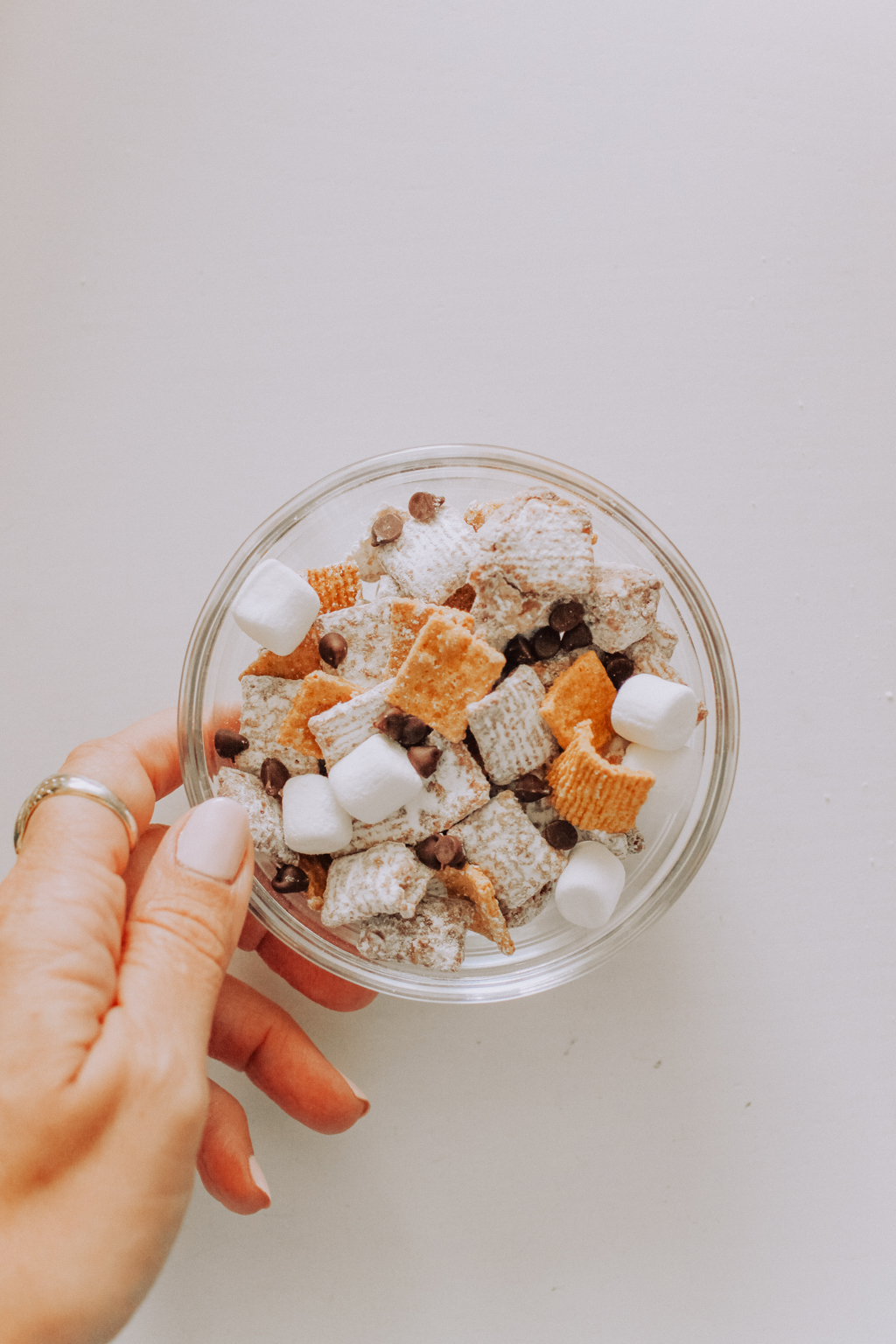 S'MORES MUDDY BUDDIES (A.K.A. PUPPY CHOW)
We love the s'mores spin on this classic treat that only takes 15 minutes to toss together. No excuse needed to make a batch, but it does pair well with movie night, parties, and after school chats… YUM!
YOU'LL NEED:
1/2

cup

creamy peanut butter

1-1/2

cup

*semisweet chocolate chips (divided-reserve 1/2 cup)

4

cups

rice Chex cereal

5

cups

Golden Grahams cereal (divided-reserve 1 cup)

2

cups

mini marshmallows (divided-reserve 1 cup)

2

cups

powdered sugar
HERE'S HOW:
Melt peanut butter and 1 cup of the chocolate chips over low heat in a medium saucepan. Use a rubber spatula to stir until completely combined.

Scoop 2 cups of Chex, 2 cups of Golden Grahams, and 1 cup of mini marshmallows into a **gallon ziplock. Drizzle half of the chocolate mixture over the top. Seal ziplock and shake to combine until evenly coated.

Add 2 more cups of each cereal into ziplock and drizzle with remaining chocolate mixture. Seal bag and shake until evenly coated. Place in fridge for a few minutes to cool (but not harden). This helps the powdered sugar coat the chocolate instead of being absorbed.

Add 2 cups of powdered sugar to ziplock. Keeping as much air in the bag as possible, press to seal and shake to combine.

Transfer mix to a large bowl. Add more powdered sugar if needed. Add remaining 1 cup of Golden Grahams, 1/2 cup chocolate chips, and 1 cup of marshmallows and toss to combine.

Eat up! Store any remaining muddy buddy mix (if it lasts more than 10 minutes) in an airtight container for up to 2 weeks!
Notes
*I usually opt for mini chocolate chips, but (FYI) they do tend to fall to the bottom of the bowl a little easier than the standard size. Sprinkling extra over the top, after you're done mixing everything, does the trick.
**You can skip the ziplock and follow steps 2, 3, and 4 in a large bowl and toss together with rubber spatulas.

Just got the 3 pack of these dishtowels… So cute!
ily, Rae