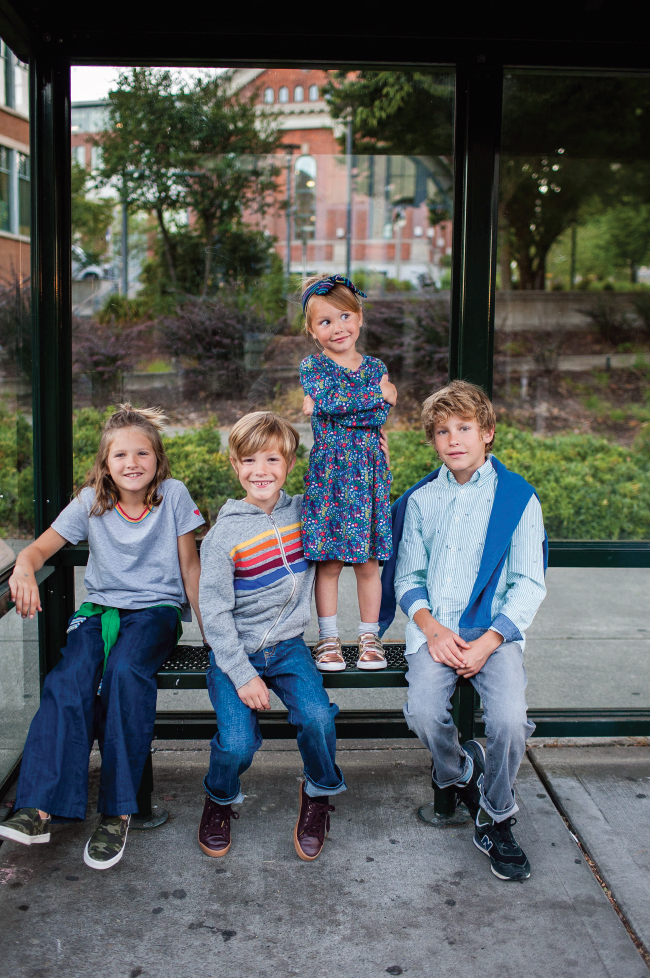 Having my kids home all summer gives me all the smiles for all the days (even the longer summer days that almost feel like 2 days… wait, did that happen yesterday or this morning? lol). So once we get to that part of summer when back to school becomes part of the conversation, it always bums me out. The silver lining of course is all the back to school shopping that we get to do in preparation, which is why I'm so excited to be partnering with Gymboree. They've reimagined their brand and we're in love with their fresh take on style and kid friendly clothing!!! Since we've been shopping at Gymboree since Ozzie was little, seeing all the younger kids in their outfits made me sentimental too.
You really can't beat a shop that makes it easy to find clothes the kids love and that are also cute, mix and matchable, super comfy and soft and also durable. It definitely makes me smile. Thought it would also be fun to ask the kids what makes them smile too. Here are their answers and a bunch more pics of them breaking in their new Gymboree digs around town!
TILLY | my friends, candy, polka-dots, + you know… funny stuff. like dad jokes.
ESPEN | my bed. (spoken like a true tween)
GRIFFIN | hugging my mom, lemon muffins (lol, if you saw his bday interview), movie night, getting gifts.
POPPY | going on an airplane. my heart blankey.

Can I get everything in my size too, please!? I especially love Griffin's top, Tilly's jeans, Poppy's dress and jacket, and Espen's sweatshirt.
Poppy didn't want to take off her headband at the end of the night either which is rare for her and hair accessories so it must have been comfy :)
The bottom pic — when Johan told them to look serious — Griffin's expression cracks me up!
I so wish scooters could be our main source of transportation. It's my favorite!
All the best – go with anything – footwear. And no one complained about their feet being sore!
Thank you kids and summer for all the smiles!!! And a big thanks to Gymboree for sponsoring this post and putting together such a fun #madeyousmile campaign!
Hope this post and all the cute new back to school styles made you smile too!
XO, Rae