In between all the summer adventures, we've had plenty of days just spent at home. At some point in the afternoon the kids will usually ask to make slime or a baked treat, but last week they asked about getting the craft supplies out and ended up making these really cute paper plate monster bags. The point of them is to be kinda messy, so it's a good project for just about any age!
Curious to see if they'll use them to hold their sunnies and ice cream truck money (lol), or if they'll end up hanging on a hook somewhere as decorations but either way they were worth the craft mess (the best kind of mess) and a nice break from the sun and sprinkler in the backyard.
Supply list and how-to are below!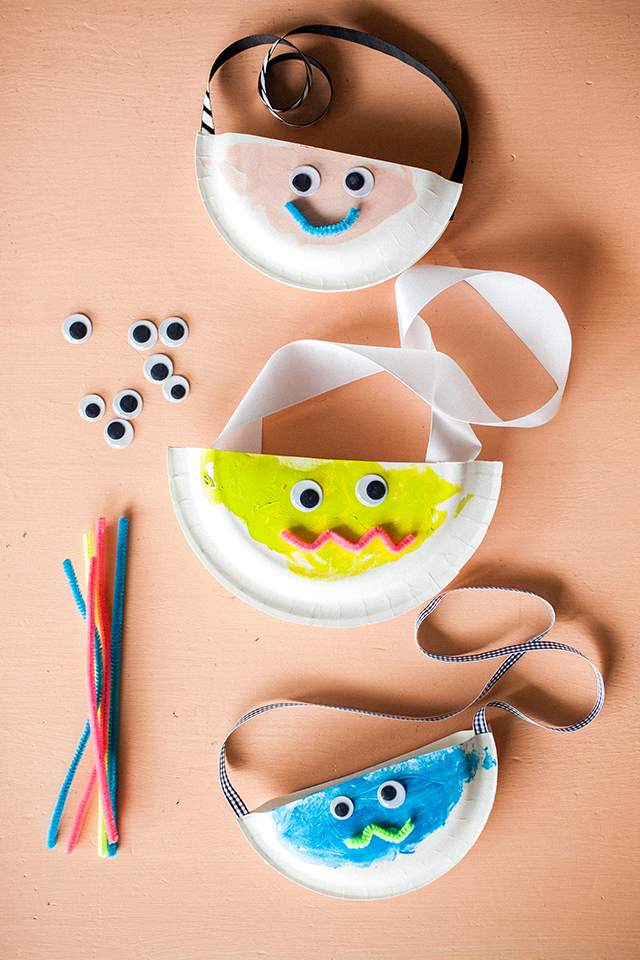 You'll Need:
paper plates (dessert or dinner size works… we used both)
ribbon for straps
googly eyes (we used these)
pip cleaners (pictured are from target, but love these rainbow colored ones)
paint (finger or craft paint)
scissors
hot glue gun
Here's How:
Cut paper plates in half and let kids paint the bottom side of the plate (that doesn't have the wax coating) with their fingers or paint brush. Let dry.
Cut pipe cleaners into smaller pieces. Shape and glue onto painted area. Stick or glue eyes on too.
Cut ribbon to size and hot glue to edge of a plate (see pic). Glue rimplates together and you're done!
You can count on Poppy to be in a swimmer 75% of the time. 99% of the time if we're at home :)
Happy when she's making.
Paper plates, brown paper bags and toilet paper tubes are a few of my favorite craft supplies for the kids because we usually have them on hand — which also keeps our craft closet from getting too cluttered!
What do you usually reach for when the kids need to do a little project?
xoxo, Rae