Remember last March when we moved our 7 person family into a fixer upper half the size of our previous home, the week after schools closed and the exact weekend the lockdown started in Washington State? Well, we finally have some momentum and figured it was about time to start a series so we can track the process and share the nitty gritty with you!
The different phases of lockdown, Oz coming home from College last spring, figuring out homeschool, and Johan's roll as a firefighter and status as an essential worker (slash covid tester), slowed down our start date significantly but we're more than halfway done with phase 1 (le basement) and am hoping things will move quickly from here on out. Kicking things off today with a home tour IGTV of our (mostly untouched) upstairs in it's "BEFORE" state. Not sure how I managed to make the video 10 minutes long for our 1200 square foot space, but I did and I hope it feels genuine and personable — I even stayed in my workout clothes from that morning just to keep it extra real ha!
Ironically, we have been happier than ever in our new tiny and under construction digs. Mostly because of the town and community we live in — proving that (at least for us) location is e-v-e-r-y-t-h-i-n-g.
Would you agree!?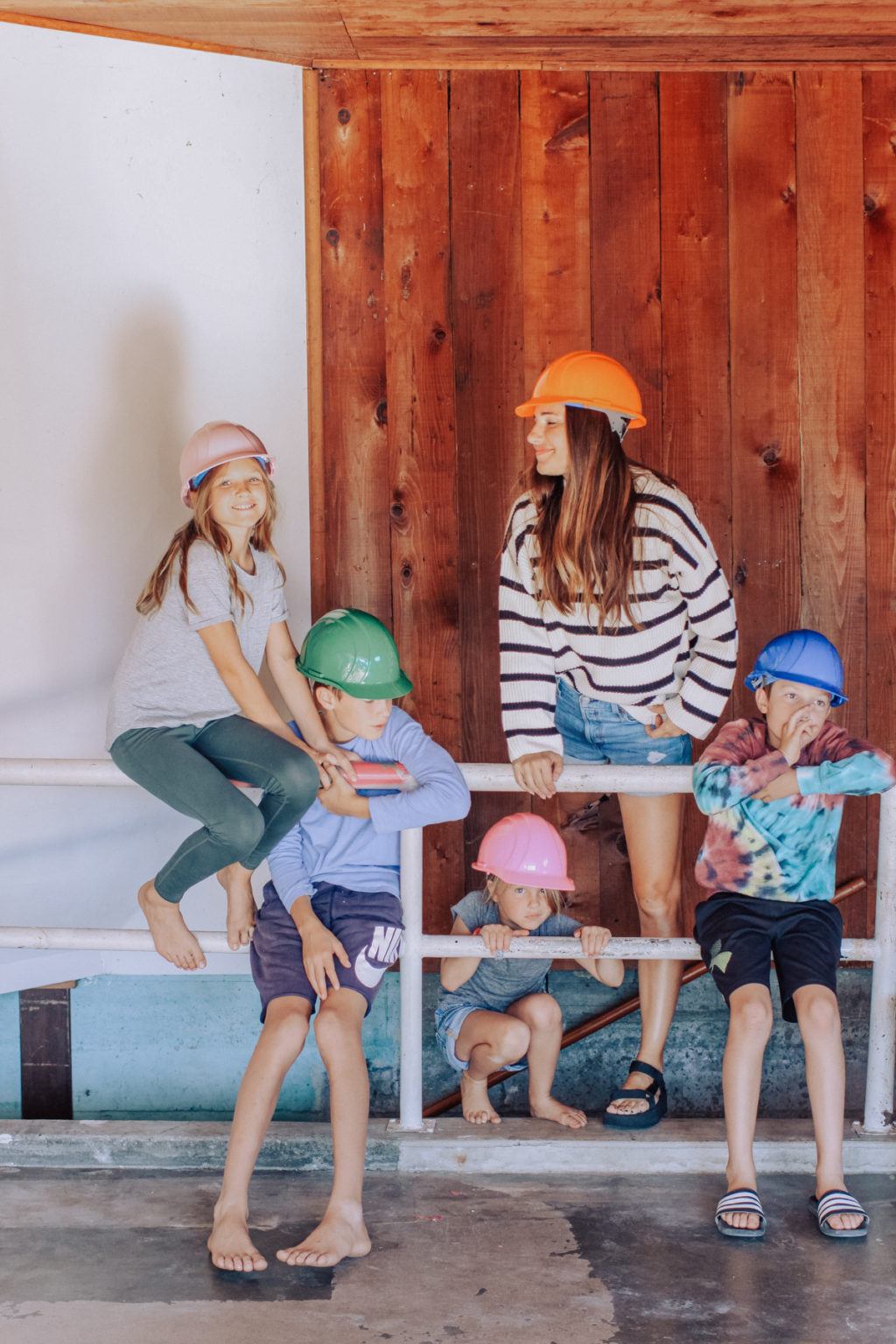 A few pics taken in our garage, that will soon be a family room, via self-timer. Oz had already been dropped back off at college (so bummed he's not in them!) and we were about to head to my parents for our final end of summer lake day. Gosh I miss sunshine and swimming!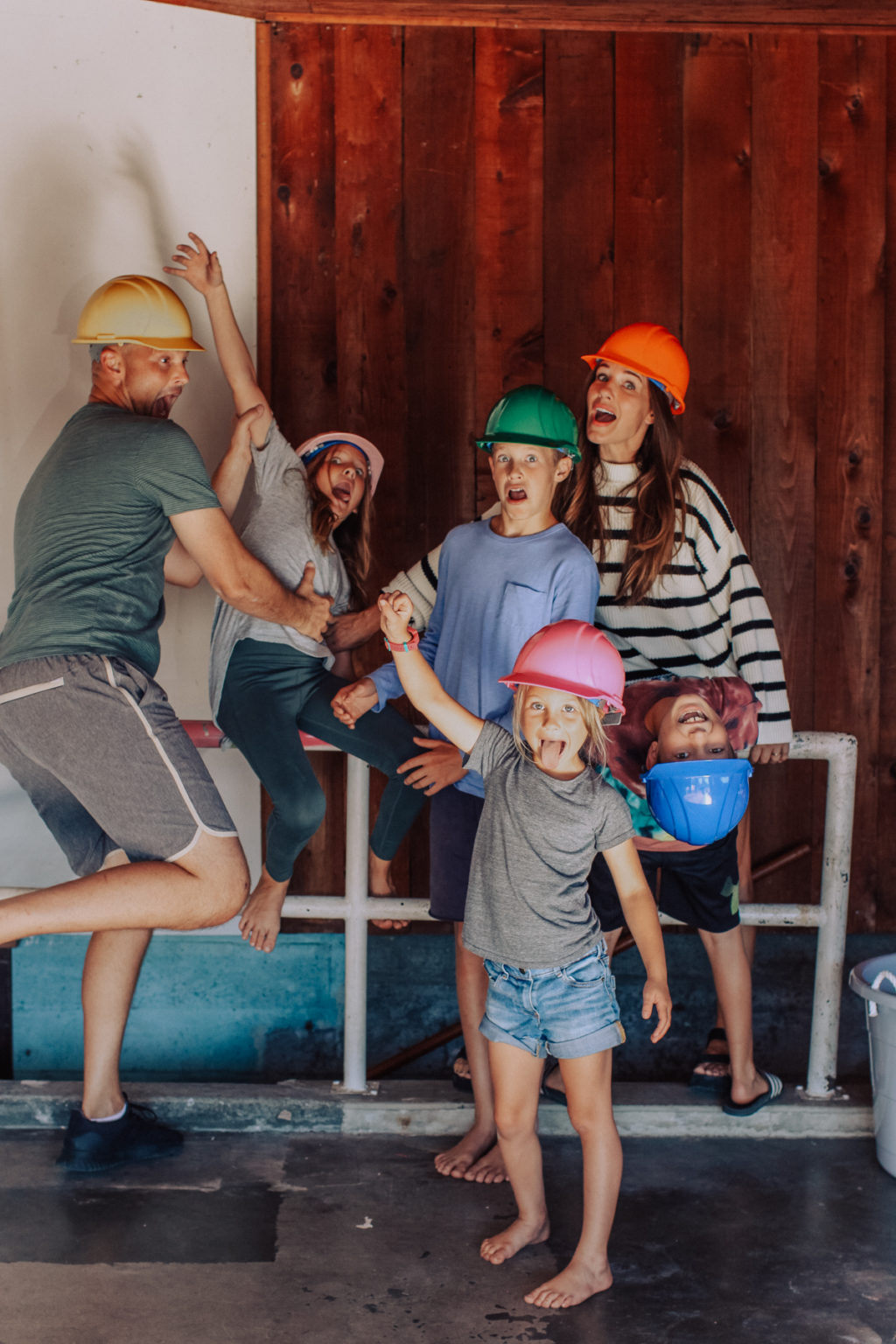 They are no fun 😂. And I'm not very good at sarcasm. Fun fact, the kids were all whining about having to take a pic but once we started they totally got into it had the hardest time waiting to see the final pics.
My roundabout way of saying — push through the whining and bahumbug-ness that occurs when trying to get tiny humans (and sometimes husbands) to do something. There will always be people with bummer attitudes in life. Show them what it looks like to follow your heart regardless of others — even in the small things!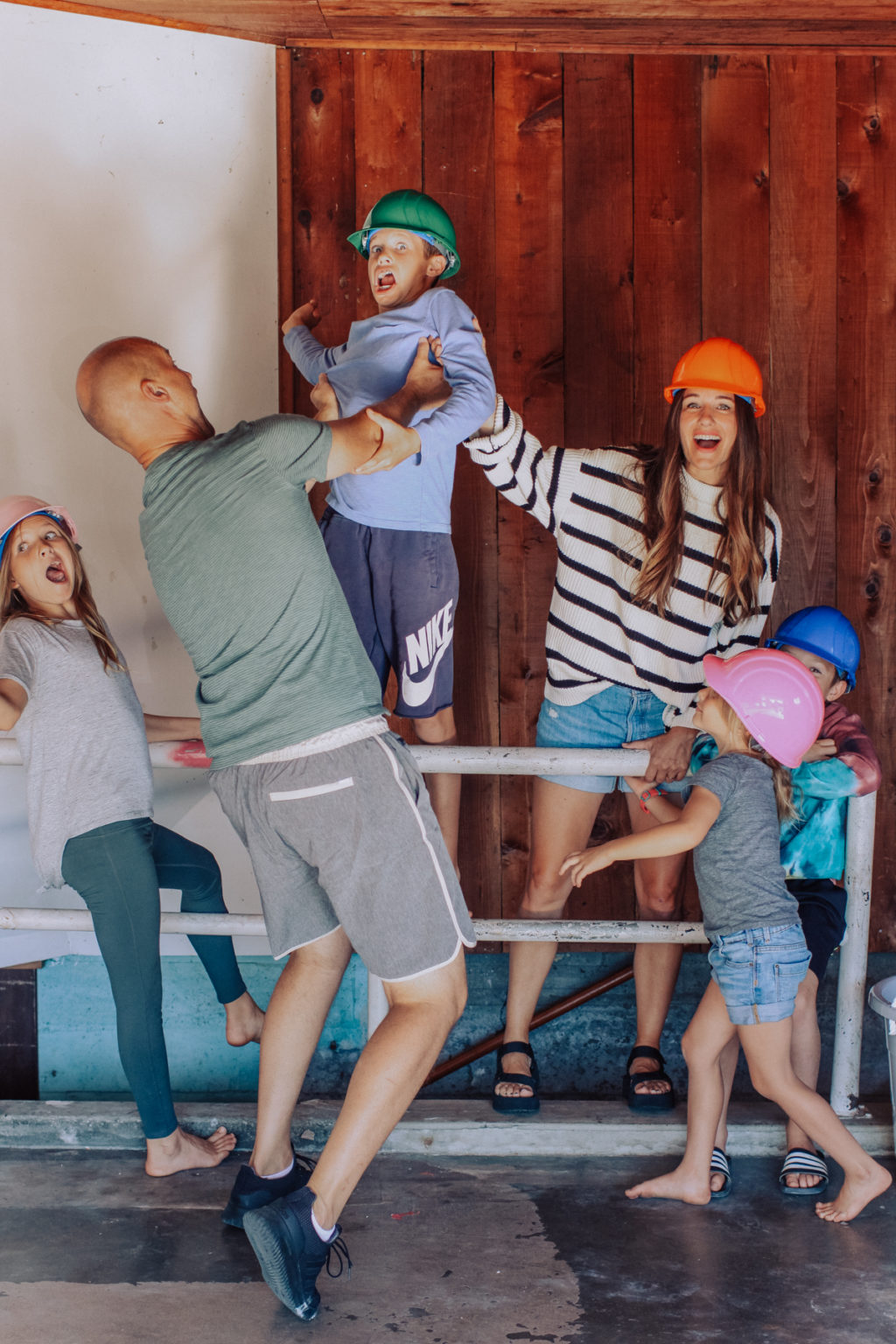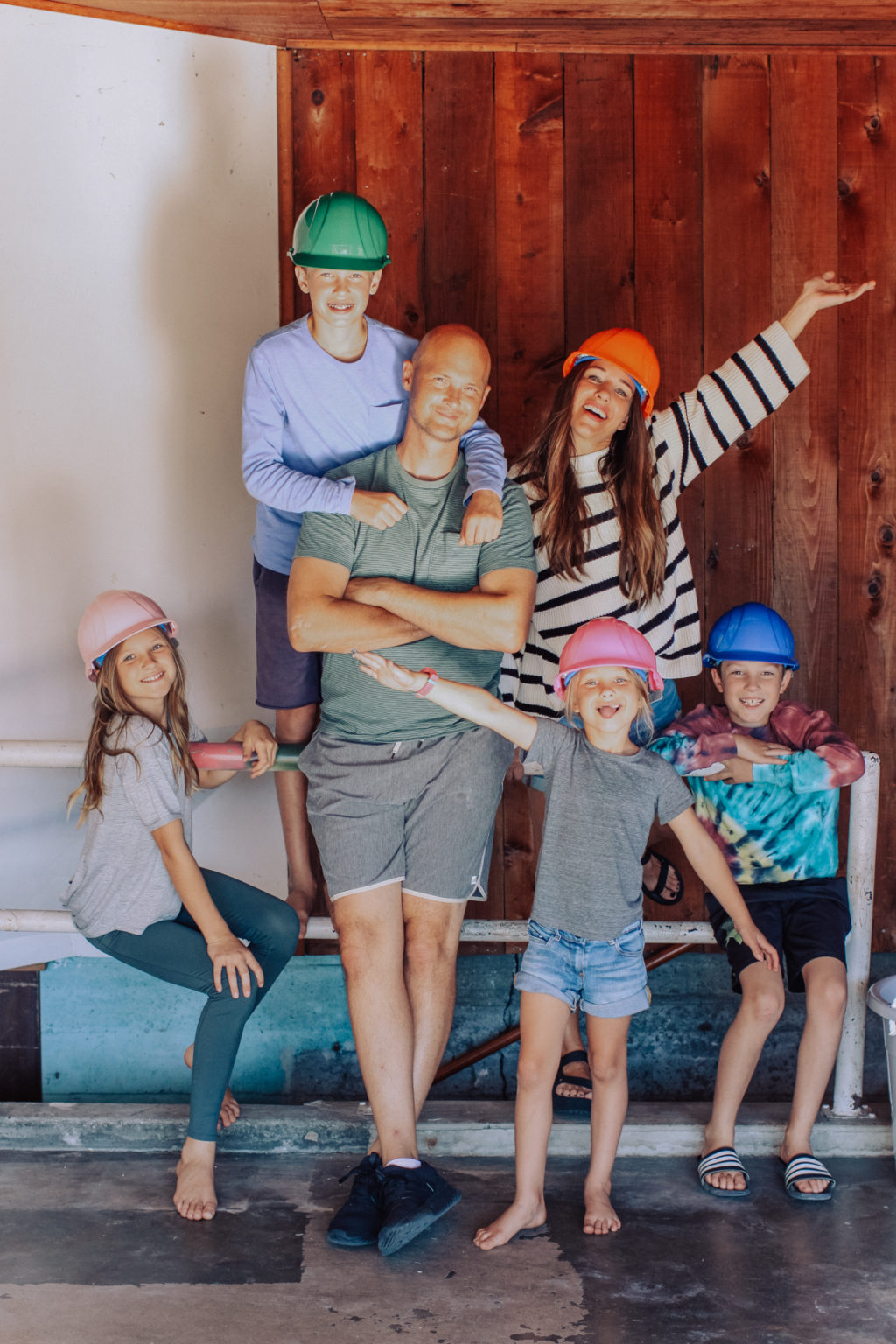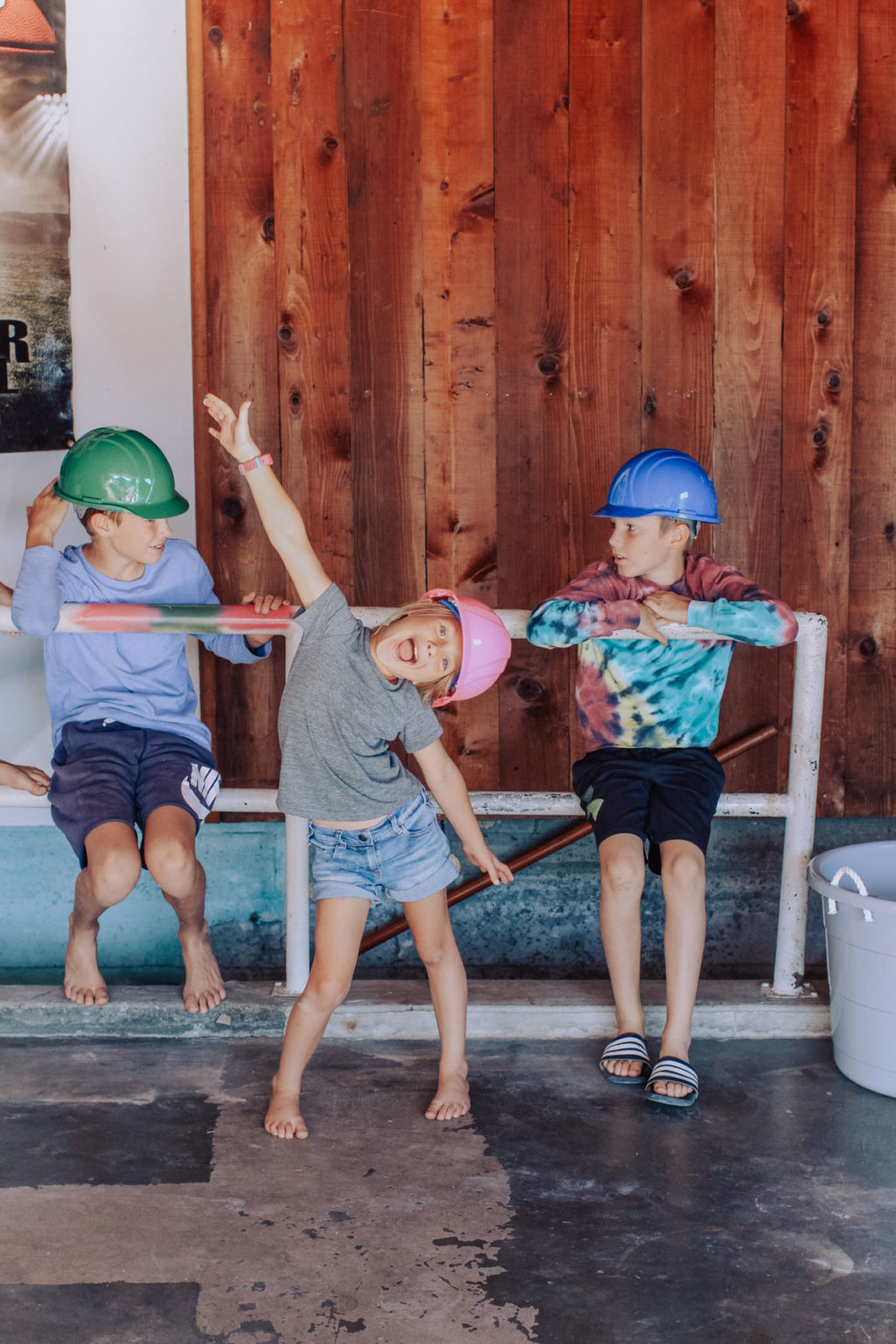 I'm excited for our next post in the series which I imagine will be all about the basement!
Anything in particular that you would like to see or know more about?
xo, Rae
SOURCES FROM THE VIDEO: these swivel chairs that are the MVP of our home, this extendable IKEA table (on sale!), and the bed frame that is so good from amazon. Let me know if I forgot anything!