We got a little glimpse of spring over the weekend in the form of sunshine and daylight savings (yay!) and spent a ton of time outside (double yay!)! Things are moving a little slowly this morning so we'll see how I really feel about the time change in a couple hours, lol. Crazy how one hour can mess up your routine… hopefully this meal plan helps get your week going!
M | my mom was the queen of making ramen noodle salad back in the day and will be over for dinner and Ozzie's first baseball game tonight so it seemed like a good night to make it
TU | slow cooker pork tacos… there are lots of recipes out there but oh so delicioso recipes never disappoint!
W | eat out or leftovers… hoping we'll have enough pork meat leftover for fun nachos or quesadillas. mexican two nights in a row, yes please!
TH | honey lime salmon bowls — these look so yum and healthy and king salmon is in season (sub other fish or meat if not available where you live) just be sure to buy WILD and not farm raised!
F | breakkie for dinner — this eggs benedict recipe is calling my name!
SA | plan a dinner with friends — daylight savings makes it easier to hang with friends for a happy hour or dinner
SU | shamrock raviolis (costco sells them in the coolers by the cheese and meat — I'll share a visual on stories today and save under the "eat" highlight so you know what the package looks like!)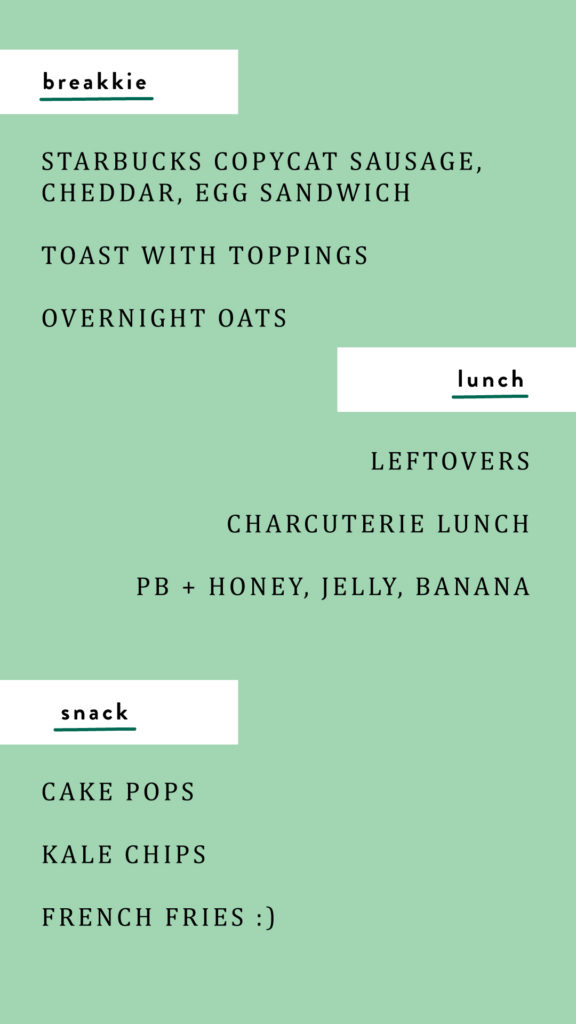 BREAKKIE | all the kids' appetites have been crazy lately so planning on pre-making a bunch of these sausage breakfast sandwiches for a quick but still filling meal or snack, toast is my favorite comfort food (here are some savory options), and overnight oats are sooooo good too… try these recipes if you don't already have a go-to!
LUNCH | at this point of the school year we're in need of easy options that still feel special — leftovers, charcuterie and different PB+J combinations seemed to be perfect options!
SNACK (and a treat too!) | shared some cake pops for st. patrick's day in this post, homemade kale chips (good tips here but I like making them with salt and coconut oil) are so good and french fries are everyone's favorite appetizer to order at a restaurant to tie the kids over so why not serve for after school snack!?
So excited to get my shopping done and eat alllll the food this week! What do you guys think?
xo, Rae