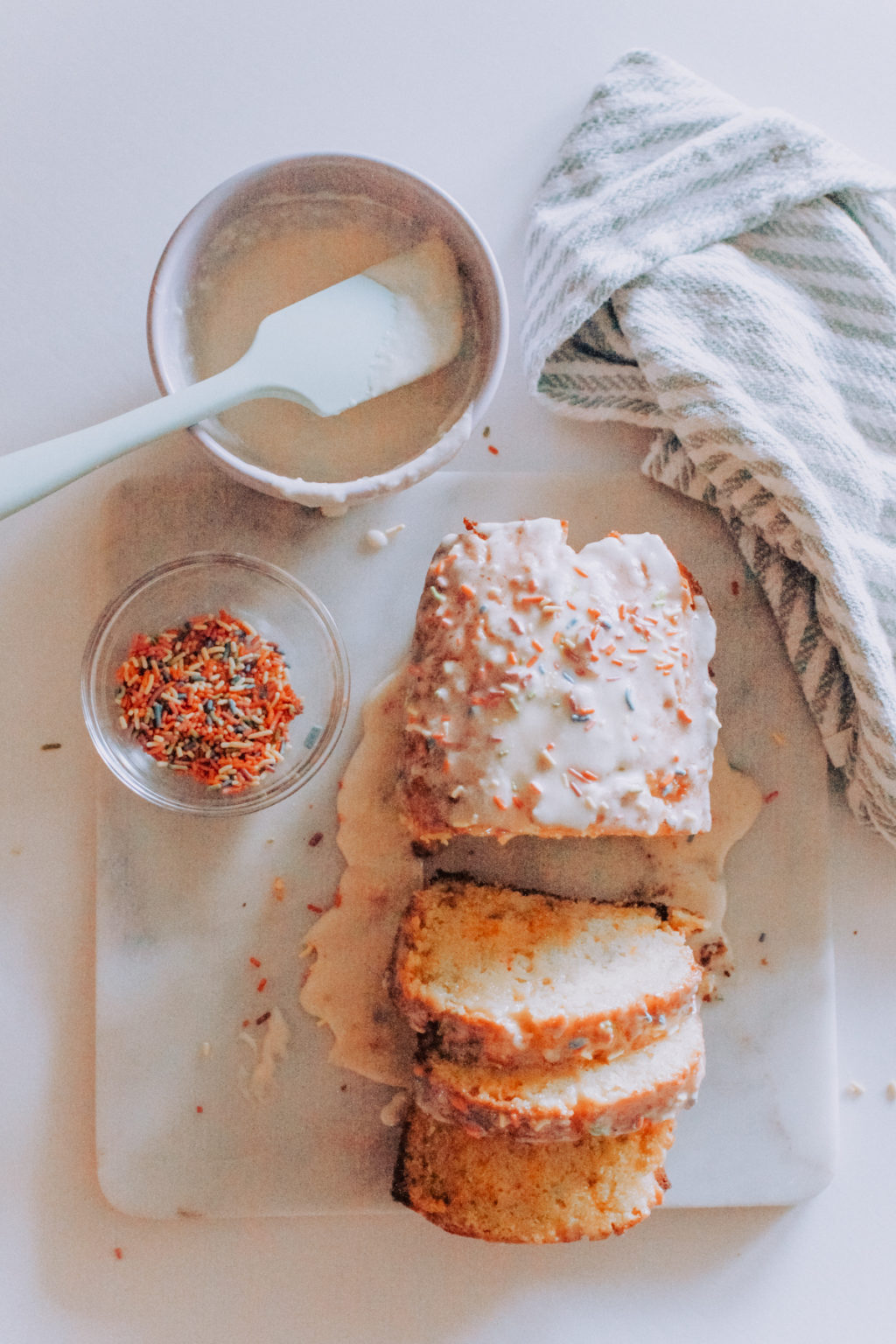 Anyone else planning a family movie night this weekend with the release of THE ADAM PROJECT (PG-13) on Netflix? I mean, just a few of my favorite actors – Ryan Renolds, Zoe Saldana, Jennifer Garner, Mark Ruffalo (!!!) – yes please! If so, this cake would be the perfect treat to go with it. If not, it pairs perfectly with any weekend activity or even St. Patrick's Day if you're doing a rainbow theme (or swap for green/gold sprinkles). It also happens to be the perfect size for the fam or the kids and a few friends. No cake left out on the counter dying a slow death… one random bite at a time.
As always, If you give this recipe a try, let me know what you think in the comments or @raeannkelly!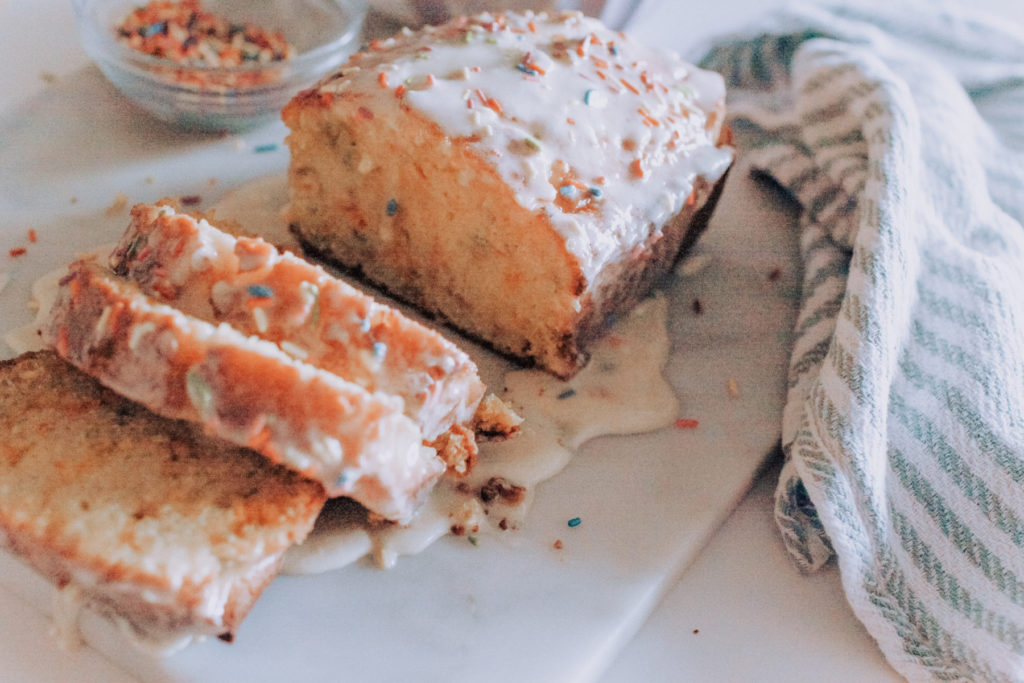 FUNFETTI VANILLA LOAF CAKE
You'll Need:
2/3 cup cake flour (if needed, sub with all purpose flour) 
1 cup all purpose flour
1 teaspoon baking powder
1 cup butter, softened (if using unsalted butter, add 1/4 teaspoon of salt)
1 cup sugar 
3 large eggs, room temperature 
1 teaspoon vanilla extract 
1/2 teaspoon almond extract 
1/4 cup sour cream or whole milk greek yogurt 
1/4 cup whole milk 
1/2 cup rainbow sprinkles (plus more to top)
CLASSIC BUTTERCREAM FROSTING
You'll Need:
6 tablespoon butter, softened
2 cup powdered sugar, sifted
1-2 tablespoon milk, as needed 
1 teaspoon vanilla extract
Here's How:
In the morning or night before, set out your eggs and butter to bring to room temp/soften.
Line a 9×5 loaf pan with parchment paper and preheat oven to 325 degrees. Arrange racks so you can bake cake on lowest rack.
Whisk together both flours and baking powder. Set aside.
In a stand mixer using paddle attachment (or using beaters by hand), cream the butter for a few minutes until fluffy, scraping sides as needed. Add sugar and eggs, one at a time until fully incorporated. Add vanilla and almond extract and beat for another minute.
Remove from stand mixer. Using a large spoon or spatula, fold in the flour, milk, and sour cream. Then the sprinkles. Continue to fold ingredients together until batter is smooth and well combined.
Pour batter into prepared loaf pan. Bake on lowest rack and check after 50 minutes. If top is burning, cover with a foil "tent". Continue to bake for 10-25 more minutes, checking every 5 minutes for doneness.
FROSTING TIME: While you wait, make the frosting! In a standing mixer using a whisk, mix together sugar and butter. Mix on low speed until well blended and then increase speed to medium and beat for another 3 minutes. Slowly add vanilla and milk, 1 tablespoon at a time, until desired consistency… (my kids requested more of a glaze, but I think fluffy frosting would have been a better way to go!)
When a toothpick inserted into the middle comes out mostly clean, remove cake from oven and let cool for 10 minutes. Remove from pan and let cool completely before frosting then top with sprinkles!
I am not a natural baker as it requires patience, actually measuring ingredients (no eyeballing flour people), and sometimes a full day of prepping ingredients, baking ingredients, whipping up a topping, and then waiting forever for things to cool before getting to decorate and enjoy. However, I swoon over the pretty ingredients and equally pretty mess that baking creates. I also love the moments of delayed gratification for myself but especially the kids. If you watched my reel on the gram then you might have noticed that I started solo, then gained a couple helpers, then ended with Espen trying the first bite. It's kinda a sweet process, tarnished only by the pile of dishes it creates. LOL.
Love you guys and hope this recipe adds a little fun to your day! Let me know if you have any requests!!!?
I asked Espen if he'd like to help me with my next recipe and if so, what he would like to make and his response was, "A SANDWICH!" Which I thought was such an appropriate request for a teenage boy and and reminded me of Steve from Full House. Can't wait to dream something up with him!
xo, Rae