It's not often that I start my week off with a random post but — oh my goodness you guys — still over here having  a hard time transitioning out of Christmas break mode! Was hoping all the new year's resolutions, goals and ambitions would kick my butt into gear but the haze has not fully lifted. I'll be heading out later this morning for a meeting and long work day away from the house and kids (what, what?) and am hoping it will do the trick. Nothing like a quick break from the norm to regain focus and energy.
Here are a few other things that have been going on around here…
I may not have done much other than play and visit with the ones I love this last week but I did manage to put together a meal plan which is always a good thing. Here's what we'll be chowing down on this week:
M | beef + cauliflower fried rice
T | baked potato bar
W | thai chicken noodle bowls (i like this recipe but this one has some good shortcuts)
TH | eat out or takeout :)
F | skillet chicken chilaquiles + a winter margarita (cheers to the weekend!)
SA | creamy tortellini and sausage soup + rustic bread
SU | dinner with friends
BREAKKIE | cereal or smoothie with sausage, or omelets
LUNCH | leftover fried rice or bagel sandwich, apple slices with almond butter or strawberries, popcorn or veggie straws, cucumbers or baby carrots with dip
SNACK | zucchini chocolate chip muffins or greek yogurt and granola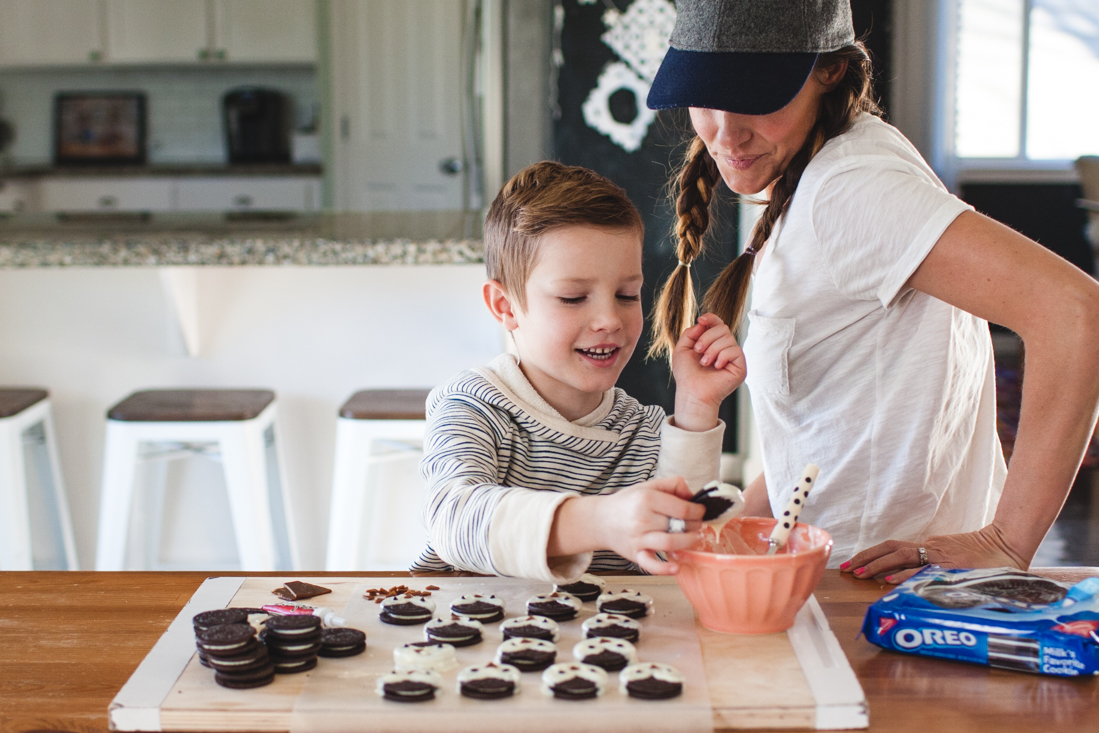 Now let's chat about the cute penguin cookies above that Griffin and I made last week while Poppy napped and the big kids were at school.
To make YOU'LL NEED:
oreo cookies
white baking chocolate
black decorating gel (next to the frosting tubes) or mini chocolate chips
fruit leather for the beak (or other orange dried fruit or candy), cut into small triangles
wax paper
HERE'S HOW (reference pics below):
Cover cookie sheet or cutting board with wax paper. Melt chocolate according to instructions. Dip cookies in chocolate at an angle to make face. Lay on wax paper and then use a spoon to make chocolate lines more rounded like a heart.
Use black gel to add eyes and small triangles of fruit leather for the beak.
Place cookies in the fridge or freezer until chocolate hardens and then enjoy! Side note — black gel never fully hardens so if you stack them the eyes sometimes smear.
The cookies and my kids recent penguins obsession was inspired by the book, Penguin Problems. I purchased it because the cover and name was so cute (ha!) and then wasn't sure what I thought about the story once it arrived. The kids however, fell in love and even quote parts of it too!
Those feet! Griffin's are still cute and sweet to me but probably not for long.
The sun paid us a visit for most of last week and with it frigid temperatures. It was a nice break from the rain but kept us cooped up indoors just as much which I actually didn't mind too much. These pictures and the pretty light is sure making me crave springtime though!
Feeling a little more ready for the week after that recap… Hope your Monday is off to a beautiful start!
XO, Rae
Poppy's sweatshirt and sweatpants and Griffin's sweatshirt are from childhood's clothing. Griffin's sweat pants are from Zara.