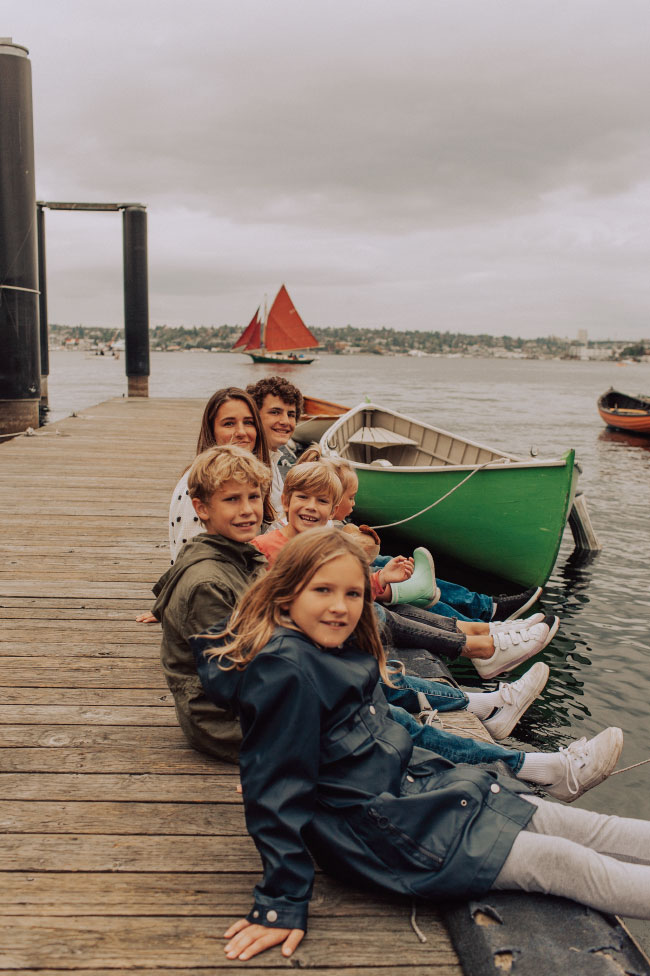 Want to hear something crazy? I've lived in the Seattle area most of my life and have never been to Lake Union — at least not that I can remember — yet it's so close to everything. The Center for Wooden Boats (where we spent most of our time exploring on Sunday) in South Lake Union was so fun and charming! We had a great time looking at and touring the boats, walking along the docks and playing in the water. Johan, who's family is from Norway and Sweden, said it reminded him of his visits there and even smelled like his family summer beach home. Not positive, but I think I was more excited about the connection than he was, lol. Can't wait to one day take our kids to visit. Can't you just see them fitting right in?
Now back to our much more local outing… It was a little stressful keeping Poppy and Griffin from falling off the dock. They probably would have been just fine regardless of my reminders and nagging but I think I said, "walk in the middle of the dock or hold my hand" about 100 times while we were there. Not that they wouldn't have been okay had they fallen in (we were so close!) but who wants to deal with the chaos and trauma and a soaking wet child on a not-so-hot day. Not this mama.
Borderline too many pics from our afternoon below, but couldn't get enough of the setting and all the lines! Would make a great spot for a family photo sesh.
I am not a boat person, but left really wanting a boat.
On our way to the lake we stopped at the store and grabbed some snack-y picnic-y food. The second we found a good grassy spot near the boats that also had a playground, it also started raining. I should be used to it by now but am always spoiled by our summer weather and forget! Luckily we found a little undercover patio that wasn't being used so were able to save the food from getting soggy (YAY!). Checkout the set up while I was making the tray of food though (HA!). Tilly with her raincoat trying to cover the grub.
Also checkout the Griffin pic in the window below… he was so excited and proud of his artistic idea and I love it too.
These little paddle boats were a big hit! $3 for 10 minutes of playtime.
We were also able to take a tour of this amazing house boat built in the early 1900's, called the Lotus. So cool and inspiring. Seriously wanted to move in! Saved some of the videos from the day on the "Seattle" highlight on Instagram if you want to see.

A little peek of the Space Needle so you can see how close we were to the Seattle Center area which is next on our to-do in the city list.
For all the Seattlites and pacific northwesterners, what's on your "playing tourist" to do list or fall bucket list? For everyone else, you should come visit us in the PNW!!! I just highly suggest booking sometime between July and October :)
XOXO, Rae