If you are still in the market for Halloween costumes, I'm sharing some totally cute and super simple ideas below and on KING5 today at 4:15 if you are in the Seattle area! These 4 were so fun to put together and took almost no time or money. Get the DIY tips below!
(Espen as a Pizza Delivery DUDE and Tilly as Rosie the Riveter)
COSTUMES FROM THE CLOSET
When it comes to dressing up, often times it doesn't take much more than going through closets. Think of favorite characters or people from books, movies, history, or pop-culture. The possibilities are endless! (costume details below)
ROSIE / jeans and jean jacket, but denim shirt would be more accurate / boots / power tool — minus the battery / red and white piece of fabric, scarf or bandana / red lipstick or wax lips
PIZZA DELIVERY DUDE / message or raglan tee or sweatshirt / broken-in jeans / headphones / backwards cap / pizza box
(Poppy as grapes and Griffin as an emoji, because he is actually a walking emoji in real-life)
COSTUMES FROM CARDBOARD or BALLOONS
No profession DIY skills to make these costumes. Just a few basic supplies and less than an hour of time!
FAVORITE EMOJI FACE / 2 presentation boards (the thick foam kind) or cardboard / yellow butcher paper or craft paint / felt / hot glue / wide ribbon / X-Acto knife / double stick tape
Draw a circle onto your boards using a string (shown here) then cutout with an x-acto knife or razor. Repeat with yellow paper and cut with scissors. Use double stick tape to add paper to cardboard. Cut face details from felt and hot glue in place. Add ribbon to the inside of the boards for straps… It helps to have child around while adding the straps to make sure everything lines up and child's head can fit in-between the ribbons!
GRAPE CLUSTER / balloons in shades of purple or green / generous sized tee or hoodie / coordinating bottoms and shoes / green felt / hair tie or beanie / hot glue
Lay top front side up on a flat work surface, plug-in the hot glue gun, and blow up balloons to appropriate size depending on the costume wearer. Poppy is a petite two year old so I blew the balloons up a little less than halfway. Add hot glue to the tied end of the balloon and press onto shirt until glue has cooled. Turn over and add balloons to back of top if desired. I still wanted to be able to  pick Poppy up easily so only covered her front side. Cut a long strip of green felt trim so the middle is thin and both ends have a leaf shape and tie to a hairband OR cut a couple leaf shapes from felt and hot glue to a beanie or the hood of a sweatshirt.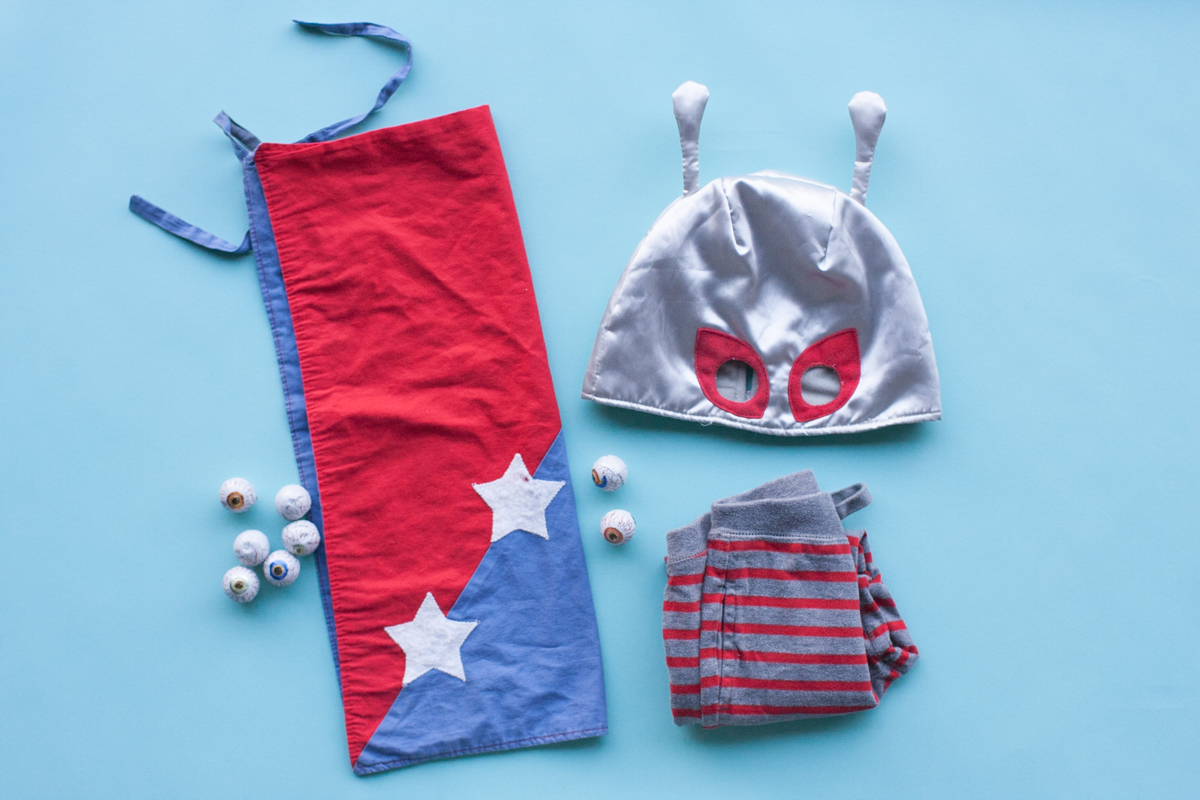 MIX + MATCH COSTUMES
Who says you have to pick just ONE thing to be for Halloween!? Try mixing costume ideas instead! A few examples I grabbed from our dress up pile at home — super hero alien and princess gorilla — but again the possibilities are endless.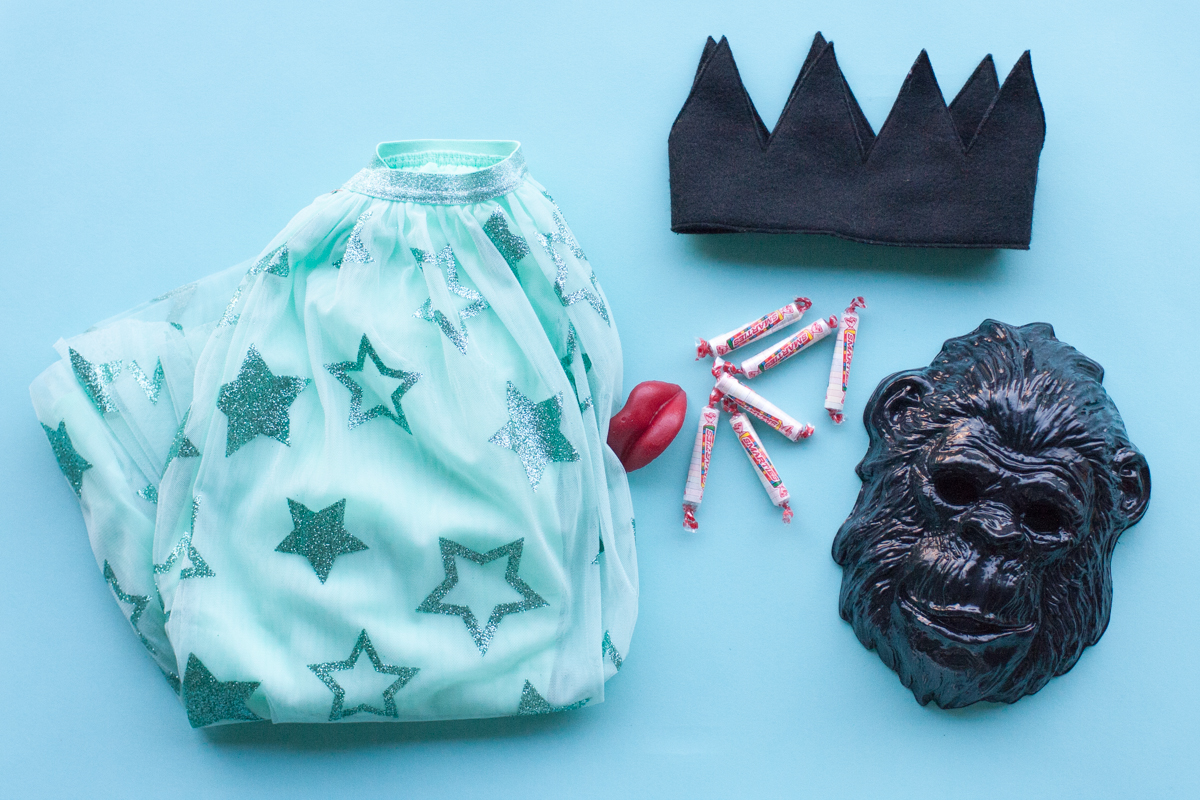 When it comes to tradition and pure fun (as opposed to faith and meaning), Halloween is right up there with Christmas and 4th of July in my book. Plus I'm a Halloween baby which makes the day even better for me because there is always a party or something going on, and the attention is rarely on me for more than the minute or two. Just the way I like it!
For more cute costume inspo, head to this pinterest board.
Happy hump day you guys!
XO, Rae