I've mentioned more than once that I'm a sucker for outtakes. Even after the credits of an amazing movie, I appreciate the funny clips of mess-ups, mishaps, and couldn't have planned it if they tried moments, just as much. Whether during the filming of a movie, clicking of a camera, or in everyday life it's the unscripted, and unpolished moments that (happen a lot when there are kids involved) remind me not to take myself too seriously — and keeps me laughing until I cry sometimes.
Here are a few outtakes from our life lately. They may not be LOL funny, but they do make things a little more interesting around here!
The day debit cards became popular should have been the day the tooth fairy died because I literally never have cash and when I do it's definitely not in the form of one dollar bills (the baristas in my life get all of those). My kids are convinced their tooth fairy is too busy and, depending on their moods, ask me to file a complaint or help her get an assistant (which I think is a great idea, ha!). After three or seven mornings of no money under their pillow, she finally shows up and leaves $10 because she feels so guilty and awful about being late. We've had so many lost teeth lately that the tooth fairy is currently experiencing budget cuts.
Last Wednesday's school carpool, by the numbers – SIX: the number of passenger seats in my mini van. EIGHT: the number of kids I had to transport to school. TWO: the number of high schoolers that got dropped off first. ONE: the number of toots said high schoolers squeaked out before exiting the mini (also worth noting that the tooter almost fell on their face while exiting… karma!). FOUR: the number of windows that were rolled down immediately to save lives of remaining passengers while also  unintentionally sharing their laughter and screaming with onlookers . TWENTY-FIVE: estimated number of teenage onlookers. THIRTY: the number of preschoolers that we were scheduled to provide snack for that morning. SEVEN: the number of funny looks or comments I received for bringing 6 kids into Target with me to buy said snacks. THREE: the number of meltdowns diffused during our outing. INFINITY: the number of times I reminded the kids to use walking feet ONE: the number of pumpkin spice lattes and cake-pops Poppy and I treated ourselves to after carpool…. :)
Over the weekend, when the kids were full and had snuck upstairs to entertain themselves (i.e. video games), Poppy included, I snuck into my office. Against my better judgement of course. 15 minutes later when I went to go check on them I discovered that Poppy had eaten THREE suckers. Not a clue where she even found them. When I asked her older siblings if they saw her they replied, "Yeah, but she was happy and quiet. So?" I guess we all appreciate when the needy toddler is entertained. Even if it means sharing suckers or cleaning up sticky messes.
Clowns were hiding in the woods around my kid's elementary school last week. CLOWNS!!! I almost yanked them and started homeschooling until I realized it's some sort of national trend. Halloween really brings out all the sickos.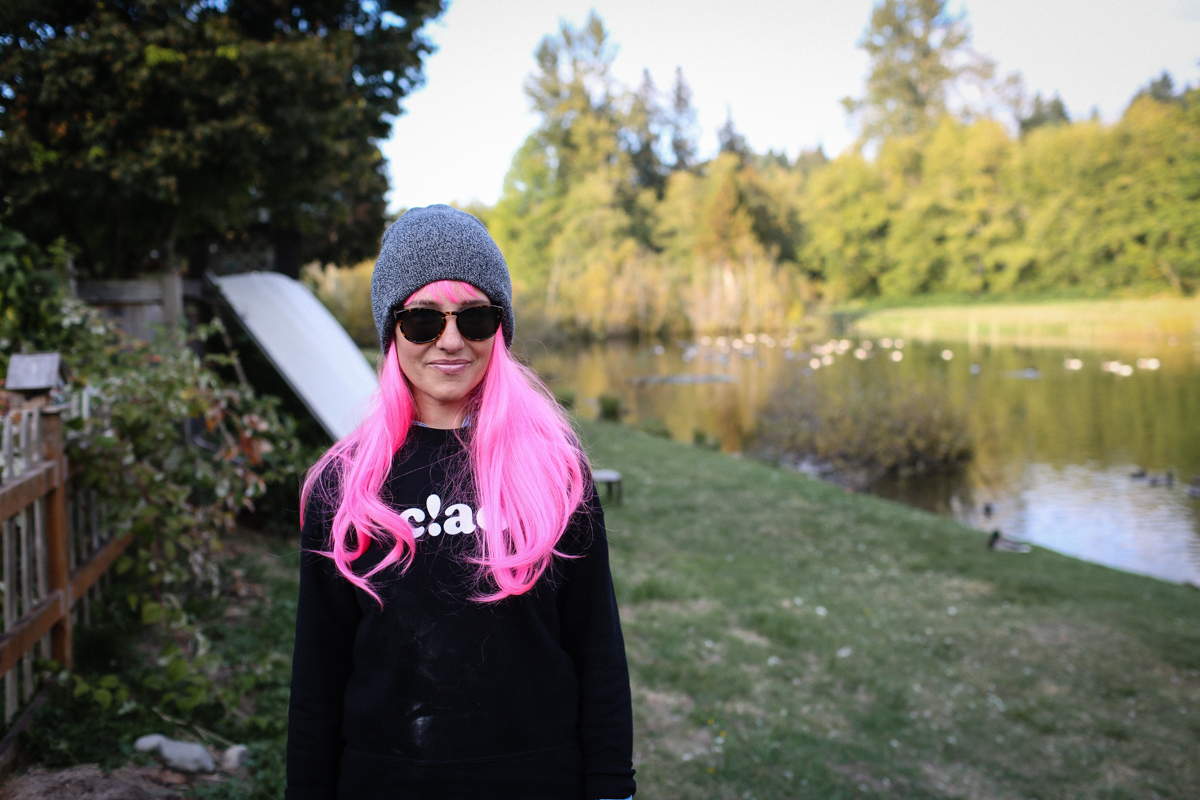 In my opinion, comic relief is one of the better parts of life. Luckily there aren't many things more ridiculously funny than kids and motherhood!
Have any stories or confessions that come to mind?
XO, Rae