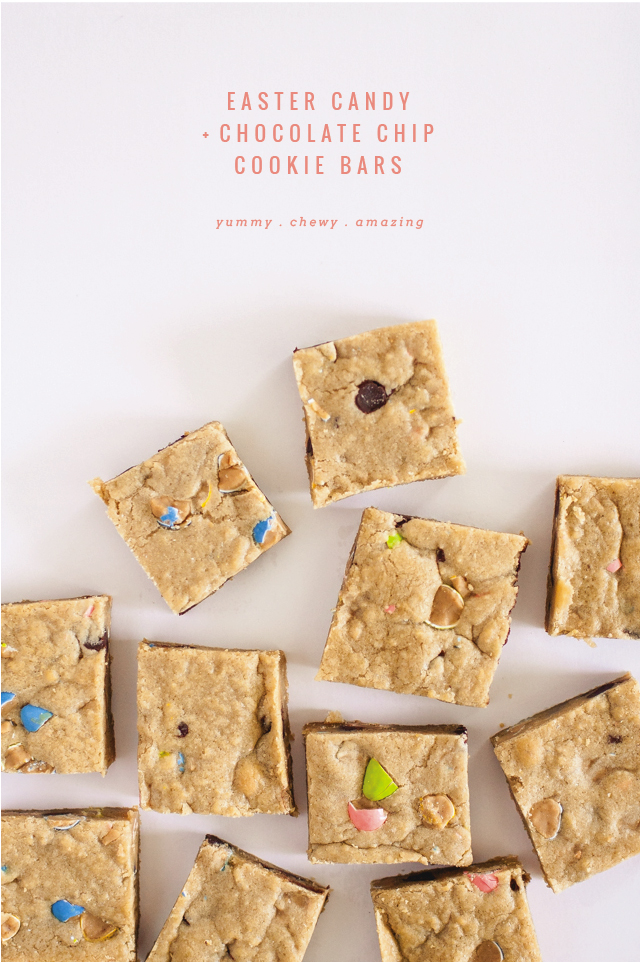 Playing catchup today after a whirlwind week and weekend, and still have lots to do to get our easter outfits, baskets and egg hunts pulled together for the big day this Sunday. Soooo am going to keep this short and sweet with a favorite festive cookie treat that might just change your life. No joke. They are so good and making bars instead of individual cookies eliminates so much of the hands-on time… Perfect for a busy holiday week!
CHOCOLATE CHIP + EASTER CANDY COOKIE BARS, makes one 9×13-inch pan of cookies
You'll Need:
1 cup butter, softened 

1 cup brown sugar

3/4 cup white sugar

2 tsp.

 

vanilla

2 eggs

3 cups flour

3/4 tsp.

 

baking soda

1 cup Easter candy, roughly chopped or crumbled

1 cup chocolate chips 
Here's How:
Grease 9×13-inch pan and preheat oven to 350 degrees.
Cream butter, sugar, brown sugar, vanilla and eggs.
Mix in flour and baking soda.
Stir in candy and chocolate chips.
Scoop into prepared pan and spread into an even layer. Bake for approx. 20 minutes, checking after 18. Remove when golden brown around edges and middle looks slightly undercooked. Cut into bars and serve! TIP: for straight clean lines, allow to cool completely before cutting!
The cookies are even better warm, with a scoop of ice cream and candy sprinkles on top! Making them on day 5 of my 10 day cleanse over the weekend was not the smartest tho. Thought I could resist but ended up sneaking a bite or two. Or three. Ha! Should have known better, but it was worth it!
Here's what's on our menu this week:
MONDAY | tuna melt sandwiches (this one looks good!), chips, crudités with ranch or hummus and above cookies for dessert!
TUESDAY | chicken tortilla soup
WEDNESDAY | baked salmon and veggies in parchment pockets
THURSDAY | breakfast burritos
FRIDAY | eat out or takeout while watching a baseball game — currently craving Thai food!
SATURDAY | BBQ chicken,  quinoa, and zucchini fritters
SUNDAY | it's Easter and we'll be running around at church services most of the morning and then meeting up with my parents and brother after. No idea what we'll be eating yet, but I will for sure be ordering some festive donuts for the kids (wink, wink) to wake up to :)
Keeping all other meals simple this week and going with the staples!
BREAKKIE | Cereal, oatmeal, fruit and/or fried eggs.
LUNCH | PB&J or salami, cheese + crackers, edamame and strawberries or apples and peanut butter, bunny crackers or pirate booty.
SNACKS |  some combo of the lunch options!
Hop, hop, hooray for a week of Easter prep and celebrations. It's going to be an amazing Sunday. I can just feel it. Now if I can just get my stufffff together sometime before then, lol!
I'll see you back here on Wednesday with some bunny fun for the littles!
xo, Rae