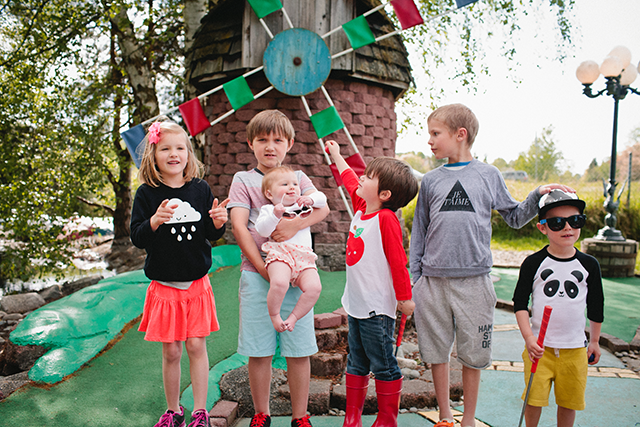 (Left to right: Tilly, Oliver holding Poppy, Jack, Espen + Griffin)
Last week Stacy and I let the kids pick out their favorite gear from Whistle and Flute and then headed out for some mini-golf adventures. Putt-putt (or golf-golf, as Griffin calls it) is one of my favorite outing to go on with kids, especially when I have a large age range. It's easy for the older ones to go ahead and have a little taste of big-kid freedom while the rest of us straggle behind with the little (totally adorable and entertaining) cheaters. Even my oldest, Ozzie (14 years) and his friend joined us and spent time in the batting cages. Pretty sure we'll be spending lots of afternoons here this summer and I can't wait!
Now back to those totally cute threads the kids are sporting. It's no secret that I love the uni-sex trend but I'm also big on letting my kids (mostly) dress themselves, most days. Tilly and Griffin are usually not that keen on uni-sex styles with the exception of Whistle & Flute which makes me an extra happy mama because that means, hand-me-downs!!! Tilly and Griffin already share (ahem, fight over) the cloud sweatshirt.
Keep scrolling for a few outtakes from our outing and a W&F coupon code just for you!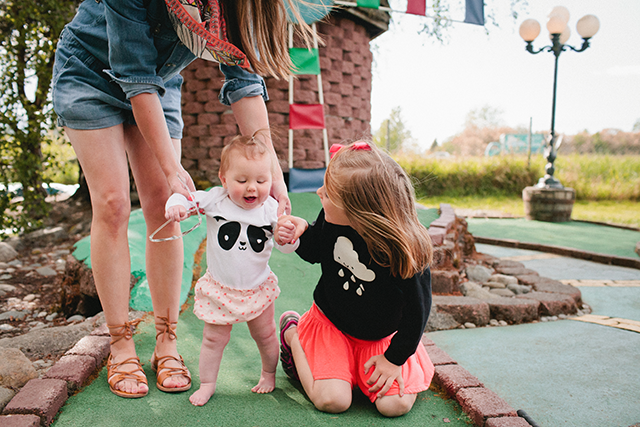 //Poppy 9months, wearing 6-12mo.//Tilly 6, wearing 6T but could also wear 8T//
//Griffin almost 4, wearing 4T but could wear 6T//Jack 5, wearing 6T//
//Espen almost 9, wearing 8T//
//The spinning putt-putt hole was a huge hit//
So much fun, right!? And the cute clothes are just icing on the cake!
Head to Whistle & Flute and use code RAEANNKELLY to get 10% off your order. If your an Instagramer (like me) checkout their feed for even more cuteness. Thanks to Miranda for the goodies and for making such fun and stylish clothes for minis (and adults too!).
XO . Rae
(Images by Stacy Jacobsen)