Baskets, in my opinion, fall into the same category  as shoes. There is no such thing as too many. Especially when running a household. So when I walked past this cute woven basket at target I thought, "I have some shoes that could use that basket." And threw it in my cart. (Tell me you do the same thing!?) Griffin even reminded me, "That's not what we came for, mOm." He was so right and doing a good job of using my own words against me. I must say that to the kids every time we are at target! But the cute basket won and stayed in the cart.
As adorable as it looked in the hook-nook, once we were home, it got lost against the white wall full of backpacks and coats. A pop of color and playful whimsy was just what it needed to standout a bit and I know one really easy way to accomplish both. Pom-poms!
So yesterday I used 30 minutes of nap time to throw it together and thought it was worth sharing. Although it hardly needs a tutorial I know how nice it is to have a guide to take out the guesswork so included a supply list and how-to below!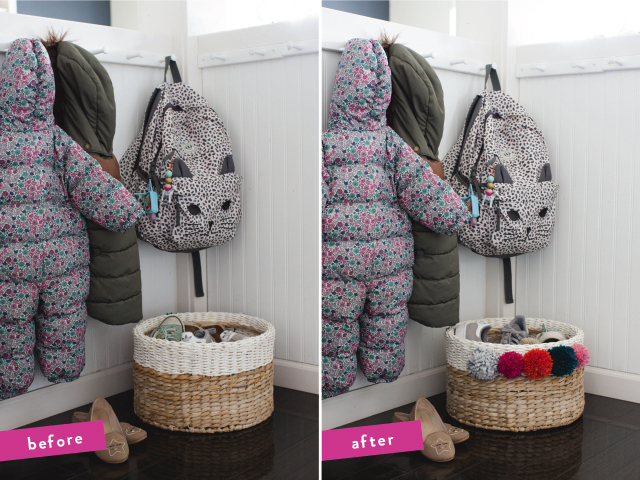 You'll Need –
a basket (like this one)
yarn
pom-pom makers or template (I used the big size from this set)
scissors
embroidery floss and needle (small zip-ties would work too!)
Here's How –
Make your pom-poms and decide where on the basket and in what order you would like them.
Using a needle and embroidery floss, start from the inside of the basket and leaving enough of a tail, thread through to the outside of the basket and the middle yarn of the pom-pom (the one that holds all the pieces together) then back through the basket to the inside. Secure with a knot.
Repeat with the remaining pom-poms. Then find a place and use for your spruced up basket!
Makes a cute planter too. Thinking there may be more pom-pom embellished baskets in my future.
Happy Thursday you guys!
XO, Rae