You guys ready for the cutest little Halloween craft eva?
I made these Halloween candy poppers (for lack of a better word because they don't actually pop!?) with Tilly who is the goodie bag giving queen — she loves putting together little treats to give her friends whether there is a reason or not and I fully support it. Makes my heart melt! Plus I think we could all benefit from spreading a little extra love and fun with everything going on in the world.
Here's how we made them…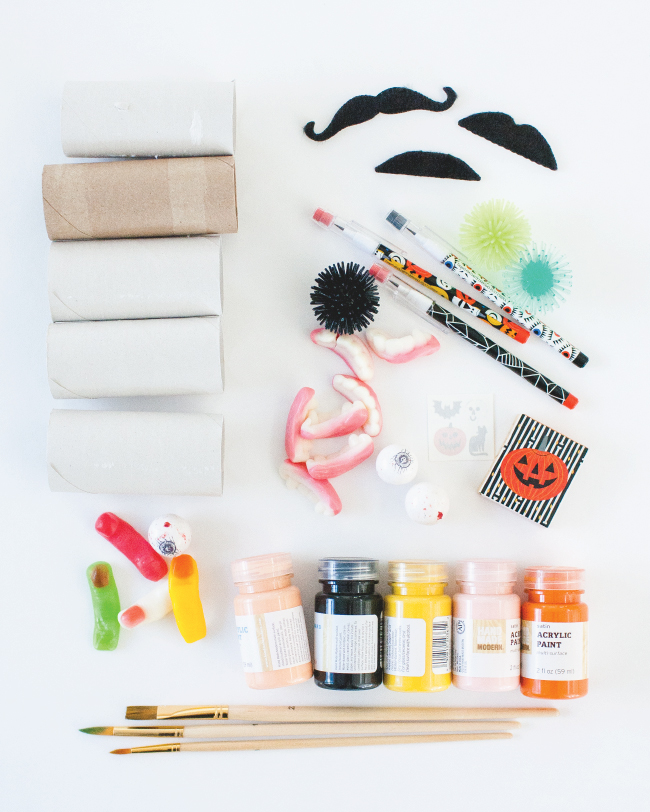 YOU'LL NEED:
t.p. rolls (or poster board cut to size)*
craft paint
paint brushes
cellophane wrap (found by the gift wrap)
tape (scotch or washi)
twine
scissors (if you have pinking shears they're fun to trim the cellophane ends with!)
candy and halloween knick-knacks
I do realize not everyone hoards t.p. rolls like I do (the kids' classrooms often need them), but you could substitute by cutting up a paper towel roll or pieces of poster board.
HERE'S HOW:
Prep a workspace and paint a solid color over the t.p. rolls. The lighter colors worked best for step 2. Let dry. (I did this part before getting any kids involved)
Paint designs as desired over dried paint. Let dry.
Fill with candy and little toys.
Cut cellophane pieces big enough to wrap around t.p. rolls a couple times and wide enough to gather at the ends.
Wrap cut cellophane around t.p. rolls and tape in place. Use twine to gather on each side. Trim ends and you're done!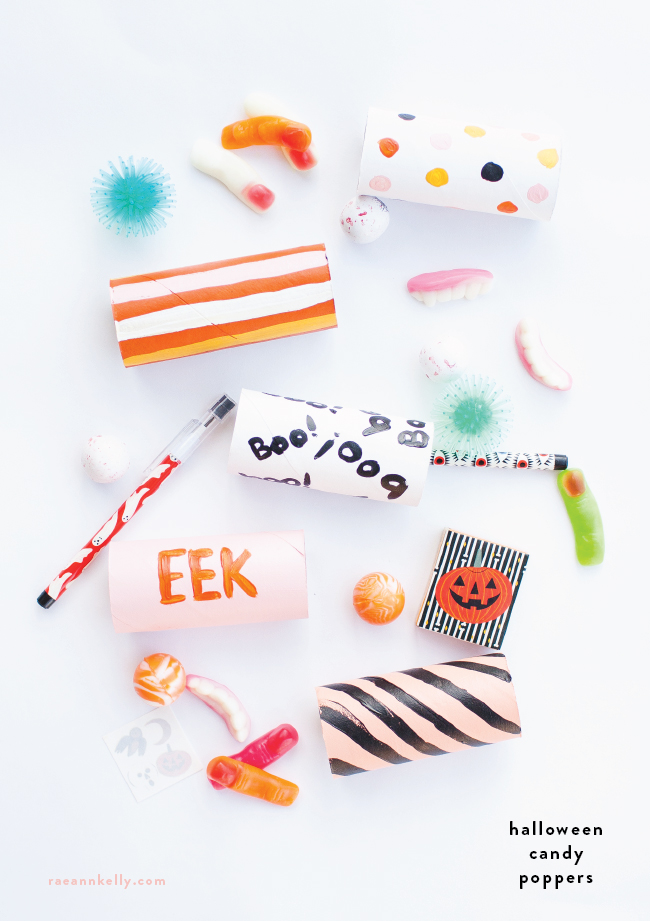 I found most of the goodies at Target, but the pencils were too long to fit it :(
The kids think these are pretty great and are lobbying to make enough for all of their classmates (3 classrooms = a butt load of candy "poppers" to make). Just not sure I have the patience to manage the painting, stuffing and wrapping. LOL.
We'll see!!?!
Who would you (and your kids) give some to?
xo, Rae
SaveSave
SaveSave
SaveSave
SaveSave