Did you guys know that if you get your hair wet before cannon balling into the pool, it'll absorb wayyyyyy less chlorine? Just one of the most helpful tips I've learned from my hairstylist after spending months trying to get the chemically smell, greenish tint and constant tangles out of my kids' hair last summer. So today I thought I'd pass on that summertime wisdom along with a simple pool ready DIY using essential oils.
One of the things I love most about using oils is the freedom to make homemade sprays, scents, rollers and ointments for my family to use that work so good, smell delicious and are all natural. One of the best DIY's for healthy hair is a MERMAID HAIR MIST so I figured a diluted version would be just the thing to pack up for the pool and spray on before we all go for a dip!
You can download the cute labels below and follow the recipe or play around with oil combos on your own! Typically mermaid hair is a mix of lavender, rosemary and cederwood, but I used geranium, peppermint and coconut oil to strengthen hair AND make it smell sweet and summery. Of course you can just stick the label onto a spray bottle full of water, but I encourage you 100% to add oils (comment below or email me if you have any questions!). Oh and don't forget to use the mist on your boys too!
You'll Need:
waterproof sticker paper or card stock and contact paper
1 tablespoon of witch hazel (target also carries it — helps the oil mix with water)
10 drops of each lavender, cedarwood, + rosemary (rosemary isn't my favorite scent so I usually skimp on it a bit!)
Here's How:
Add witch hazel and oils into glass bottle and top off with distilled (or tap) water. Wipe bottle dry and apply label. Shake gently and spraying all over hair before hopping in the pool.
My leggings tan-line just above my ankles is pretty cute, huh? Ha!
But this tee, shorts and sandals are my new summer staples.
Oh, my goodness. Pop, I love you! Cutest swim suit ever from HERE!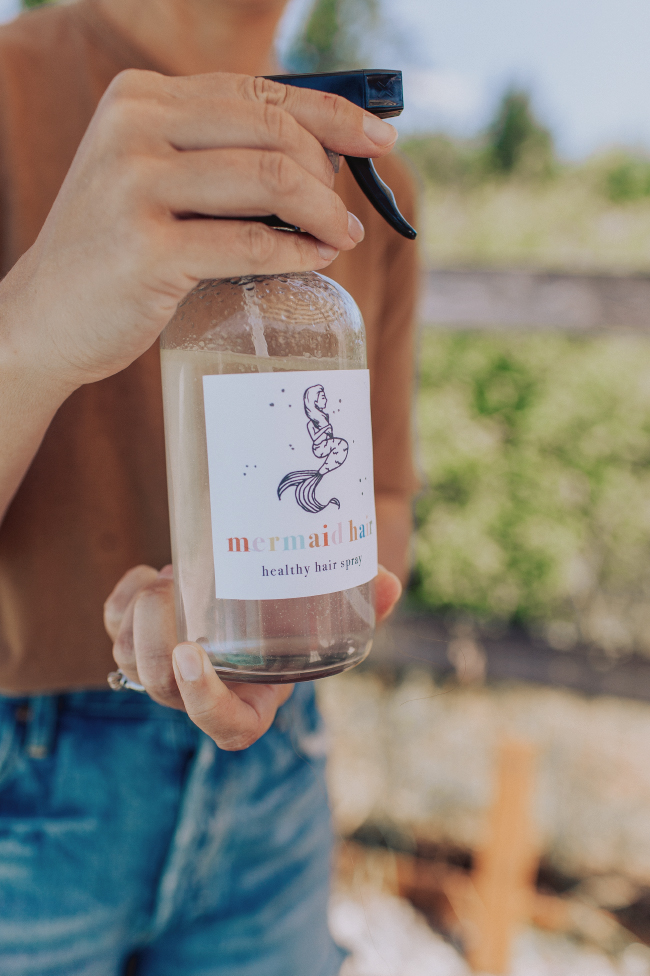 Be on the lookout for a full range of labels you'll be able to download and order already printed!
Happy swimming!
xo, Rae