If you have kids, chances are they've asked you for a snack all day everyday during the summer. It get's a little tricky staying inspired while constantly feeding people for those couple months, but with school starting for my kids tomorrow, snack time is about to feel extra special. Having something fun to eat always seems to help get their attention while I ask a million questions about their day. ;)
A couple weeks ago I posted a quick snack tutorial on Instagram Stories (@raeannkelly) for making Unicorn Crackers and you guys loved the idea! Since stories are only available for 24 hours tho, I've been getting some DMs asking for the details again so thought I would share the how-to here. It also seems fitting with it being Back to School season — I mean, who doesn't want to come home to Unicorn Crackers!?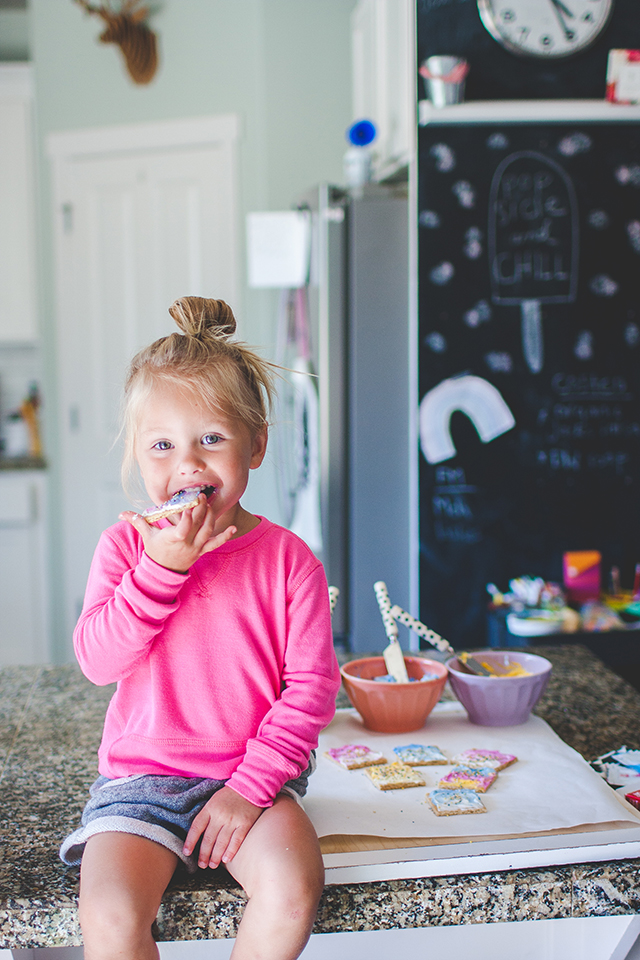 UNICORN CRACKERS
You'll Need:
Here's How:
Divide cream cheese into 4 bowls. Set 1 aside so you have white. Add food coloring to 3 other bowls according to package directions (I added 1/2 tsp of ours). Mix colors, but leave some streaks of darker and lighter shades.
Using separate knives for each color, spread cream cheese onto crackers. Play around until you like how they look.
Add sprinkles if you feel like it ;) + serve!
Don't they look cute and delicious!? Be sure to share with friends and pin for safe keeping!
We're headed to get haricuts this morning and then finish up some shopping for BTS. Can't believe tomorrow is the big day and keep getting choked up over the smallest things. Gosh I'm going to miss my babies and probably even their request for a snack every 10 minutes, LOL.
I hope back to school season has been going smoothly for you guys!
xo, Rae
SaveSave
SaveSave